Much of the world, and particularly the collective West, has come out in support of Ukraine's defense against Russia's invasion. Europe, the United States, and the United Kingdom, as well as a host of others, have sent everything from weapons, medical supplies, food, and other forms of support to aid in the preservation of Ukraine's sovereignty. However, some have opposed this stream of support, including those in positions of power.
Groups in the United States and Europe have made their opposition vocal. Far-Left and far-Right alike have come out, demanding that the millions of dollars and euros going to Kyiv be redirected to domestic projects. Often cited is the lack of accountability when their nation's leaders write immense or "blank" checks to Ukraine, or that the depleted stocks of military hardware sacrifices their own national security in favor for a far-off conflict.
In the United States, right-leaning outlets such as Fox News' Tucker Carlon to left leaning Noam Chomsky have both chided the government for its role in supporting Ukrainian defense. Members of Congress from both right and left have blocked bills attempting to curtail Russian oil and gas exports or seizure of oligarch assets. Europe is not alone in this. Several hardline parties in European parliaments have called for Europe to focus inwards and leave their two neighbors to solve their differences by Ukraine ceding territory.
This comes as a gentle rise in "war weariness" threatens to shift attention from regions that require considerable attention. Ukraine, Georgia, and the South Caucasus at large are all under threat of this trend. In the US, many have claimed this is cloaked in an attempt to pull back from recent foreign engagements and perceived US "imperialism."
Following over 20 years of conflict and combat operations in Iraq, Afghanistan, and Syria, the US and its NATO allies have been more reluctant than ever to become entangled in another overseas foray. This is compounded by the disastrous exit from Kabul and the overrunning of the country by a terrorist army. US leaders have been far more anti-interventionist, perhaps the most in the 21st century.
Additionally, complaints by both politicians and social organizations have characterized the war as inevitable due to NATO expansionism. These groups argue that the alliance's constant toying with Kyiv about membership, while offering significant training programs and material support prior to the war, forces the Kremlin's hand to invade. This is not to mention the complete silence on the occupation in a fifth of Georgian territory and the routine kidnappings conducted by Russian units along the occupation line.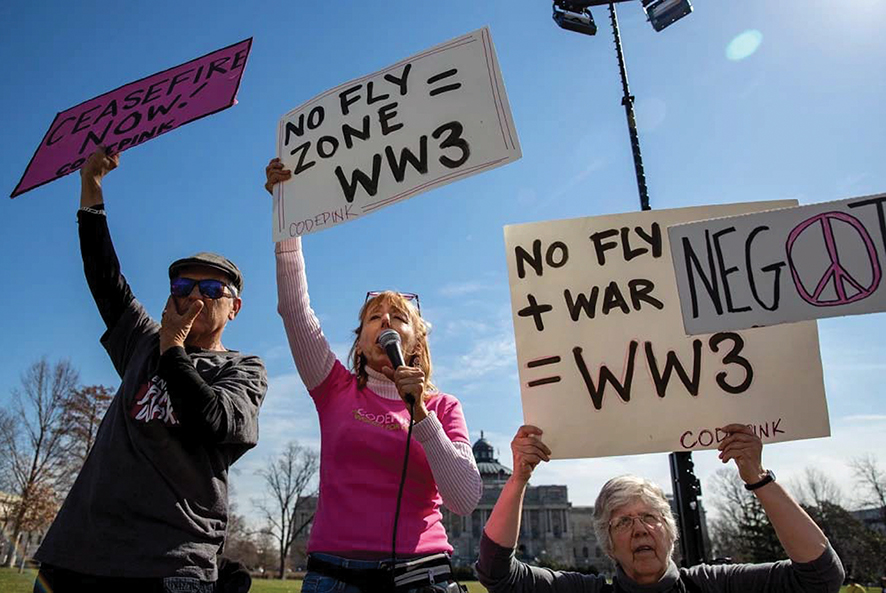 The threat of Western nations pulling away from their support for Eastern European countries in need of support is dire. Georgia, while strong and growing in its own right, still has a litany of internal and geopolitical problems only the US and EU have the weight to help solve. Simply put, it is a far cry from imperialism for one economic and defense heavyweight to lift up a smaller, comparatively weaker nation and help it secure its national interests.
Contrary to these calls against further involvement in the support for Ukraine, additional support and aid is what will bring the war to an end. Not only this, but it is the defeat of Russian President Vladimir Putin that is the greatest guarantor of security for Europe and the South Caucasus. For Georgia itself, this also means a victory in the fight against corruption.
Activists and watchdogs in Tbilisi have routinely questioned the direction of the ruling party, Georgian Dream. There is little in the way to defend the party, with constant statements that lie perpendicular to European integration and NATO alignment. Their conduct further confirms the pro-Russia allegations, as repeated disrespectful, tasteless, and boorish remarks are leveled at EU and American leadership on an almost daily basis.
The recent sanctions against four of Georgia's top judges shows that there is still interest in righting the path of the nation. But this cannot be the only warning. The United States, along with its European partners, have to take more assertive steps to keep Tbilisi on the Western path.
The potential for Georgia and others to fall into the grasp of the Kremlin and for Ukraine's attempt to regain its land to fail, lies with its Western allies. While it may seem unlikely that these fringe elements will gain traction in Washington or Brussels, these sentiments are being echoed by social and media figures. With such a wide following, these influencers stand to rally a larger base in favor of the politicians that push for a non-interventionist policy.
Despite this, still many millions of individuals and thousands of organizations continue to provide material and financial support to Ukraine's defenders. Groups such as NAFO (North Atlantic Fellas Organizations) route donations to the Ukrainian Ministry of Defense as well as individual units engaged in fighting Russia's invasion. Support for Georgia has not left the mouths of Europe's leaders either.
For Georgia, Ukraine, and others, the friendship and support offered from their Western partners cannot be undermined by the calls of the few. While the US and EU have pledged an immense amount of resources to Ukraine, they have more than enough ability to manage internal issues as well. Support for Georgia and Ukraine simply does not preclude the importance of domestic matters. If Russia is given the opportunity to succeed in its aggressive ambitions, the homefront can become the next front line.
By Michael Godwin