Georgia's greatest potential without a doubt lies in its people's enthusiasm and liveliness
EXCLUSIVE INTERVIEW
"It's an absolute privilege being Ambassador here in Georgia," Ambassador of the UK to Georgia, Mark Clayton, tells GEORGIA TODAY in an exclusive interview. "Ever since Georgia regained its independence, we've had a strong bilateral relationship in numerous fields. And that's built up steadily over the last 30 years. It puts us in a really good place for the future. Covid has had a horrendous death toll here in Georgia and it continues to do so, that's why we are such strong supporters of the vaccine campaign and have really been encouraging everyone to get vaccines. But despite Covid, our business has been impacted less than one might have thought. In any field you choose to look, the UK-Georgia relationship is growing, developing and indeed blossoming."
The British Embassy is here in Georgia, the Ambassador informs us, principally to support Georgia on its path to EU and NATO membership.
"That's what the Georgian people say they want," he notes. "And it will absolutely be in British interests and is our overarching objective for Georgia, within which our work is broken up into different areas."
We asked him to tell us more.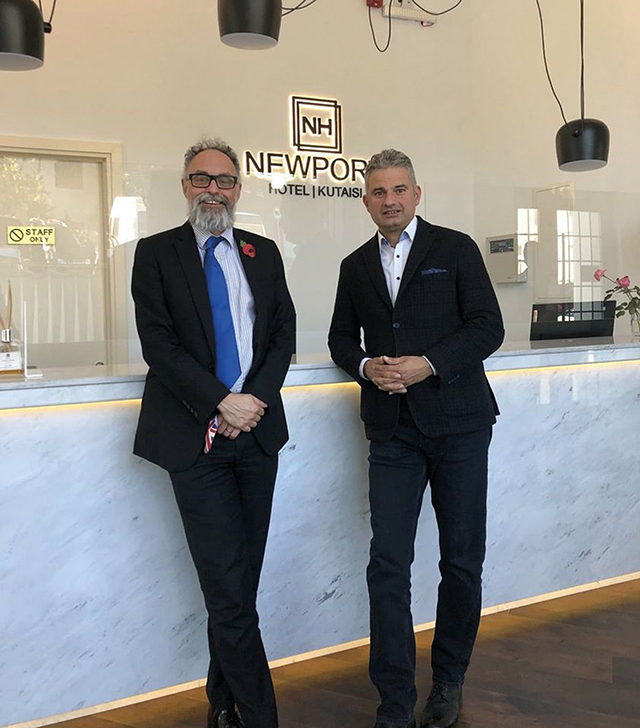 Security and Defense
There's a really strong security and defense relationship between the UK and Georgia, part of which is about Georgia's NATO aspirations. One example of this is HMS Defender's visit this June after an eventful journey across the Black Sea.
On the security side of it, we work to counter hybrid pressure against Georgia, and have a strong stream of work on cybersecurity and disinformation. We offer strong diplomatic support for Georgia's sovereignty and territorial integrity in places like the OSCE and UN, backed up by a practical program of work that helps build links across the ABLs, in support of the government's priorities.
Politics and Governance
There's a lot of work on politics and governance, seeing us working with the National Democratic Institute in Parliament to build Parliament's capacity. We also support civil service reform alongside the UNDP. Gender issues are a key priority for us across all that we do, and it's one of my jobs to support that.
Economy and Prosperity
Within our contribution to the economy and prosperity of Georgia comes trade and investment promotion, which takes place under the auspices of our new Free Trade Agreement that was launched after the UK left the EU. In that category, I'd also put the really impressive work the British Council do in support of education, culture and English language learning. I wouldn't divorce that from the trade and investment activity because in the surveys I've seen from investors and people keen to do business in Georgia, one of the things they talk about consistently is the need to have a skilled workforce in place to allow them to do business here. The British Council is at the forefront of that. We launched a strategy with them and the Ministry of Education about improving the standard of English language teaching, and therefore English languages students, in Georgia, with a really ambitious target of getting all students to be at European B2 standard on leaving school, and all teachers of English at C1 standard. As someone who's bumping along at B1 in Georgian, that's an impressive outcome.
We've got a small trade team here at the Embassy. My Deputy, Clare Allbless, takes overall lead on the economic, trade, and business relations. Working with her, we have two colleagues- one who leads primarily on the trade-promotion side of it; another who looks at the structural issues through the prism of the Free Trade Agreement. Between them, they pick up on opportunities here and promote them back into the UK, and similarly support expressions of interest coming from the UK.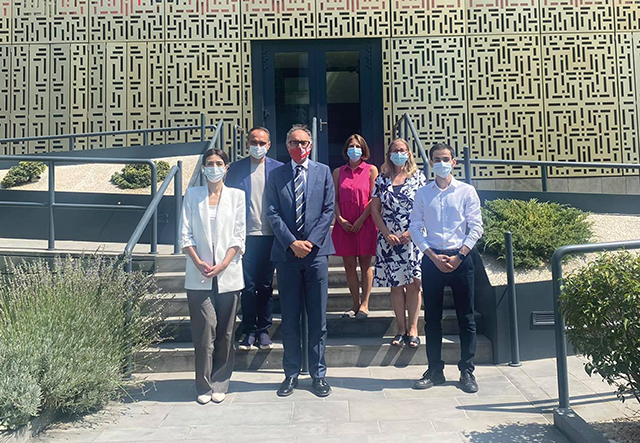 My counterpart Sophie Katsarava in the UK is doing a great job promoting the sale of Georgian products and services in the UK. From our side, while trade was driven down by Covid, for 2021 we think we'll have around 200 million pounds of trade, which is broadly where we've been for the last few years. It's a good outcome despite Covid. Everyone wants that to grow, and one of the things the Free Trade Agreement gives us is the opportunity to really look at in which sectors the UK thinks it has something good to offer Georgia.
One area which has been understandably hard-hit by Covid is people-to-people links, because, by definition, they rely on travel and engagement. With restrictions in both directions, be they Georgia's lockdown, or the UK's restriction on travel from Georgia, it's been difficult to get the range and breadth of contacts going in the last two years.
There's an opportunity now for Georgia to grasp the nettle on any number of opportunities, freed up as it is by the fact there are no elections around the corner
The UK has just launched a new export strategy under the slogan "Made in the UK, Sold in the World," the aim for the UK being to boost exports to a trillion pounds by 2030. We're already the 6th largest exporter of goods and services combined, and the 2nd largest exporter of services.
There's been a consistent strong showing of UK services companies here in Georgia; big accountancy firms are already represented here, and when it comes to other sectors, there are plenty where British and other companies are present. UK brands are visible on the streets: Next, Mothercare, Body Shop, Holland & Barrett, Land Rover, while on the less visible side, you have British investors operating in agriculture, that's relatively small-scale, and real estate development.
On investment, the UK consistently shows high on the list of inward investors in Georgia, in part down to that really strong financial services presence here. It helps that TBC, Bank of Georgia, and Georgia Capital are listed on the London Stock Exchange, so investments can be cycled through. BP has had a big presence here and will continue to do so.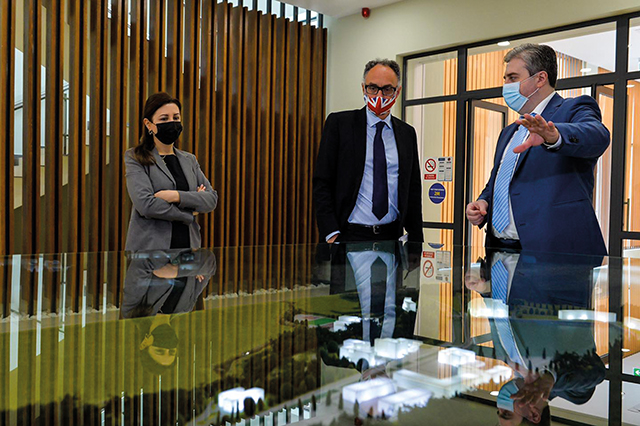 I had a good introductory meeting with the Maritime Transport Agency this year. We've been working with them successfully, primarily through the support given to the Coast Guard, but during the meeting, which I found very dynamic, we also discussed developments in Poti Port, which is operated by a subsidiary of Danish company Moller-Maersk. We would hope that as Georgia's infrastructure develops and grows, there will be more opportunities for UK companies in that area too.
In short, there are lots of irons in the fire! There are also examples when Georgian companies express interest in particular UK products- household names familiar to Georgians because of their quality. In some instances, Georgian companies will come to us seeking support in making forward deals. The UK has a big credit support program to support that sort of work. UK Export Finance, the UK's export credit agency, last year increased the capacity of market risk appetite to £3 billion to support new businesses in Georgia. This additional support will help companies to access finance for projects, opening up new trade opportunities. I hope this credit will increasingly be taken up by Georgian companies. On the other side, there is support for British companies who are keen to invest and sell goods here.
The Covid impact on companies' turnover has meant that some deals we were working on before he pandemic have been put on hold, but they are now coming back, and I saw a real sign of confidence in Georgia and its economic prospects when I recently attended the launch of a new Rolls Royce motor car in Georgia, the first time Rolls has actually held an event to promote their cars here. It's a welcome addition to the UK presence here!
Further, a British landscape company, Chris Blandford Associates, helped in the design of Vake Park, and Batumi Boulevard and the Botanical Garden were all designed with assistance from British companies. It's a sign of how much the UK can offer, and I very much hope British companies will continue to be involved in such projects.
The Twinnings
Tbilisi is twinned with the UK's city of Bristol; Kutaisi is twinned with Newport, and Akhalsikhe with Newcastle. These twinnings are led by really good, active associations, fed by the energy and enthusiasm of the people involved to keep alive a relationship that has helped their cities grow and reform over the years.
The relations involve experience exchanges, including in the medical field, where doctors have been observed. There's a Georgian lady running an organization treating autism in children, having had training thanks to the Newport twinning. There's a trade and business angle, where the British colleagues are keen to bring businesspersons to see the opportunities Georgia has to offer. They are all massive enthusiasts of Georgia and UK relations, and my job here is to strengthen and prolong support for their work, and help create the kind of environment where those relations can flourish.
In some respects, the impact of the pandemic on bilateral relations, which restricted people-to-people contacts, has been compensated for by virtual events. In October, I took part in a UK-Georgian Studies Day event which is organized in the UK for lovers of Georgia to get together on a variety of different themes. There's no way I could have flown back to take part in that had it been done in its traditional format, held in London or Oxford. The fact it was held virtually meant there was a wider range of people taking part.
Education
Covid has not been a barrier to our Chevening scholars [ed. see box]. I've seen some really impressive, committed young people going to the UK to study, unhampered by the pandemic.
Chevening is an absolutely fantastic program. We run it with the support of the Bank of Georgia, who also support around two scholarships a year, usually with a focus on financial services. With Chevening, we are not prescriptive about what people study. It provides an opportunity for any young Georgian who wants to study in the UK to study at Master-level, fully funded, for a year, on a topic of their choice. The only condition is that they come back and use the skills they've gained for at least two years and invest those skills back into Georgia. We have a whole range of alumni scattered in any number of fields: business, government, the NGO sector, international NGOs, all working to support Georgia on its path to the EU.
Around 15 students go each year, and I would love for there to be more. Every year, we at the Embassy fight to expand the allocation to get as many as we can. The scholars are drawn from across Georgia, as we promote the program in all the universities. There's also a component of the program which extends to Abkhazia and South Ossetia. Interestingly, of the students, the cohort is usually made up of just one or two male students, while the rest are impressive and committed young women who are determined to come back and do their best for Georgia in science, sociology, and business. One young lady last year was based in the Ministry of Internal Affairs and had an interest in looking at Human Rights in the law enforcement field. All helpful things for us to support.
Looking ahead
I'm optimistic about the future for a number of reasons. When I speak to British companies, to the bigger players interested in investing in Georgia, the first thing they ask is about political stability. What they want is predictability. And coming up now is a period with no elections, which gives the country an opportunity to set its direction and move forward on its stated objectives.
I'm pretty confident that with the reduction in restrictions in Georgia and the UK, things will begin to pick up again in 2022. I'm already seeing an uptick in official visits in both directions. We've got Ministry of Defense visits coming up as part of that security and defense relationship, and the fact the UK accepts Georgian vaccine certificates and that all vaccines administered in the EU are recognized as legitimate will facilitate travel. I haven't seen tourism coming through in full strength yet, but I expect it's only a matter of time.
Georgia's greatest potential without a doubt lies in its people's enthusiasm and liveliness. Wherever I've gone this past year, there are enthusiastic, committed people fighting for a better future for their country, in whatever sphere you look at and in whatever political persuasion. Some of them have different views of how that should go in terms of politics, of course, but they are all committed to fighting for what they think is a better future for Georgia. That also applies to the business sector- that readiness to learn, to do the best for themselves, their communities and by extension their country. Georgia has a strong reputation for its open economy. I've spoken to colleagues at the World Bank, and they highlight how open Georgia is and how it supports investment.
We are in discussion with companies here, coming out of the pandemic, looking to grow British business.
Further, on the investment side, coming on the back of COP26, there are British companies who are interested in Georgia in terms of renewable energy. We are now looking to the Georgian government to give clarity to these potential investors on the frameworks and context of investment to help them move forward with such potential deals and to decide if the government's offer is viable. That is a priority- for the government to give a real clear sense of direction of what the opportunities are here.
There are also opportunities for Georgia to grow its digital economy sector. That's where Georgian enthusiasm comes in, alongside investment in skills and education.
Georgia's location is a bonus for the transit opportunities it provides through the Caucasus and into Central Asia and beyond. Georgia is never going to be a massive market in and of itself, with just three-odd million people- it's always going to be a limited market, so the ongoing investment in infrastructure is absolutely essential to continued growth to allow Georgia to play its role as a transit hub. Again, that's something British expertise in infrastructure project management should continue to be involved in.
I would love to see a stronger manufacturing base in Georgia, as a higher-value-adding activity. Having not had much of one to date, Georgia and its upcoming development are not held back by the bottlenecks and pressures that other economies are feeling, where they had breaks in their rebound and growth due to Covid. As such, Georgia is finding it easier to get back to where it was pre-Covid.
I do think that as long as Covid can be kept in check, Georgia is well placed and will always be of interest to British companies trading in goods and services, as well as to investors. I'm also optimistic about our Free Trade Agreement, as it's still new, and we're just now working through the early provisions of that with the Georgian government. As we make the most of the opportunities it provides, it will give stimulus to trade in particular areas and sectors.
Looking forward, there's an opportunity now for Georgia to grasp the nettle on any number of opportunities, freed up as it is by the fact there are no elections around the corner, and to make the most of the next few years. Georgia's got the paperwork in the right place, but implementation is still a challenge, and this is something we will be working on, together.
Chevening is the UK government's international awards program aimed at developing global leaders.
Funded by the Foreign, Commonwealth and Development Office (FCDO) and partner organizations, Chevening offers two types of award- the Chevening Scholarships and Chevening Fellowships, the recipients of which are personally selected by British embassies and high commissions throughout the world.
Chevening offers a unique opportunity for future leaders, influencers, and decision-makers from all over the world to develop professionally and academically, network extensively, experience UK culture, and build lasting positive relationships with the UK. Since 1983, over 50,000 professionals have studied in the UK through Chevening.
Exclusive interview by Katie Ruth Davies