My wife was taking a Ladies' Day Out with visiting friends of ours to go to the capital town of Upper Svaneti and hopefully reach the Koruldi Lakes high above it. This would by no means be a given, as the road up there is pretty rough in the best weather, and we'd had quite a bit of rain prior to this to slick things up.
So it was with some considerable surprise that I heard her tell me, by phone in the late afternoon, that not only had they reached the lake, but she would be going PARAGLIDING.
Now, her first brush with this sport was last year in Ureki, off the beach. The customer in front of her had "crashed" into bathers at the water's edge, and this put her off, although there were no injuries resulting. But here she was, giving it another try. They had made it with some help up the slippery, steep, muddy road, which I swear I'll never drive again, seen the lake and its wonderful mountain reflections, noticed the people launching off a hillside, and my wife bit the bullet.
Her flying partner harnessed himself and her in, with helmets and a parachute for each controlled by him in packs on their backs. (She didn't even ask what this was!) They both had to run on the hill and jump off, and she stumbled on the first try. Second one, there she was, up in the air, a Go-Pro camera on a stick in her hand, recording the experience while our friends got photos and video of her from the ground. A 15-minute flight took her looping over Mestia's 40-odd watchtowers as the sun prepared to set, no motor noise at all: just the air rushing by and her heartbeat in her ears, the experience of a lifetime. I am very proud of her.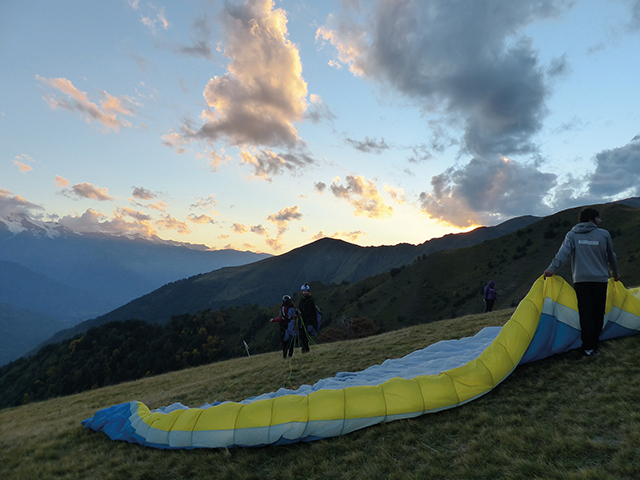 In Cappadocia's wild windsculpted sandstone hills in Turkey a few years ago, she had sent me on a magical balloon sunrise trip and would only do the same thing herself if I came back unscathed, taking her turn the following morning. (I counted about 80 other balloons in my photos when it was over). So this news, and the breathless phone call after it letting me know how absolutely thrilled and pleased with herself she was, showed me how brave she can be when adventure calls.
Now she wants me to do the same thing, which I gladly will. But for me, good weather and somehow the possibility of taking the risk of strapping my digital SLR on for good photos are almost as important as the flight itself. There doesn't seem to be any hot air ballooning in Mestia region yet: maybe the terrain is too constrained and/or the wind too unpredictable to allow such things, which are decades old in Cappadocia. I would rather do it by balloon, as the photographic possibilities are far easier. The possibility of yet another view of majestic Mount Ushba's twin horns is always an enticement for me, having shot the thing from so many different places over the last two decades. Worst case scenario borrowing the Go-Pro, I might just give it a whirl too.
BLOG by Tony Hanmer
Tony Hanmer has lived in Georgia since 1999, in Svaneti since 2007, and been a weekly writer and photographer for GT since early 2011. He runs the "Svaneti Renaissance" Facebook group, now with nearly 2000 members, at www.facebook.com/groups/SvanetiRenaissance/
He and his wife also run their own guest house in Etseri: www.facebook.com/hanmer.house.svaneti