The role of USAID in the social-economic processes in the country is very important. The project "Raising Awareness of Public Administration Reform and Capacity Building in Local Self-Government Units Densely Populated by National Minorities" is yet another example of their commitment and important work, as part of the USAID Good Governance Initiative (GGI) in Georgia.
The Zurab Zhvania School of Public Administration is a subcontractor of the project, implementing the project "Raising Awareness on Public Administration Reform and Capacity Building in Local Self-Government Units Densely Populated by National Minorities." Apart from the fact that the results obtained from this project are very important for the minorities living in the regions of Georgia, they are also very important for the school, because the status of "subcontractor" signifies trust in the educational institution itself, both in financial and operational terms.
"For us, it's a kind of quality indicator that means that the school is on the right path of development," Ketevan Jakeli, Director of the Zhvania School, tells GEORGIA TODAY.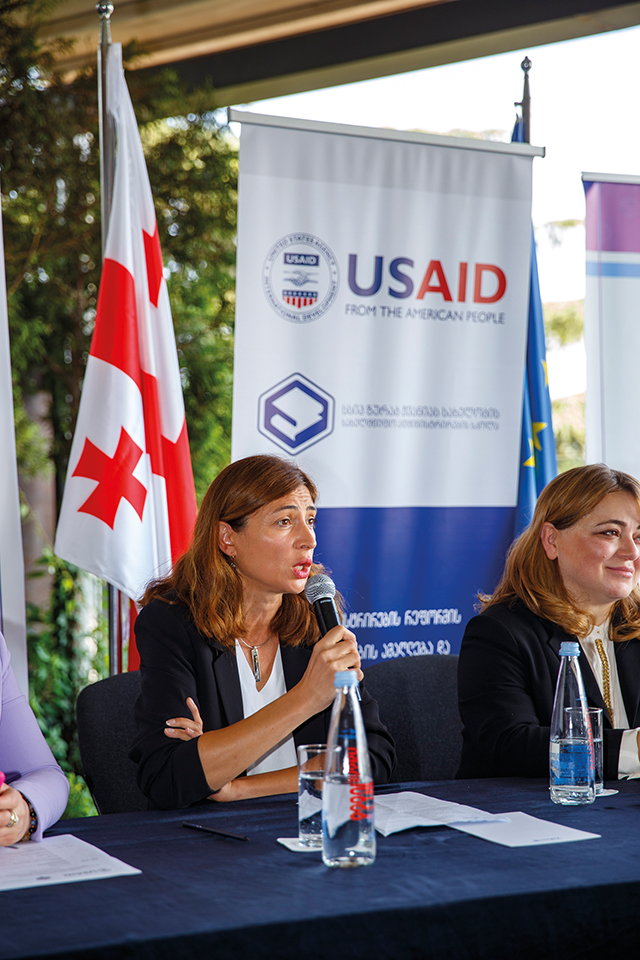 The project aims at supporting good governance on local self-government levels by strengthening the capacity of officials. Within the framework of the project, up to 40 representatives of national minorities from Akhalkalaki, Lagodekhi, Gardabani, Ninotsminda, Marneuli, Akhaltsikhe, Tsalka and Bolnisi self-governments are being trained in issues of public and open governance, disinformation and integration into Euro-Atlantic institutions.
In the process of validation of the training modules, the design, feasibility, content of the modules and compliance of the adaptation standard of the materials for the target groups were determined. The NATO and EU information center, the Civil Service Bureau, the Government Administration and industry experts were involved in this process.
Expected results include introducing the beneficiaries to the principles of good governance, improving the opportunities for beneficiaries to use public administration terminology in Georgian, and improving beneficiaries' competencies in public governance, decentralization, sustainable development goals, open governance, disinformation, EU integration and NATO aspects.
Zhvania School has developed several thematic modules for the program on topics such as misinformation, cyber security, integration into the EU and NATO, good governance matters, public reforms, and the decentralization reform ongoing in the country.
"In Georgia, we have municipalities where the majority of the population is made up of ethnic minorities, and the language barrier still exists despite various programs carried out by the state. It is important that public officials who represent ethnic minorities not be left behind the countrywide reforms being implemented. The collaboration between Zhvania School and the USAID Good Governance program serves exactly this goal," Jakeli says. "The modules that have been carried out in Georgian-language municipalities have been developed and adapted considering the needs of ethnic minorities. 40 public officials from various municipalities are currently taking the relevant training courses. As such, we can say the training on public governance has been very successful."
The thematic trainings are preceded by a two-week intense "intro course"- a course where beneficiaries study terminology-focused language in order to make passing the following thematic modules easier. The intro course is followed by modules on EU and NATO integration.
"We, both Zhvania School and USAID, are closely following the processes, because it is important to assess the results, and it is very important for us to see how this initiative actually helps those studying with us to integrate into the processes underway in the country. They are part of these processes, and this is a problem that can only be solved through joint forces," Jakeli notes adding that attracting highly qualified field experts is also important.
"I'm glad to see that these trainings and working on the integration of minorities was something that inspired and excited them, and it's nice to see how motivated they are. As a result, 40 public officials will gain knowledge about the reforms and processes ongoing in the country, which itself contributes to their involvement and more active efforts for the better future of our country."

"Participation in these trainings is very important for ethnic minorities living in Georgia," says Orkhan Alyev, the Mayor's Representative in Bolnisi Municipality. "Based on my experience, I think that all the state officials representing ethnic minorities should be maximally involved in such initiatives, as it raises our awareness regarding the political, social and economic processes and reforms going on in the country, and helps us to better involve ourselves in them.
"I'm very grateful to USAID and the Zhvania School for such an opportunity. Importantly, we, the project beneficiaries, are also taking a language course as part of the project, which is crucial for us to finally overcome the existing language barrier and improve our knowledge of the Georgian language," Alyev notes. "This is of utmost importance for our daily activities. Again, this is a very good project and I want to thank its initiators!"
"I'm very satisfied with my participation in this project," says Maia Beridu, Assistant to the Tsalka Municipality Mayor. "I think all the public servants, not only those representing ethnic minorities, should get involved in such projects. It is very helpful that it is available in a convenient online format, as I've never had such an opportunity before due to my busy schedule.
"Public governance is a complex topic, and this course gives us an opportunity to further strengthen and deepen our knowledge in this direction. I'm very grateful to our professional trainers for their dedication and enthusiasm. It's a great comfort to have this relationship with them," she adds.
"We're undergoing very diverse trainings as part of the project," notes Giorgi Sackov, Head of the Bolnisi Municipality City Hall Committee on Education and Youth Affairs. "I personally am maximally involved in it. When a person is employed in the public sector, it is always important for their career to grow and develop, for them to be able to use their knowledge in practice, and the efforts of USAID and Zhvania School help us to achieve this goal. This project helps its beneficiaries to feel more self-confident and raises our awareness of many important topics. I'll be involved in it until the end with pleasure, as it helps me believe in my strengths and overcome any barriers."
To find out more about the USAID GGI, and the Zhvania School's involvement in implementing it, GEORGIA TODAY spoke to Lina Panteleeva, who has worked in USAID/Georgia's Democracy, Human Rights, and Governance Office since 2012. She has been managing USAID's Good Governance Initiative since 2015.
"USAID views transparent, accountable, and effective governance as critical to building a citizen-centered democracy that responds to the needs of the Georgian people," she tells us. "This is a fundamental building block for Georgia's continued democratic development and for the country meeting its commitments under the Association Agreement with the European Union.
"The USAID Good Governance Initiative has been our flagship activity in this space since it launched in 2015. We designed the program to promote transparency, accountability and effectiveness in governance by improving the performance of the legislative and executive branches at the local and national levels.
"This work covers a lot of different technical areas – from things like human resources, participatory legislative processes, budgeting, and the management of public finances, to legislative oversight of the executive government. We work with a range of partners across the Government of Georgia, including the Parliament and the State Audit Office. We also partner with government counterparts on important reforms, including civil service reform and decentralization.
"At the day-to-day level, we build linkages between different branches and levels of government, which in turn increases the effectiveness of public services and ensures that elected officials conduct oversight of executive bodies, like mayoral offices and national agencies. We also create mechanisms to help Georgian citizens participate in local decision-making processes. For example, we helped several Georgian cities to introduce participatory budgeting activities. These processes allow citizens to submit their own ideas for projects to receive funding. The winning projects are selected by popular vote.
"This stuff can get pretty technical, but it all comes back to the same simple set of goals: increasing the transparency, accountability, and effectiveness of governance so the Georgian people can receive the high-quality public services they need and deserve.
"After seven years of USAID support through this program, we can point to some tangible progress. Georgia now has a merit-based civil service and much stronger and more capable local government institutions, and citizens can more easily access information about the work of the country's legislative and executive government bodies. I want to point out that there is still much room for improvement, especially in implementing some of the reforms that Georgia has already introduced. USAID is committed to supporting further progress toward good governance, and we look to our partners in the Government of Georgia for their commitment.
What was the involvement of the Zurab Zhvania School of Public Administration in the above activities, and why was this school chosen?
USAID has always put a major emphasis on ensuring that governance is not only effective but inclusive, so that all citizens benefit from improved public services and better-functioning institutions of government. In the case of public administration reform, it's important that civil servants, including those living in ethnic minority communities or other underrepresented areas, are knowledgeable about the reforms and how they impact their day-to-day work. It is also important to ensure that ethnic minority civil servants are able to participate in the implementation of public administration reforms, including through capacity building and awareness raising on key aspects of those reforms.
This is the main purpose of our partnership with the the Zhvania School. The school was established in 2005 with US Government support to tackle the issue of low representation of ethnic minority representatives in public service. It is currently one of the few government-certified training providers in Georgia, and the only organization providing training and adult learning programs for civil servants for whom Georgian is not their first language. We are really hopeful that this project, implemented in cooperation with the Zhvania School, will contribute to improving governance at the local level and raise their awareness of key aspects of public administration reform, open governance principles, decentralization, Georgia's Euro-Atlantic integration, and disinformation. Partnering with the school will also ensure the sustainability of project results, as the training modules developed through the program will continue to be available in the future.
Looking ahead, is Georgia now able to "go its own way" without USAID's Good Governance Initiative, or does it need further support? (If so, in which areas)?
We have supported the Government of Georgia to introduce good governance principles for many years. It's part of our strategy to advance citizen-centered democracy and Euro-Atlantic integration. Georgia has already implemented important reforms and realized tangible progress in many areas. However, there are still gaps in implementation and challenges to be overcome before Georgia reaches a state where citizens feel a positive change in their everyday lives. This is a process of continual improvement that takes time and requires enormous effort, alongside continued support from Georgia's international partners.
The Covid-19 pandemic underlined the importance of well-functioning institutions of government. It also revealed the gaps that remain in Georgia's system. In particular, it showed that transparency, freedom of information, decentralized governance, inclusive and evidence-based decision making, and greater accessibility of public services are critical to address the needs of citizens and to earn their trust. Moving forward, the Government of Georgia needs to continue focusing on these areas and fully leverage the support of its development partners, including USAID.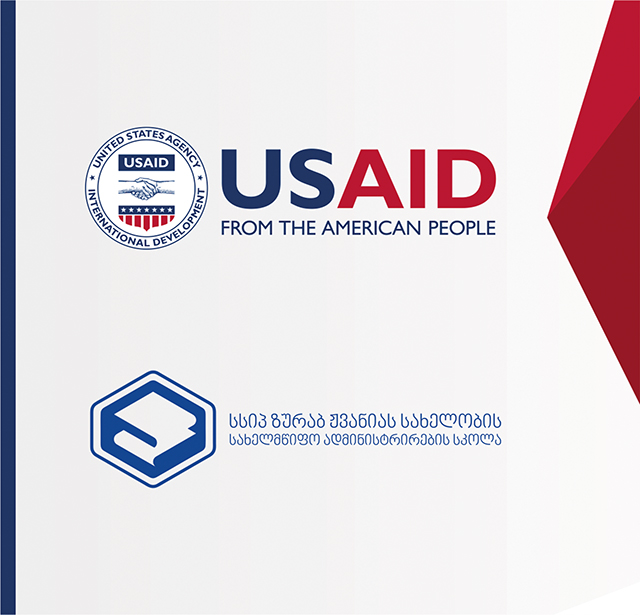 By Ana Dumbadze and Katie Ruth Davies