In an extraordinary display of academic prowess and mathematical acumen, UCMAS Georgia is elated to announce a monumental achievement on the global stage. The accomplished student, Rezi Abulashvili, emerged as the triumphant "Grand Champion" in the highly competitive International Online Challenge 2023. With over 17,000 participants representing 84 countries, Rezi's victory stands as a testament to the program's efficacy and the dedication of UCMAS Georgia's National Franchise Owner, Sahar Harb.
The International Online Challenge, a premier platform for young minds to showcase their mathematical skills, witnessed an overwhelming response from talented students worldwide. Amidst this fierce competition, Rezi Abulashvili's exceptional performance shone brightly, ultimately earning him the prestigious title of "Grand Champion." This accomplishment reflects his dedication, diligence, and the comprehensive training provided by UCMAS Georgia.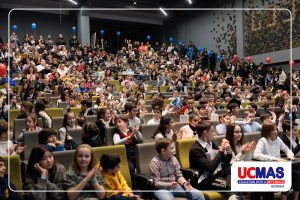 Sahar Harb, the esteemed National Franchise Owner for Georgia, has played an instrumental role in fostering a conducive environment for educational excellence. Under her guidance, students like Rezi have been empowered to embrace academic challenges on an international scale. Mrs. Sahar's commitment to nurturing young talents and encouraging their participation in global events is truly commendable.
The victory of Rezi Abulashvili stands as a testament to the effectiveness of the UCMAS program, which goes beyond conventional education to cultivate cognitive abilities and mathematical proficiency. This triumph reinforces UCMAS Georgia's dedication to honing the skills of young learners and preparing them for success not only within the classroom but also on a global stage.
UCMAS Georgia extends its heartfelt gratitude to Sahar Harb for providing students in Georgia with the opportunity to participate in international competitions of this stature. Her vision and dedication have been instrumental in fostering an environment that encourages young minds to excel beyond boundaries.
As UCMAS Georgia continues to nurture young talents, it remains committed to providing transformative educational experiences that empower students to achieve remarkable feats.