On September 8, a briefing was held at the Ministry of Internal Affairs, where it was said that a Georgian citizen, born in 1988, accused of murdering Australian citizen Shanae Brooke, had been arrested.
Reportedly, the accused, Rafael Mursakulovi, is connected with the ruling party Georgian Dream.
Mursakulovi faces a maximum of 15 years in prison if convicted.
After the identity of the accused was revealed, a photo was spread on Facebook, where he is depicted together with Irakli Zarkua, a member of the Georgian Dream. On the right is Giorgi Gambashidze, Deputy Chairman of the Lagodekhi City Council and Chief of Staff of the Georgian Dream.
Giorgi Gambashidze says that he does not know the accused Rafael Mursakulovi.
Gambashidze told Formula he appeared in the photo with Mursakulovi "completely by chance."
He noted that he did not have any contact with Mursakulovi after taking the photo.
When asked whether Mursakulovi is a person related to Georgian Dream, Gambashidze replied:
"I cannot tell you anything, I have no contact with Tbilisi in that regard. Whether he is an activist or not, you should probably ask Tbilisi organizations," he said.
After Mursakulovi's arrest, Irakli Zarkua, a Georgian Dream MP, accused the 'TV channels of the UNM' of plotting to use the murder to attack Georgian Dream during the election campaign.
Zarkua, who was spotted together with Rafael Mursakulovi in a group photo, claimed that the Georgian Dream had hundreds of thousands of supporters and that "they could not be responsible for every one of them."
Mursakulov's Facebook page reads that he "works at the Georgian Dream."
In addition, he's a supporter of Tbilisi Mayor Kakha Kaladze and was seen wearing a shirt with the City Hall logo in the 'Stop COVID-19' Campaign.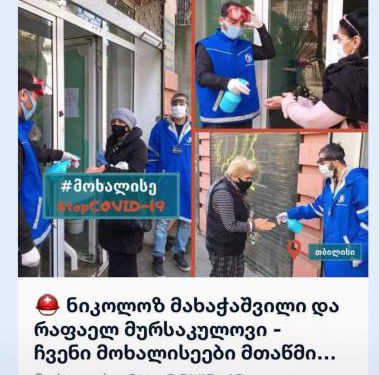 This post can no longer be found on Facebook.
By Ana Dumbadze
Related Story: Georgian Citizen Rafael Mursakulovi Named as Suspect in Shanae Brooke Edwards's Murder