Ortahisar, a town in Turkey where the legendary St. Nino was born, has been twinned with Kakheti's citadel of Sighnaghi, where St. Nino is now buried in the Bodbe Nunnery. Mayors Mustafa Ateş and Giorgi Gogilashvili signed the protocol in Bodbe, while the Sighnaghi municipality as a whole hosted the Turkish delegation.
Saint Nino preached Christianity in Georgia in the IV century. She is equal to the Apostles and the Enlightener of Georgia. As legends describe, she performed miracles and converted the Georgian Queen, Nana. Saint Nino's grapevine cross, said to have been tied together with cuts of her own hair, is a symbol of Georgian Christianity.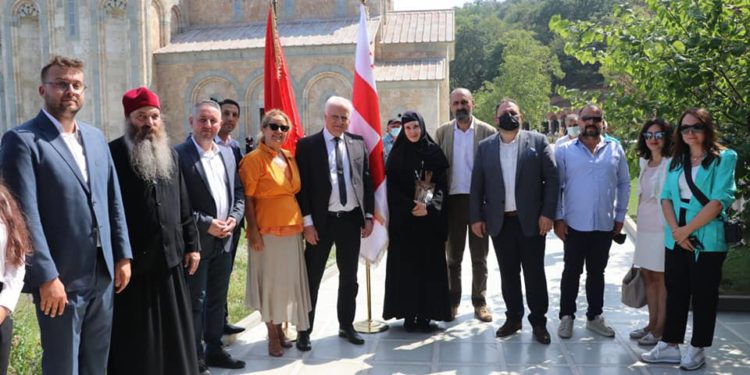 Before the official signing ceremony, the members of the delegation visited the Sighnaghi National Museum and explored examples of the ancient Georgian culture, as well as discovering some original works of renowned primitive 20th century painter Niko Pirosmani.
Turkish Ambassador to Georgia Fatma Seren Yazgan, representative of Kakheti Regional Administration, and City Hall staff, attended the signing ceremony. An exhibition specially arranged for this day was held in the yard of the nunnery, promoting the town of Ortahisar in photos.
On the same day, a dialogue was held between the two sides in the nunnery, seeing the sides discussing the life of St. Nino, her merits, and plans for future cooperation.
By Ketevan Skhirladze