In the age of an accelerated global exchange of cultures, we are seeing the rise of Manga in the West, and festivals and conventions bear visible markers of popular Japanese Manga influence. But what is Manga? Manga originated in 19th century Japan, and is a form of comic or visual novel. Just like the traditional Japanese written text, it reads from top to down, right to left. Manga really gained traction in Japan, becoming popular as short stories in newspapers. Since then, it has grown to be an independent industry. It could be considered equivalent of the comic books industry in the United States, but with stylistic differences in storytelling and art.
GEORGIA TODAY, interested in the growing Manga culture in Georgia, which itself stands on the brink of western and eastern cultures, sought out the creator of "DestructioN" – a Manga written by Georgian author, Lasha Lapachi.
"I'm a baccalaureate of architecture, urbanistic and design faculty," Lasha tells us. "I've wanted to be a manga artist since high school, and since I graduated, I've been on a journey of refining my skills in drawing and storytelling. Now, I'm at a point in my life where I can focus on creating my own Manga."
Why did you use Manga and not another medium for your story?
I was heavily influenced by Anime and Manga in my teenage years, which is when I first discovered them. My first Manga was Hellsing by Kouta Hirano. It made a big impression on me, and was what inspired me to want to create my own Manga. Later on, I discovered Berserk by Kentaro Miura and I was influenced by both his story and art. It was also a big influence on my art style. I think the visualization of the story in comics and Manga is the reason I chose this medium. Compared to books and written words, it is very specific, but there is something very cool about the delivery from the authors and their stylish art. I don't think I could let go of drawing and tell my story through words.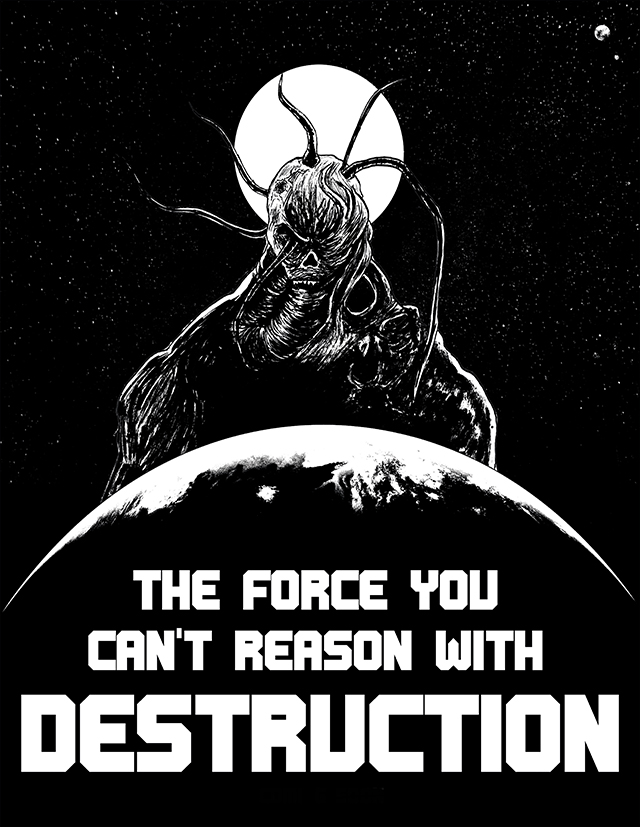 What is DestructioN about?
DestructioN is a science fiction, cosmic horror story. In the world of DestructioN, we have Dark Energy, which is like an entity of itself, out there occupying empty space, expanding and searching for life forms to destroy. When it comes in contact with humans, it tries to possess them, and if it succeeds in doing so, terrible things start happening. As characters in the story become aware of what they're up against, they take a stance. It involves deeply entangled world views, politics and alliances. DestructioN is a very personal experience of mine, since I wrote myself as the main character in the story. It is filled with fictional content, and at the end of the day, only I know where the line blurs between fiction and reality; the readers will have to make a lot of speculation and fitting of pieces in the puzzle while exploring the world and plot of DestructioN.
Tell us how you came up with the story.
I was working on the story and setting for a long time. It's a process of continuing growth. You simulate a lot of scenarios in your head, might even think you've found what you were looking for, but the next day when you come back to it, it's not an impressive idea or something you want to stick with. It goes on a cycle until you find something that feels right. You double check it and keep checking until you're sure it's what you want to do; that it's worth refining and working on. But to come to this point, you have to grow as a person, experience things in life to base the story upon. I don't think you can come up with anything worthy, even if you're talented, if you're an empty vessel.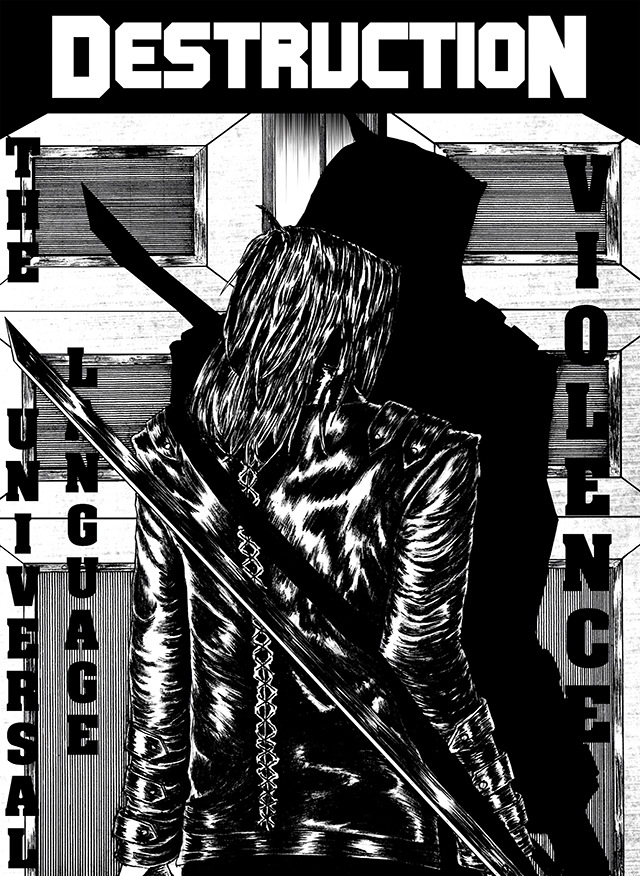 What is the process of making a story into art?
First, you have to break your story down into episodes, or what you might call chapters, since the average page count of a chapter is 24-28 pages. Then you have to plan what goes on these pages. I usually have scenes written as text, but adapting them dry doesn't seem to work quite well, so I try to see the scene in my mind as if I'm watching a movie. This is when and how I approve scenes and panels I want to be in the chapter. After this, I make a rough draft of the whole chapter, put in dialogue, and let it sit awhile, then re-read it to see what needs to be changed. If everything flows nicely, then the drawing process starts, which is two stage: First drawing in pencil, then inking. The rest is scanning the drawings, cleaning up, and adding the text in digital. Then it's ready to be printed and published!
Who is your publisher?
I'm self-published right now. I want to keep things independent, and so took on printing and publishing myself. I even did the binding of all the Limited Edition physical copies of Chapter 1 on my own. It was a real challenging experience, knowing how print shops have machines that cut and bind all the pages, but I was doing them manually. Some accidents happened, copies got ruined, but you know that once you start, there's no going back.
You released your Manga this summer. How did that go?
The release event of DestructioN, Chapter 1: Seek and Destroy took place this summer in the Free University. I want to thank them for giving me that opportunity. I contacted the dean of students, had a meeting, and we went through some formal stages to approve the event. Once that was done, I started organizing and planning. I showed a concept trailer, gave a speech about the setting and things to expect, and showed videos of my journey making Chapter 1. People seemed to really get into what DestructioN was all about, and started asking questions. We had an engaging conversation, with some jokes and references to pop culture. It is very hard to establish yourself, make room for your content, in this global age of information. My network of friends, who spread the word about my work, gathered a lot more people than expected. I am very grateful to everyone who has taken an interest in my work.
What feedback have you got from readers?
That's the fun part, hearing from someone who's read your Manga. The interpretations and impressions vary from person to person. They're already making their versions of fan theories of what to expect, what could happen next. But the best compliment is when they say they want to see more: That makes me think I made a good cliffhanger with the last scene. I also get constructive criticism from my close friends, who are very helpful in making me look at my work with a different eye. I'll be using all the experience I've gained for the next chapters to come.
What are your future plans with DestructioN?
First thing's first, I am working on the next chapter, and DestructioN will continue to be made at all costs. This is my resolve. As for the future, it's having a global release in digital version and building a worldwide reader following. The competition with other products will be interesting and fun. Since I'm doing DestructioN as something I'd like to read, hopefully it will be a worthy and quality product for the public, too. This will determine and unlock the possibilities of what can be done in future.
Interview by Ketevan Skhirtladze