Tommaso Di Giovanni, VP of International Communications at Philip Morris International, spoke to us about accelerating Georgia's progress to a smoke-free future, US FDA decisions on the PMI's IQOS, and the role of stakeholders.
Your company came to Georgia in 1996. You brought a portfolio of brands of cigarettes. Despite all the ups and down, this seems to have been a fairly successful business. Today you speak about a future without cigarettes. And you are quite vocal here in Georgia – talking to the media and stakeholders. What drives this change?
You are right. We have built a very successful business.  Yet, in 2016 our CEO made it very clear: our purpose is to deliver a smoke-free future, a future in which cigarettes are replaced by less harmful alternatives based on science, to the benefit of people who smoke, public health and society at large.  It is the right thing to do because it addresses the main issue of cigarettes – that they cause disease – and it is makes business sense, because it answers a demand from smokers, who look for better alternatives when they do not choose to quit.
There still is a fair amount of scepticism, especially on part of the WHO. They have not, to put it mildly, been particularly happy with a tobacco company coming up with yet another product for smokers.
The WHO stance on e-cigarettes and heated tobacco is clearly at odds with recent evidence and statements from very credible government organizations, like the US FDA and UK's PHE, and the many governments that have updated old laws to take into consideration the different nature of these products, like the same UK, the US, and more recently Portugal, Italy Greece and New Zealand to cite a few names.
It seems to consider evidence selectively and to be based on a wrong focus: a fight against the industry rather than a focus on the best way to reduce the number of smokers. The same WHO foresees that there will be approximately the same number of smokers in the world in 2025 as today. We know that the best choice is to quit tobacco and nicotine completely, but many people don't. For those who don't why not encourage them to switch to a less harmful alternative than cigarettes? It seems common sense. But common sense sometimes is shadowed by ideologies.
Interestingly, a recent report from an all-party parliamentary group of MPs in the UK called for the WHO to return to the founding principle of the FCTC which includes harm reduction, rather than the current prohibitionist stance.
I only hope that the FCTC will put aside old ideological fights against the industry, be open to dialogue and reconsider their stance. People who smoke and public health deserve a more progressive approach.
Last year the authoritative US Food and Drug Administration took a positive decision on your application to enable marketing IQOS as a "modified risk tobacco product." What kind of global implications this decision has?
The FDA's Modified-Risk Tobacco Product Authorization for IQOS is a milestone decision. It is the first time that an organization with such credibility reaches such conclusions on an electronically heated tobacco product. And it did so after almost three years of extensive review of a scientific dossier of hundreds of thousands of pages.
The FDA recognized that, whilst not risk-free, IQOS is substantially different than cigarettes, generates significantly lower levels of harmful compounds and switching completely significantly reduces exposure to harmful and potentially harmful chemicals compared to continuous use of cigarettes. And authorized to communicate this information to consumers under the premise that this would "promote public health".
Other governments have recently updated old laws to take into account similar conclusions from dozens of independent research organizations around the world. We hope governments will look at the FDA assessment and revise their approaches to IQOS and similar products based on science. People who smoke deserve to receive accurate information so they can chose better alternatives if they do not quit, rather than being left with only one real choice: cigarettes.
Some critics say that the review only included studies done by your company.
This is not correct. The review took into consideration a large package of evidence, comprising the studies we conducted or financed as well as a significant number of independent studies.
Outside of the US, numerous government research centres and public health organizations have reviewed evidence or conducted their own studies and reached positive conclusions. For example, recently, the Dutch National Institute for Public Health and the Environment (RIVM), developed one of the most advanced approaches to evaluate the potential magnitude of the health impact on an individual who switches from smoking cigarettes to IQOS. They concluded that—while IQOS is not risk-free—its use is associated with significantly lower exposure to select carcinogens, and that this could translate into a substantially improved risk profile. This is just one of the numerous examples of the growing consensus that IQOS is a significantly better alternative to smoking for those who would otherwise continue using cigarettes. 
Do you think that the government of Georgia will impose regulations like in the car industry? Some countries like the UK, France, Norway, proposed the phasing of out of carbon-fueled vehicles by 2025 or 2040. Will cigarettes be completely forbidden?
This is a very good questions. Prohibition has proven not to work but countries like the UK or New Zealand have set a date by which they would like to eliminate cigarettes, and this includes by encouraging adoption of better alternatives such as e-cigarettes or heated tobacco. If the adoption of better alternatives is encouraged for those who do not quit, some countries may be able to get rid of cigarettes in ten or fifteen years from now. It is a concrete possibility. But everyone needs to play his/her role. We are doing our part.
In Georgia, according to the tobacco control law, there is no clear distinction between cigarettes and other tobacco or nicotine products, they are treated equally. Philip Morris is of the opinion that adult smokers, who would otherwise continue to smoke traditional cigarettes, should have enough information about less harmful alternatives. What can PMI do to "enlighten" the users to switch to IQOS?
Defining regulation according to science, as the FDA did, can send a clear message to adult smokers. Some countries, such as the US, Italy, Portugal or the UK, are already heading in that direction. In the countries that have not differentiated between products, it is harder for a smoker to switch. If you don't communicate the relative benefits and risks to consumers, you are basically telling them it is the same thing. And encouraging them to stick with the easier choice: cigarettes, to the detriment of their health and public health.
It is important to make decisions based on scientific evidence because the coronavirus pandemic was also a good example – all eyes are on scientific research in this crisis. When it comes to the tobacco industry, there are generally many manufacturers of electronic and other tobacco products on the market who are unreliable, untested, which is why the US FDA has ordered, among other things, that all manufacturers who want to survive in the market must have consent and scientific evidence, in line with public health promotion. How can PMI make clarifications about IQOS, to persuade people it is a good and much less harmful product?
It is very important that the consumers receive precise and non-misleading information. We invest significant resources in state of the art research to develop the best possible methodologies for scientific assessment, and share our findings with the scientific community and authorities for validation. And we pay particular attention to how we communicate this information to the public and – where possible – to consumers.
But in many countries this information cannot be communicated to smokers, and there is a lack of regulation to ensure the accuracy of communications.
This is why regulation like the one implemented by the US FDA that provides precise guidance and ensures accuracy of communications – while allowing it – is a good example. Some countries, like Greece, Portugal or Bulgaria have also set framework that allow claims and ensure their accuracy.
There is still, unfortunately, a certain number of NGOs and activist group that oppose the approach. They prefer prohibition over the ability of smokers to choose better alternatives if they do not quit. This is unrealistic and goes against the very same interest of the people these organizations should protect: people who smoke. It is time to go beyond old ideologies against companies, and focus on the good of people who smoke and public health. People deserve to have accurate information and make informed choices.
As PMI has announced its goal to help at least 40 million adult smokers worldwide to switch to smoke free products in 2025. What would you say about the Georgian market, what progress you want to achieve with smoke free products in upcoming years on Georgian market?
Our company will continue its smoke-free journey in Georgia to replace cigarettes with smoke-free alternatives as quickly as possible. 800 thousand Georgian men and women who smoke cigarettes deserve better alternatives if they do not quit. We will give them this choice and encourage them to leave cigarettes behind. But we can only achieve a significant public health benefit when many people are aware of smoke-free products and switch to them. How can you explain a new product in detail so that the consumers fully understand and take an informed decision if you can't talk to them or explain the differences? Here is where there is an important role for regulators in defining a common sense approach based on scientific evidence.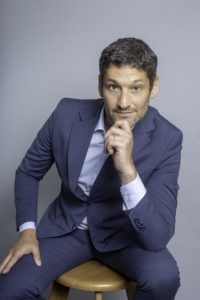 How would you assess the regulatory and business environment in Georgia, especially from the standpoint of an international company that has been operating in the country for more than 20 years?
Georgia made significant steps towards tobacco control law, however there are still number of gaps, that needs to be addressed and discussed for the benefit of public health. It's equally clear that thousands of Georgian adults will continue to smoke and that these people should have the opportunity to switch to better alternatives. An adequate regulatory framework can help accelerate this, by allowing adult consumers to receive information about new products while strictly prohibiting false or misleading statements and whilst minimizing the risk of tobacco and nicotine products being used by non-smokers, particularly minors.
Those who are still in opposition should be aware that they are becoming disablers of public health solutions. They are blocking change, potentially denying adult smokers both access to accurate information on these smoke-free alternatives, and the opportunity to switch to them if they do not quit. This is a real opportunity. We must seize it – and seize it together. It's time to have an open, science-based dialogue to make a smoke-free future a reality.
If everyone plays his part, some countries may get rid of cigarettes completely in 10-15 years from now. In less than a generation.
Georgia is one the world's first wine-producing countries.  I wish Georgia to be among the first smoke-free countries.