In March 2020, to prevent the spread of COVID-19, Georgia closed its borders to international visitors. The combination of the pandemic breaking out and the lockdown measures imposed to combat the spread of the virus plunged businesses in the hospitality industry into crisis. After that, a government program emerged which aimed at: 1) providing quarantine spaces for Georgians returning to the country, as well as other people at risk of COVID-19 infection, and people actually infected with COVID-19; and 2) providing at least some support to the heavily damaged accommodation industry. Thus, the concept of quarantine hotels emerged, and under this government program, 220 different hotels (and 11,744 hotel rooms) were utilized as special quarantine zones during the period of March 2020 to February 19, 2021.
According to the GNTA, the program ensured that 3644 employees in the tourism sector kept their jobs, and 148,904 people were assigned to quarantine zones between March 2020 and February 2021.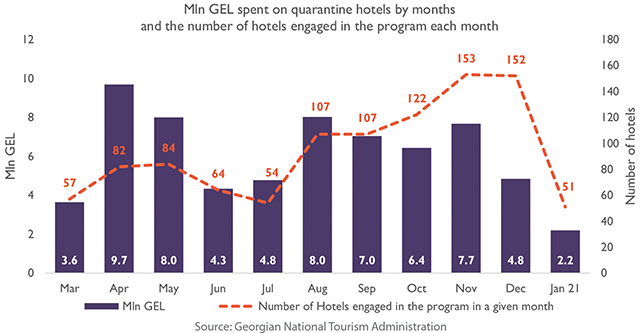 From March 2020 up to and including January 2021, a total of GEL 66.6 mln was spent on the program. This represents an average of GEL 6.1 mln per month. The program spent the most in April 2020 (GEL 9.7 mln) and the least in January 2021 (GEL 2.2 mln). If the dynamics of monthly spending are analyzed, April and May, two months with the most stringent lockdown measures, stand out for the highest spending, along with August (coinciding with a lockdown imposed in Mestia, Svaneti) and November (coinciding with the peak of the virus's spread in the country). On the contrary, June and July stand out for the lowest amounts spent, as well as December and January (2021).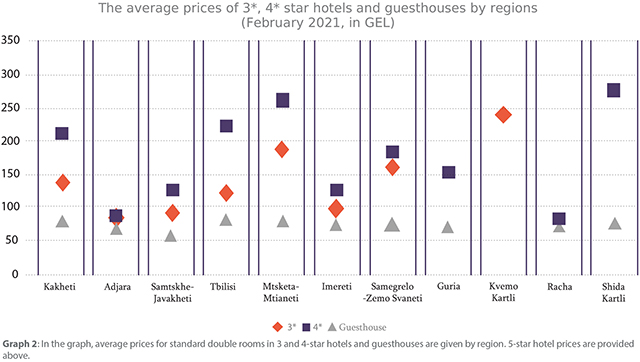 From March 2020 up to and including January 2021, on average 94 hotels were utilized per month. However, when carrying out a month-by-month analysis, it can be observed that before August, much fewer hotels were utilized (on average 68 per month), and from August to December, many more hotels were utilized (on average 128 per month), while this figure dropped to 51 in January 2021. It is worth noting that the number of hotels used as quarantine zones by month is unsurprisingly correlated with the dynamics of the virus spread.
From March 2020 up to and including January 2021, on average, 6340 hotel rooms were utilized per month. The dynamics of this figure by month are nearly identical to the dynamics of total hotels utilized.
The average price of one hotel room per day over the analyzed period was 32 GEL. This figure was at its highest in April (50 GEL), and at its lowest in December and January (2021) (17 GEL and 19 GEL, respectively).
In sum, the program provided alleviation for at least some actors of the accommodation sector; however, given the size of the tourism industry and the magnitude of the shock, this support is relatively insignificant.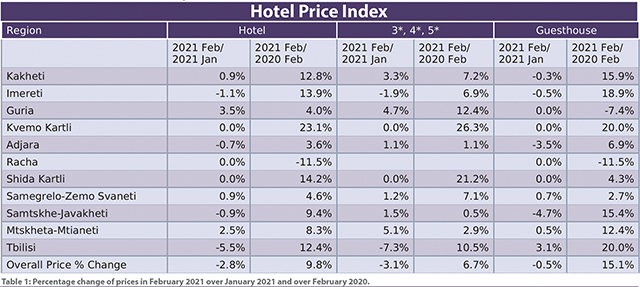 Hotel Price Index
In February 2021, in Georgia, the hotel price index decreased by 2.8% compared to January 2021. The 3-star, 4-star and 5-star hotel price index decreased by 3.1%, while for guesthouses, the price index decreased by 0.5%.
In February 2021, compared to February 2020, hotel prices in Georgia increased by 9.8%. The prices of 3*, 4*, 5* hotels increased by 6.7%, while the prices of guesthouses increased by 15.1%. Compared to February 2019, the hotel price index decreased by 6.9%.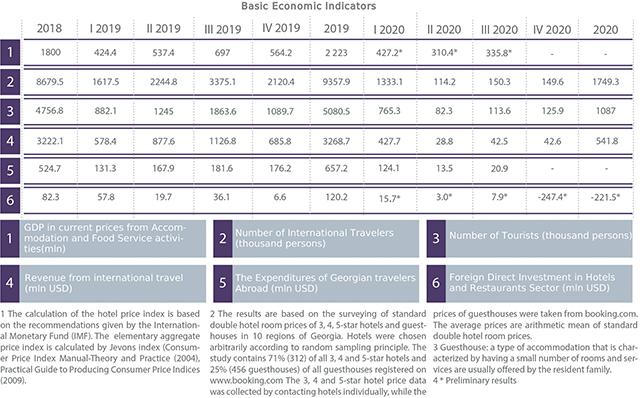 Average Hotel Prices
In Georgia, the average cost of a room in a 3-star hotel was 126 GEL per night in February 2021, while the average cost of a room in a 4-star hotel in Georgia was 180 GEL per night, and the average cost of a room in a guesthouse was 75 GEL per night.
The average cost of a room in a 5-star hotel in Georgia in February 2021 was 345 GEL per night. In Guria, the average price was 464 GEL, followed by Samtskhe-Javakheti – 433 GEL, Tbilisi – 428 GEL and Kakheti – 329 GEL.