On November 13, the mobile British Embassy was in Batumi to meet whoever was interested in learning about NATO. Along with the Embassy of Romania, the British Embassy is an interfacing Embassy for NATO and offers public information campaigns, as it did in Batumi.
The British Ambassador Mark Clayton held meetings in parallel with the public information-giving. He expressed his happiness afterwards, saying it was: "Great to meet Tornike Rijvadze, Chairman of Ajara Government & Mayor of Batumi Archil Chikovani for a great oversight of the situation here. The UK's relationship with the Autonomous Republic of Ajara is going from strength to strength"
He also met with representatives of civil society organizations, and asserted that it was always great to get perspective from outside of Tbilisi.
The British Embassy affirmed that it was a crucial year for Georgia, and noted that talking about opportunities and challenges was therefore really important, especially for the young generation.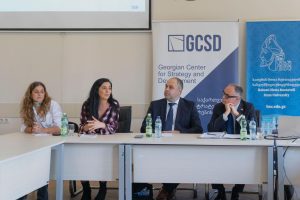 The Ambassador opened a dialogue with students in the context of training courses organized by the Georgian Center for Strategy and Development. The theme was NATO-Georgia relations and the aspirations of the people of Georgia to become members of the Euro-Atlantic family.
On November 13-14, a training course was offered by the GCSD about "NATO's role in the global security system and Georgia" at Batumi Shota Rustaveli State University. During this course, students learned about the history of NATO, regional and national security issues, as well as the achievements and prospects of NATO-Georgia cooperation. This course was part of the "NATO-Georgia Youth Academy" project, supported by the British embassy.
This event was a success according to the British Embassy's reports, generating both interest and discussion.
The next stop for the mobile embassies is Kutaisi, where they will certainly continue their accomplishments.
By Léa Montagne