Russian politicians have responded to yesterday's visit of Russian journalist Vladimir Pozner and his guests to Georgia, which sparked protests among the local population and civil activists late last night.
"The incident related to journalist Vladimir Pozner shows that Georgia's domestic politics is determined by deep radicalism, and the presence of Russian citizens there is not safe," said the Speaker of the Russian State Duma, Vyacheslav Volodin.
He noted that the developments related to Pozner show that "Georgia is in a deep crisis."
"Radicalism determines Georgia's domestic politics in many ways, and it certainly will not do it any good," Volodin said.
He added that the same happened with the Russian MP Sergei Gavrilov, which "only destroys Georgia and shows once again before the summer tourist season how dangerous it is for Russian citizens to be there."
"Russians should clearly understand that traveling to Georgia is not safe for them," said Dmitry Peskov, a spokesman for the Russian president.
"Traveling to Georgia is just dangerous. The Russians need to understand this well," he said, adding that the Kremlin strongly condemned "aggressive actions by extremist nationalists against Russian citizens," in the Georgian capital.
On behalf of the Kremlin, Peskov also welcomed the statement of the Prime Minister of Georgia, Irakli Garibashvili, who condemned the protests and called it "actions of the nationalists."
"Protests against the arrival of Russian TV host Vladimir Pozner in Tbilisi are a political demarche of the radical Georgian opposition and a deliberate provocation," Russian MP Sergei Gavrilov told TASS.
"Pozner's visit proves that the Georgian people, civil society and the leadership of "rationally-minded" Georgia want to restore good relations with Russia. However, the aggressive radical minority, which is a weapon of Western circles, is blackmailing the government by organizing provocations in order the Russian-Georgian relations to remain cut", Gavrilov said.
Vladimir Pozner arrived in Georgia with his guests to celebrate his birthday, but due to the protest of Georgian activists, he had to leave Tbilisi on a charter flight this morning earlier than planned. Activists claimed that Pozner was the author of a statement that "Abkhazia will never be part of Georgia" and that he should leave Georgia immediately.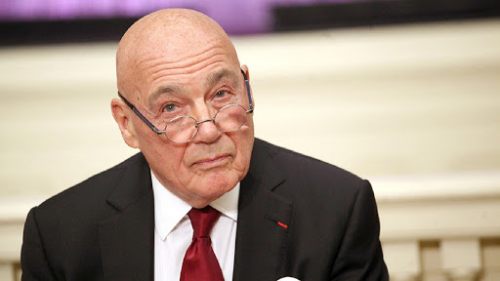 The Ministry of Internal Affairs of Georgia fined 32 guests of Russian journalist Pozner for breaking the rules of isolation and quarantine. Reportedly, Pozner himself is among those fined. The hotel 'Vinotel,' which hosted the Russian guests, was also fined.
Due to high public interest, the MIA has published the receipt check of the administrative fine of Vladimir Pozner and his friends.
By Ana Dumbadze
Related Story: PM: Vladimir Pozner Did Not Violate Law on Occupied Territories