Following the detention of UNM Chairman Nika Melia, the opposition has announced a large-scale rally for February 26.
Khatia Dekanoidze, one of the leaders of the United National Movement party, said at a rally in front of the governmental administration that the large-scale demonstration would be held on February 26, at 15:00.
She called on the opposition supporters to join the scheduled rally "To protest against the Russian occupation by Rodionovs and Gavrilovs."
The rally is currently underway on central Rustaveli Avenue as a form of protest against the detention of the opposition leader.
Protesters gathered near the parliament building blocked Rustaveli Avenue and set out a tent.
Demonstrators are chanting "Freedom to Nika." Alarmingly, no social distancing is being observed among the protesters, which itself poses a threat of spreading coronavirus.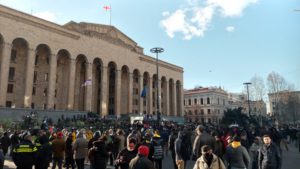 By Ana Dumbadze
Photos by Katie Ruth Davies
Related Story: Opposition Announces Rally in front of Gov't Administration