Home to some of Georgia's oldest academic centers, Kutaisi also boasts the widely popular Kutaisi International University (KIU). Opened in 2020, it has become the epicenter for innovation in Georgia's higher learning industry. Through a strategic partnership with the Technical University of Munich (TUM), it is poised to be the academic and research capital of the Caucasus. These programs, as well as in its organizational structure and development plan, have set KIU apart from other universities in the region. This framework is part of a concept that comes from its honorary president, Professor Doctor Wolfgang A. Herrmann.
Professor Herrmann served as the President of TUM from 1995 to 2019, where his expansive governance reforms earned the institute the reputation of Europe's leading entrepreneurial university. During his 24-year term, he personally saw the appointment of more than 500 new professors, attracting the best in academic talent. GEORGIA TODAY sat down with Prof. Dr. Hermann to explore his views on KIU, Georgian education, and the path ahead.
The KIUInnovate Business Forum was just held, and for this very reason, you decided to visit Georgia all the way from Germany. Could you tell us about the importance of the event and your expectations?
In the future, the fruitful interaction between academia and business is of utmost interest. It is particularly necessary in order to develop new businesses in Georgia, to internationalize business and management, and also to bring in international companies from Germany, Europe, and the United States. They need to get active in Georgia, so this forum actually intends to show the potential of the new university on one hand with its international approach and challenges, and on the other hand to make Georgia attractive for international companies. At the same time, many national companies were also present, making contact with international businesses.
KIU has become a game-changer in the country, providing students the best possible education. Tell us more about your role and thoughts about the university itself.
I've been running The Technical University of Munich for 24 years, so in this function I've been the longest serving president in a European university. My commitment was to introduce entrepreneurship, the entrepreneurial spirit, into the academia of the Technical University. To give you an example, when I started as president 25 years ago, there were hardly any spin-offs coming out of University and its variety of research. Now, we have about a hundred new spin-offs every year. One spin-off that was started in 2011 now has a value of $10 billion on the New York Stock Exchange. So that tells you that from very, very little tiny plants indeed, you can grow huge trees within a relatively short period of time.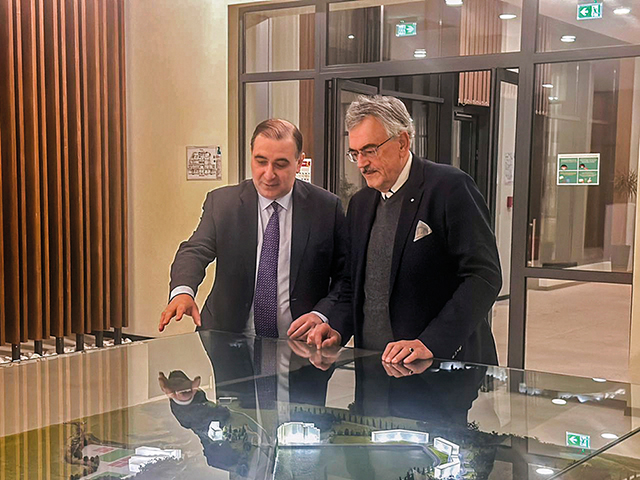 My role at KIU is first to support, develop and foster the university internationality, in terms of interdisciplinary, number two, and its entrepreneurial spirit, number three. To start with these principles, you need international experience, which can be provided in KIU. This is achieved by the new University becoming international as soon as possible, hiring international professors, and having a good mix with national Georgian professors.
Also, having mostly Georgian students of course, but students from other countries, too, as well as by sending Georgian students to study in Germany, France, Great Britain, Israel, Japan and America, to just name the priority countries. They need to gain international experience because if you have seen how people in other countries of the world are thinking and acting, then this changes and improves your own behavior. I think these are the three principles I want to contribute to KIU, to help gain it a reputation and worldwide visibility, to the benefit of Georgia and the Caucasus region.
Founding the university in the oldest educational center of Georgia was itself a historic decision and you chose to be honorable president of it. What is your opinion on the country itself and its academic scene?
This is the ideal question in these difficult times that we are living in. This focuses on my view of universities. Many universities, all across the globe, do not deserve their names. They hide from everybody, they are not open-minded enough, they are not international enough. But now, in this political situation, people recognize that Georgia is a key place between Old Europe and Central Asia. Georgia is going to adopt a central role, in a geopolitical sense, in the near future.
For that reason, it is necessary that we create an international university in Kutaisi which is accepted by the academic and business communities all over. It would not suffice to have a new university that is just on a national level. Now what Georgia needs is a truly international university that can also act as the springboard between Old Europe and Central Asia. I think Georgia has been underestimated in the past 50 years in terms of its possible geopolitical role. But now, through the recent political developments, this is recognized also in the Western hemisphere.
What are your future plans with the university?
Kutaisi International University, in the midterm run, should be the most prominent university in the entire Caucasus. We should have the effect of being a role model for others in the region, but also be accepted as an international university by the best competitors in Europe and the rest of the world. That must be the goal, and for that we have to work very hard in order to develop the curricula to get the right set of disciplines. We must also find the most brilliant students by fair strictly talent-based selection processes. I think if we teach them to become international, to develop a global, open mindset, then we can get the new elite of Georgia.
Interview by Michael Godwin