Over 75 innovators, inventors, businesses, startups and initiative groups joined the contest for energy-efficient inventions announced by the United Nations Development Program (UNDP) in July. The contest revealed everyday solutions that help reduce dependency on fossil fuels, increase the use of renewables, and explore innovative ways to save energy and monitor its consumption.
Germany and Qatar supported the initiative as part of their broader assistance to UNDP's Accelerator Lab.
Nick Beresford, UNDP Resident Representative in Georgia, Lidija Christmann, Head of Development Cooperation at the Embassy of Germany in Georgia, and Nasser Saad Al-Nuaimi, Second Secretary of the Embassy of the State of Qatar in Georgia, announced the winners on 1 November at an awards event attended by representatives of civil society, educational institutions, international organizations and the private sector.
Authors of the five best ideas received GEL 20,000 each to prototype and shape their inventions and fast-track their development:
• An electricity generating system equipped with a hydro turbine. Author: Merab Chiraqadze
• A smart energy meter to monitor and regulate expenditures on electricity and gas. Author: Lasha Khutsishvili
• Vertical farming with a consolidated soil system. Author: Jacob Bitsadze
• A car equipped with a solar refrigerator for transporting agricultural produce. Authors: Eliso Ghviniashvili, Nikoloz Medulashvili, Sulkhan Saladze
• Energy efficient bricks. Authors: Amiran Grdzelishvili, Merab Baratashvili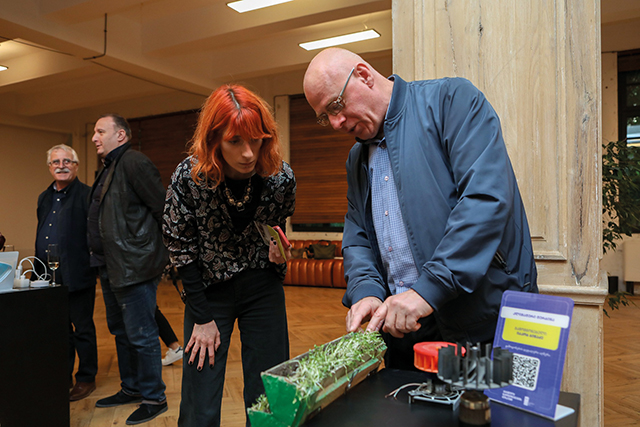 "UNDP warmly welcomes the exceptional creativity and motivation shown by the contest participants. Their work points us to a greener, smarter and more sustainable future," Beresford said.
"Germany is one of the world's top countries in promoting renewable energy and energy efficiency. We are pleased to help Georgia unlock its renewable energy potential, raise public awareness about green energy and support innovation and people-driven solutions," Christmann noted.
More information on the contest winners and participants is available on the website Museum of Georgian Inventions.
###
The UNDP Accelerator Labs work in 116 countries to solve protracted development challenges by applying new insights and technologies. Georgia joined this fast-growing network of innovators and experimenters in 2020. Georgia's Accelerator Lab is focused on supporting post-pandemic recovery and climate action, transforming public attitudes towards recycling and waste separation, and analyzing gender equality data to offer insights to decision-makers and civil society.