An interactive scientific-educational day on 'Black Sea Blue Economy Policy' was conducted in Batumi on July 5. It was organized by the Georgian Ministry of Education and Science with assistance from Batumi Shota Rustaveli University.
Throughout the day, the European Maritime Day (EMD) Georgia event organizer Mariam Avakova organized a 'Black Sea & Ocean awareness – applied raising quiz' within EMD in my country as a part of the joint activities with the Iv.Javakhishvili Tbilisi State University ( TSU) held within the EU funded projects "Black Sea Connect", "Bridge-BS", "DOORs" (Horizon 2020″), EMODnet, 552 BSB RedMarLItter, etc.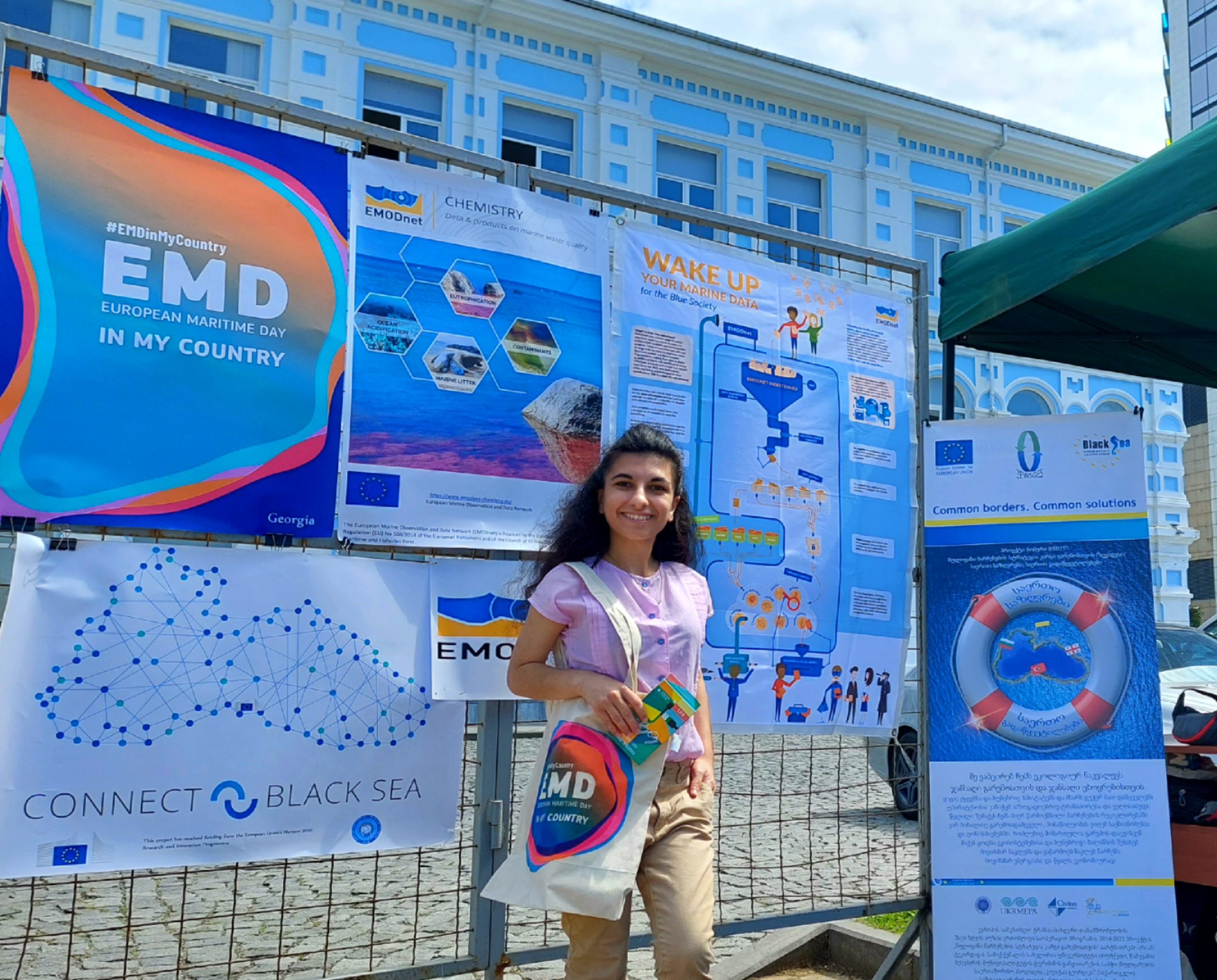 Mariam AvakovaThe quiz involved more than 50 students from local schools. The first 17 quiz winners were awarded a range of prizes, including a Georgian Eco-Friendly USB cable Tene made from melted plastic, colorful cotton bags with the EMDinMyCountry logo that were distributed especially by the EU commission in Brussels for the event, and t-shirts and notebooks from TSU Black Sea Connect.
In addition to the quiz, they conducted a painting session. A cotton EMD bag was also given to the little artists.
Mariam Avakova is the Black Sea Young Ambassador, Youth4Ocean Advocate, and Master of MSc Natural Resources. Black Sea Connect Scientific team member based at TSU
Mariam's Interview, EMD in Ravenna delegate:
"Georgia is moving toward becoming an EU candidate. Georgia is a nation built on European values. Additionally, as was noted during the UN Ocean Conference in Lisbon, a million tones of plastic waste are produced annually, and by 2050, there may be more plastic in the oceans and seas than fish, threatening the survival of our marine life. I'm pleased to participate in #SaveOurOcean and #BlackSeas with my tiny action. Being the first person to put Georgia on the map of  #EMDinmycounty is an honor and a historical milestone.
"I am extremely proud of our joint event in Georgia, #EMD2022, which I had the privilege of organizing and putting Georgia on the map of #EMDinMyCounty as the event organizer and host of #EMDinGeorgia. We have supported Georgian eco-friendly TENE USB cable, produced from melted plastic bottle cups. As I have stated during my pledge in EMD in Ravenna and before, I also support the New Plastic Economy to minimize plastic pollution by creating stable new plastic recycled products which can bring economic, social, and environmental benefit.
"I planned an awareness-raising quiz competition, which astonished me by making the day really entertaining and energetic and allowing me to meet a lot of young people who are enthusiastic about what they do.
"I made use of resources that our #EU4Ocean youth advocate Vera Noon from ACTeon provided for quiz building, several Emblas projects, and my own unique questions. It was just amazing. I was overjoyed when our deputy minister of education and science visited us at the conclusion of her trip and acknowledged the eco-friendly cables and applied scientific awareness quiz as excellent ideas. I am really pleased of the EMD inspiration as well as of myself.
"The objective of the quiz was by providing participants with 27 logically connected questions that would help them learn and develop knowledge about the Black Sea and Ocean, the quiz's goal was to help them understand and remember: The Black Sea's endemic species, the use of ocean power to reduce emissions, our efforts to prevent marine damage, the EU's involvement in ocean and sea protection, pollution materials, and other topics were all addressed in the questions.
"My senior colleague and the main contact for the TSU based Horizon project, Mr. Kakhaber Bilashvili, deserves a tremendous gratitude from me. In order to reward the winners of the European Maritime Day parallel event: EMD in Georgia's "educational quizzes about the Black Sea and the Ocean," he provided financial support to make Tene branded cables, which were made using grant funds from the Black Sea Connect, Bridge-Bs, and EMODnet projects.
"I'm happy to have contributed in several ways with only one concept. I first included Georgia to my country's EMD map with this activity, had access to the EU media, and had the chance to share information about the country and the existing Georgian product.
"Also worth mentioning is my fellow Salome Kobaidze, a young ambassador for the Black Sea, who will promote the quiz by organizing the session and putting her enthusiasm into her initiative to raise awareness among Kobuleti, Poti,children. She also granted to the EMD2022 winners with T-shirts from Black Sea Connect as awards. Additionally, Irine Baramidze, BRIDGE-BS Project TSU team member,, made an effort to organize a painting workshop as part of our EMD2022 and Black Sea Blue Economy initiatives and Vazha Trapaidze for coordinating the whole process of the entire day to make it great.
"I am incredibly appreciative that EU Mare and the EMDinMyCountry team chose me to host an event for European Maritime Day in Georgia. I am grateful to the Youth4Ocean Forum for inviting me to attend the EMD Ravenna Days in May and meet with Virginijus Sinkeviius, the Commissioner for Environment as a Youth4Ocean advocate. I had the honor of organizing and putting Georgia on the map of #EMDinMyCounty during this very sensitive period of Georgia's European membership journey. All of this motivated me to start the EMD event and contribute my humble action to the # SaveOurOcean and # BlackSeas campaigns.
"I am extremely grateful to EU Mare and #EMDinMyCountry Team to recognize me and select as an European Maritime day in Georgia event organizer, #EMD2022,  I had the privilege of organising and putting Georgia on the map of #EMDinMyCounty  in this very sensitive period of Georgia's European membership journey."