Aiding the economic empowerment of women requires both financial and informational resources. The USAID program "Supporting Youth and Women's Entrepreneurship in Georgia" (USAID YES-Georgia) has been actively supporting women entrepreneurs for years.
USAID YES-Georgia's latest information campaign "Become a successful female entrepreneur," within the framework of the program, took place last weekend (June 30-July 3). Within the framework of the campaign, representatives of the program met with women living in the Kakheti region and provided them with information about the campaign's activities and the development of entrepreneurial activities.
The campaign "Become a successful female entrepreneur", which is carried out within the framework of one of the components of the USAID YES-Georgia program – Buzz Georgia, involves conducting trainings for women living in the regions, sharing knowledge and experiencewith them, and helping them in their economic and entrepreneurial activities. The first such event was carried out in April 2021.
The ongoing campaign in the Kakheti region includes around 100 women living in Sagarejo, Sighnaghi, Gurjaani, Telavi and Akhmeta who run family wine cellars, a traditional craft workshop, a farm, wheat meadows, almond orchards, a family hotel, and a sushi bar. USAID YES-Georgia campaign representatives visited 12 female entrepreneurs who are beneficiaries of the program, and seven of them hosted total of 90 local women to attend informational meetings about women's entrepreneurship provided by program representatives.
"My wine cellar is called 'Doctor's Bio Winery,' where I've been producing Kvevri natural wine since 2020 from my own vineyards planted in the microzone of Akhasheni," Marina Kakiashvili-Ruadze tells us. "We are focused on the production of premium quality wine. I'm a member of the Natural Wine Association and have participated in many local and international exhibitions, and my wine is a prize-winner. Last year, I received a USAID grant, and the equipment I purchased with it helps me to keep up the quality of my natural wine. Last weekend's campaign was a motivation for all women entrepreneurs, and I was glad to be a part of it."
"What would you do if you had a 19th century wine cellar, vineyards, and free land near Lopota Valley, one of the most attractive tourist spots in Kakheti? Of course, you would think about starting a hotel business, and that's just what I did in 2018," Maya Mosiashvili of the Lopota Kari family hotel says. "I started by sending my business idea to the Produce Georgia micro and small grants program. The funding was small, but enough to motivate my husband and I to try our hand at hospitality. We opened a 5-room hotel in the fall of 2019. Along with the hotel business, my husband and I also started producing wine, which we make from our own organic grapes in our 150-year-old cellar.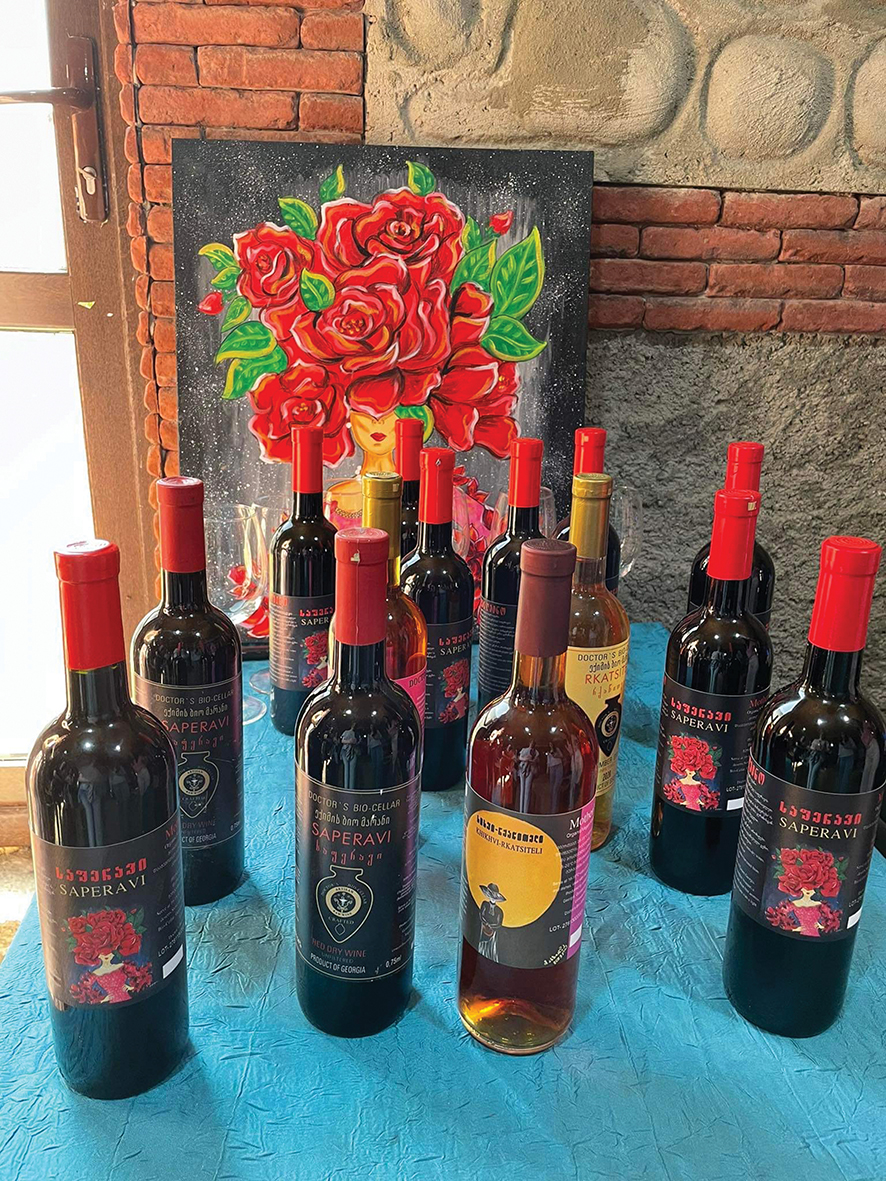 "I learned about the USAID YES-Georgia women's entrepreneurship support program during the pandemic and joined the trainings they organized, which helped me a lot to move my business forward. I got a lot of support from the wonderful team. Knowledge and expertise are very important for start-ups, especially for women who have much less time and financial resources to develop a small business. It's can be easy for women to start a small business, but much more difficult for them to develop and grow it, because it requires increasing your skillset and raising funds. I hope the program will continue to support and strengthen women's businesses in the future."
"My wine cellar 'Karseladze's Cellar' was built in 1902 and has the status of a cultural heritage monument," says Salome Matiashvili. "There are many old things, which will take ourguests back in time. I also make two kinds of kvevri wine-Rkatsiteli and Saferavi. I produce wine and fruit chacha, as well as brandy. Participating in Young Entrepreneurs' School established within USAID YES-Georgia program, was a great challenge for me, I saw my business in a completely different way, I started managing it very seriously, which was encouraged by their trainings."
"Since 2019, my company Traditional Churchkhela from Kakheti has been producing several types of churchkhela," says Mariam Kevkhishvili. "The product's main ingredient is grape juice, which wesource from our own vineyards, which allows us to control product quality. In 2019, we planted almond plantations in the Gurjaani region, which are already giving us a good harvest. Last weekend's workshop was an informational meeting, very useful for local women looking to raise awareness about their work."
The program is implemented by the Crystal Foundation with funding from the American people, USAID, and the Women's Global Development and Prosperity (W-GDP) initiative. The project is provided additional financial support by the microfinance organization Crystal.
By 2024, it is expected that more than 2600 women entrepreneurs within the program will have better access to knowledge, finance and business services, enabling them to transform their businesses into more profitable enterprises.
By Mariam Mtivlishvili