The pristine white slopes of Georgia's famous ski town of Gudauri are beloved to a host of international outdoors enthusiasts. The cold winter months routinely bring armies of both professionals and amateurs, eager to enjoy one of the nation's most exhilarating natural attractions. Additionally, the businesses that cater to these masses play a vital role to both the country's tourism industry and the local economy.
However, this season is seeing the beautiful slopes marred by gangs of young men, outraged at the presence of outsiders. Despite the local and national economy rocketing back from pandemic levels, these groups are outraged at what they perceive is a lack of action from the government, action the aptly dubbed "ski mafia" claim should be to outlaw the role of foreigners in this vital tourism sector.
A member of the Vagabond Adventures winter sports company who has witnessed their actions and had customers harassed by these gangs, is part of one of the six skiing schools on the mountain. Comprising a team of both local and foreign winter sports professionals, he has taken action to protect his clientele and employees. However, despite reporting the ongoing incident, the police have neglected to take action, stating they can only act after an injury occurs.
"We went to the police to ask for protection, but they told us that the group is out of control and they can't do anything preventative," he says, speaking on the condition of anonymity due to the pressure on the staff. "They can only act after someone gets injured. Now we want to go to the media, raise support among the rest of the people living in Georgia, and show that this group of thugs doesn't speak the opinion of the whole country." According to him, the groups have yelled obscenities at families attempting to board the ski lifts and have even assaulted the instructors.
"They're pushing foreign ski instructors off the slope, taking their equipment, standing between them and their clients and refusing to move," he states, adding that they had blocked access to the gondola carriages that carry guests up the mountain. Declaring that "Gudauri is for Georgians," these men have largely halted one of Georgia's most important seasonal industries. With an estimated $1 million in revenue each season, more than a good time on the slopes is at stake.
With over 100 foreign instructors from the United States, the European Union, Russia, and even Ukraine, the local industry thrives on foreign talent. Complimenting this is the vast hospitality and supporting business infrastructure that makes Gudauri the lauded resort town for which it is famous. The situation, the ski company member says, has caused long-time clients to question their winter traditions, which will potentially take a toll on the larger economy.
Following the arrival of more police, and formal reports filed, the action has recently calmed, but not abated. The member of Vagabond Adventures only asks that they find dialogue, and potentially work together. Speaking with GEORGIA TODAY, he explains some of the ripple effects and the situation around the incidents, as well as what he hopes can be achieved in the near future.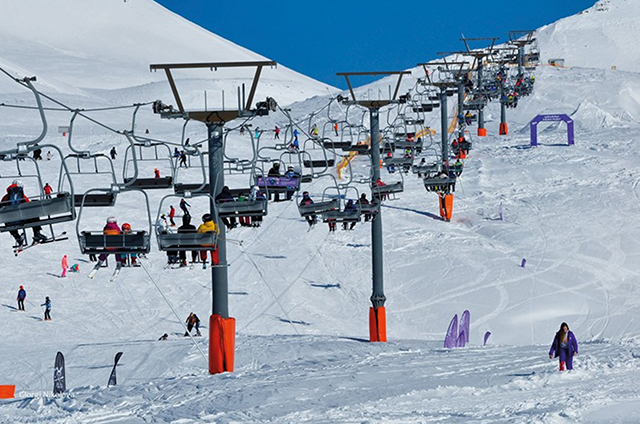 The area is a huge tourist attraction for both foreigners and Georgians alike. How would you describe your and the company's relationship with the local community?
We have a great relationship with many of the Georgians who live and work here during the season, it is only one specific group that is causing trouble. On our team we have nine Georgian instructors and guides. In our package trips, we also use local drivers, accommodation, restaurants, and we partner with a local rental shop.
Before this year, we felt welcomed overall, although we've always felt some resentment from this local "ski mafia". In the past, they caused a lot more trouble for the Ukrainian and Russian instructors and ignored EU/US instructors, but now the target has become all foreign citizens.
There's certainly an argument that the government has some responsibility to provide more employment opportunities for local workers. Have there been any employment issues in the local industry?
I would argue that the government has some responsibility to provide more training opportunities for locals to gain a competitive advantage in the local industry. As Gudauri is growing so quickly, it seems that work has been plentiful in general, but it's certainly more abundant for those with professional training and online marketing skills. This year is an exception, as only a small fraction of the ski area is open due to dry weather, and paragliding has been banned. Paragliding pilots are now out of a job indefinitely, and all other businesses and their employees will be hurting until more snow comes.
This has obviously had a negative effect on the winter sports schools and equipment businesses. Have you seen this take a toll on the other hospitality industries in the area, and have they said anything?
It affects all businesses in Gudauri because tourists are canceling their trips and Gudauri is getting the reputation as a corrupt and dangerous place. People are not only canceling ski lessons, but entire families and groups are canceling their trips to Georgia and going to other countries instead. Many of our clients have been coming back year after year because they love skiing with our instructors.
When they cancel their trips, it also affects the hotels and restaurants and drivers that they have been using every year, and it harms the large number of qualified and professional Georgian instructors who now have a bad reputation because of this. At least one restaurant and the Gudauri Business Association have spoken out about their loss of clients, condemning the aggression.
It seems the issue is not immediately resolvable without some type of shared dialogue. How do you see this playing out and what is your desired end state?
I believe that being registered as a business in the Public Service Hall in Tbilisi and having internationally-recognized qualifications and language skills should be enough to be allowed to work in Gudauri, and if someone disagrees, that's an issue to take up with the government, not with violence on the slopes.
Dialogue thus far has proven very difficult, so in the near term I hope that the police will do their job in enforcing peace on the slopes so that our clients will feel safe. I believe that once all sides can come to the table with compassion and see each other as humans, we'll be able to come to an agreement.
There will be more than enough work to go around when the ski resort fully opens, and it can be distributed evenly if each company markets to their niche. In my idealistic future, I'd like to see these local "mafia" guys organize themselves into a company and compete in skills rather than in violence, and I'd be happy to offer my experience to help if anybody is open to receiving it. I love Gudauri and want to see it improve.
Exclusive Interview by Michael Godwin