USAID puts a significant emphasis on empowering Georgia's women entrepreneurs to build successful businesses and create jobs in their communities, thus helping create a more robust economy that is more resilient to economic shocks. Development of small businesses and women entrepreneurs' economic empowerment is critical for Georgia's future prosperity.
On March 6, USAID programs are to host an exhibition and sale of 100 Women Entrepreneurs products in Deda Ena Park in Tbilisi, dedicated to International Women's Day. GEORGIA TODAY spoke to Marika Olson, Economic Growth Office Director, USAID/Georgia, to find out more.
"USAID currently funds more than 35 programs to help Georgia strengthen its resilience to malign influence, build a more citizen-centered democracy, and achieve inclusive economic growth that benefits more of the country's citizens," Olson tells us. "The 100 Women Entrepreneurs' Bazaar is supported by three of our programs: the USAID YES-Georgia Program, which provides financing and training to women entrepreneurs; the USAID Agriculture Program, which helps farmers and food producers earn higher revenues and create jobs in rural communities; and the USAID Economic Security Program, which supports growth in high-value sectors of the economy. In addition, beneficiaries of other U.S. Embassy programs funded by the U.S. State Department will also participate in the bazaar. It is our hope that Bazaars that highlight the work of women entrepreneurs become commonplace in Georgia and don't require USAID or other donor support."
Who are the participants? Are these women all beneficiaries of these projects? Are they from the regions of Georgia?
The 100 Women Entrepreneurs' Bazaar will feature more than 100 women entrepreneurs from Tbilisi as well as various regions, ranging from Kakheti to Imereti and Adjara. The participants are beneficiaries of U.S. government assistance, including USAID and U.S. State Department programs. In the past, we provided these women with financing, training, and mentorship to help them start and scale their businesses, and the bazaar is one example of our continuing support to them.
What's the main aim of the event scheduled for March 6? What will be the main activities on the agenda?
The 100 Women Entrepreneurs' Bazaar is dedicated to International Women's Day and to 30 years of diplomatic relations between Georgia and the United States. The bazaar serves as a tangible demonstration of U.S. government support for women's economic empowerment, building on what we have helped Georgia's women achieve during the past 30 years. In total, the U.S. government has invested $6 billion to support Georgia since 1992. This assistance has supported democracy and rule of law, educational and professional exchange programs, and of course, efforts to build a more inclusive economy that benefits more Georgians. All of these measures advance Georgia's ability to integrate with the European community and to be a regional leader for a modern Caucasus.
The 100 Women Entrepreneurs' Bazaar is an excellent opportunity for women entrepreneurs to promote their products and build new connections and sales opportunities between themselves, the public, and other businesses. The bazaar is designed to help handicraft producers raise awareness about their products and hopefully increase their revenues, both at the Bazaar and in the future.
In addition to shopping, visitors have the opportunity to participate in masterclasses: fruit and vegetable carving; ceramic painting; doll making; and bead jewelry production. The event is family friendly, with entertainment for children. We hope to see your readers there on March 6!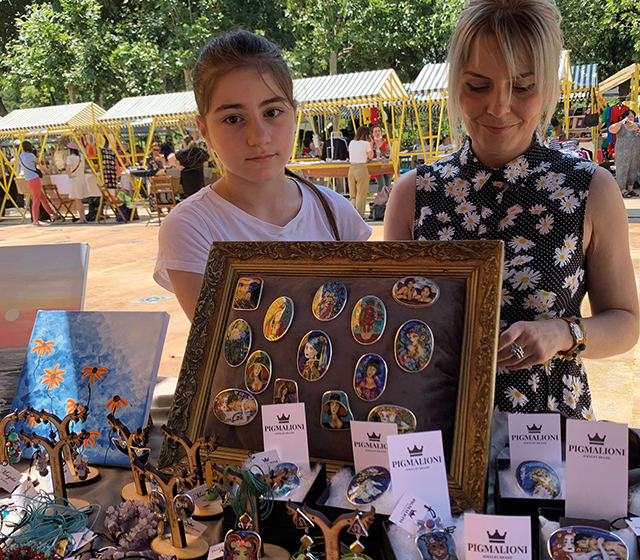 What benefits do USAID program beneficiaries get through the program?
The U.S. government program beneficiaries participating in the Bazaar have received various forms of assistance to help them build thriving, commercially-sustainable businesses. USAID's assistance is tailored to the needs and capacity of each business. Some women entrepreneurs have received startup financing to get their businesses off the ground, while others have received training to develop strong business plans, improve their products, successfully apply for bank loans, and market their products to more customers. In addition, we help women entrepreneurs participate in exhibitions and Bazaars like this one to raise awareness about their products and network with fellow entrepreneurs. USAID support for women entrepreneurs is part of the U.S. government's larger strategy to empower the Georgian people, including women, to improve their livelihoods and build a more dynamic and inclusive economy in Georgia.
How important is the economic empowerment of women living in rural areas for achieving economic progress in general?
Women's economic empowerment, including for those women living in rural communities, is crucial for Georgia's sustainable development. Access to education, employment, and entrepreneurship opportunities allows women to earn better livelihoods for themselves and their families, but that is only the start. Economically empowered women are more likely to participate in civic activities and democratic processes. They are more likely to have children who can access higher education and better employment. They are also more likely to pass democratic values on to those children. By helping Georgia's women in rural areas reach their professional potential, the United States is helping Georgia reach its potential as a resilient, democratic, and prosperous country.
What are the long-term plans and expectations of the program aimed at supporting youth and women entrepreneurship in Georgia?
Through the USAID YES-Georgia Program, our largest activity specifically supporting women entrepreneurs, we aim to empower more than 2,600 women across Georgia by 2024. Last year, we also launched a new activity that partners with the private sector to co-create professional training programs geared towards increasing remunerative employment in multiple economic sectors. Over the next five years, this activity will help 5,000 Georgians, a large proportion of which will be women, get the training they need to obtain good jobs. It will also help Georgia's private businesses recruit the skilled, innovative candidates they need to grow their enterprises
USAID, through the USAID YES-Georgia Program, has supported youth and women's economic empowerment since 2015. How would you summarize the work done by the organization over these years? What's the progress in terms of supporting economic growth of women and youth and developing their skills in this regard?
The USAID YES-Georgia Program has empowered women all over Georgia to start and build successful businesses, transforming their lives and in many cases creating a better life for their families and even creating jobs for other members of their communities.
To date, the program has engaged more than 5,000 youth and women, has provided more than 1,800 young people with professional skills training, provided nearly 100 youth-owned enterprises with startup funding, and facilitated about $230,000 in private sector investment to support youth-owned microenterprises and startups. Let me emphasize, however, that this successful program is just one example of how USAID empowers women and men of all ages to succeed in the economic sphere. Our work with women across economic sectors continues to expand across our array of programs, and we look forward to identifying more private-sector driven opportunities to collaborate and expand women's economic empowerment.
Editor's Note: This interview was conducted on Wednesday, February 23. As of press time, the event is scheduled to go ahead as planned. If you are interested in making a donation to support the people of Ukraine, reputable charity organizations have been invited to participate in the event to receive donations.
Interview by Ana Dumbadze