Several lines of riot police marched along Rustaveli Avenue and down either side of the parliament building, accompanied by water cannons and fire trucks.
Protesters fell back with few confrontations.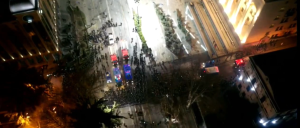 The police have stopped on the edge of the parliament territory and some protesters are slowly returning and resuming their shouting.
Police are firing tear gas and warning the protesters to disperse.
A police car was overturned during the worst of the vandalism that took place tonight.