"We have recently learned that the Pfizer vaccine should arrive in Georgia tomorrow. The first location will be the National Center for Disease Control and Public Health. It will then be distributed to all centers where individuals are to be vaccinated with Pfizer," Health Minister Ekaterine Tikaradze said.
The Minister explained that the Pfizer vaccine will be available to medical staff as well as to all the groups announced by the Coordination Council yesterday.
The Deputy Health Minister emphasizes that the doses of vaccines that the country has received – 43,000 doses of AstraZeneca and 29,250 of Pfizer, which will be available by the end of the week – should be used as effectively as possible.
"This will be a signal to our partners, the COVAX Platform, that the delivery of additional doses will be uninterrupted," Tamar Gabunia told Palitranews today.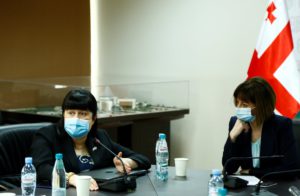 Vaccination started on March 15 and the same day about 700 doctors were registered. The same number registered for the next day. On March 18, it doubled to 1,400, followed by the tragic loss of life of a vaccinated nurse last Friday, which completely changed the mood in the country towards the vaccination program.
"Of course, we now have to restore confidence in both the medical staff and the population towards the vaccination process and to dispel fears or uncertainties. That is why we decided that the population over the age of 65 should be involved in the process with the medical staff, because the doses of vaccines that the country has received must be used as effectively as possible," Gabunia said.
The Deputy Minister does not rule out that the new group – citizens over the age of 65 – might be given the opportunity to be involved in the vaccination process sooner.
"If the activity is low, we will think about the next group [to get vaccines]. I think that in the first stage, it will be possible to cover the age groups and medical staff as much as possible, which we planned from the beginning. Then, when additional doses appear in April and May, we'll focus on the over 55s and other groups to be vaccinated," Gabunia told Palitranews.
By Ana Giorgadze