Pavel Havlicek is Research Fellow at the Association for International Affairs. His research focus is on Eastern Europe, especially Ukraine and Russia, and the Eastern Partnership. RFE/RL sat down with him to discuss the main takeaways of this year's European Political Community (EPC) summit in Moldova.
Moldovan President Sandu stated that, if needed, Moldova is ready to allow the Ukrainian army to enter its territory, seemingly to facilitate access to military logistics coming from the West. Could this have been a subtle warning aimed at Moscow and Transnistria?
I think this was exactly the message. It is something that was being strongly pushed and advocated for by the 50 European leaders. There was really a very strong undertone of "OK, Moscow, we are here in Moldova, meeting 20 kilometers from the Ukrainian border, very much in solidarity with both countries, and we will not give up." This was showing a middle finger to the Moscow leadership.
As for Transnistria itself, [initially] there was certain hesitancy. We heard many times, including from the foreign minister of Moldova, Nico Popescu, that the Moldovan authorities were skeptical about the repeated offers of Ukraine to run through the separatist territory, but this is actually now being changed. And we are seeing that there is definitely more of an appetite for it.
This event also served as a rehearsal for the upcoming NATO Summit in Vilnius. "The door is open, but we cannot admit a country that is currently at war," seems to be the consensus. Should we expect a repeat of the Bucharest 2008 summit scenario?
We are in a "thin ice" kind of situation here. We really need to explore the limits very carefully. And fortunately, or unfortunately, these limits are very often dictated by the United States. This is a crucial power, and it is hesitant. I observed myself, during the GLOBSEC conference in Bratislava, that there was a high level of confrontation between representatives of the Lithuanian Parliament, supported by Ukraine and governmental officials, and representatives of the security community of the United States. This is really a very emotional debate.
Obviously, everybody understands that the Central and Eastern European countries are pushing strongly for Ukraine to not end up with a Bucharest 2.0, but we really have to be more careful, because there is a higher level of truth in what the US side is emphasizing: "Without our help, Ukraine would have been buried by now. What if Ukraine hadn't got the US military help of 76 billion US dollars? What if Ukraine hadn't got the US Patriot systems, how would they be coping with with the shells and rockets falling on Ukrainian cities?
Can you outline the reason for the US reluctance?
I think the primary one is that they consider the timing very sensitive. I think they would be much more open to returning to the discussion of Ukraine joining NATO after the war. This is a comfort zone for everybody. I still think they need a little bit more certainty on their side, you know, that things will not get out of hand. And, obviously, the big question mark is what happens if Ukraine joins and we are not able to deliver on Article 5.
Another reason is they consider themselves, so to say, Primus Inter Pares, the first among equals in delivering on the commitments, and that's why they are also the more hesitant. I understand that there are a high number of discussions taking place in Washington itself, and that there is mounting pressure on the President to at least deliver on some kind of roadmap, you know, whether we call that a MAP, or something else.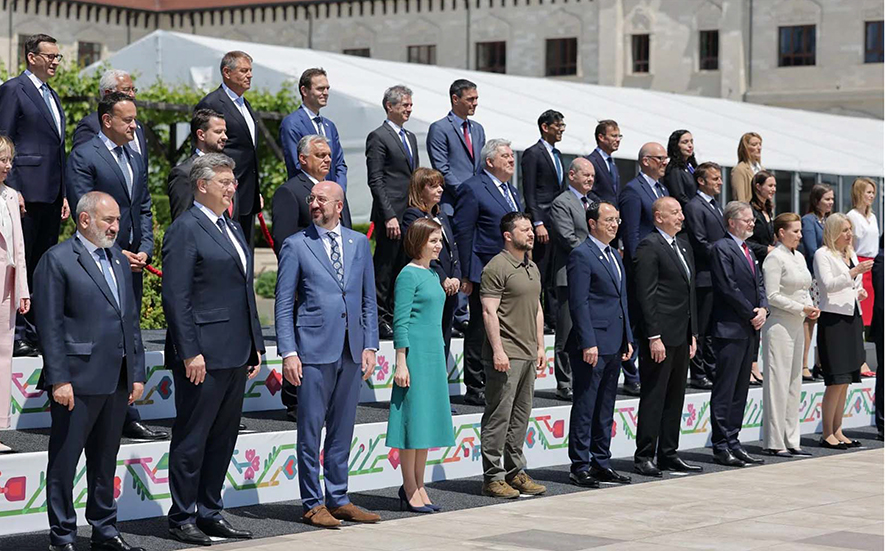 So what would happen if Ukraine became a member of NATO and the alliance failed to deliver on Article Five? Would that amount to the end of NATO as we know it?
Yes, pretty much. NATO as a credible force would disappear, and we would go back to something that Emmanuel Macron said during his speech in Bratislava, when he referred to NATO as a "brain-dead organization."
President Zelensky said Moldova and Ukraine belong in the EU. Georgia wasn't mentioned. So has the Associated Trio become the Associated Duo?
I think this is more and more the case. And I have to say that the Georgian leadership is more and more isolating itself. The Prime Minister is actually becoming a pariah. Why? Because of what he said during the Bratislava policy conference, when he claimed the reason for Moscow starting the war was the NATO enlargement to Ukraine. He once again gave us reason to question the credibility of the Georgian political leadership. There are strong grounds in Brussels, in Washington and elsewhere, to consider Georgia an outlier among the Associated Trio. And its more and more a case that is so difficult, so paralyzed, that we just are scratching our heads trying to figure out what to do next.
You don't want to touch it.
Exactly. We don't want to touch it because we don't know what to do. Both parties, the government led by Georgian Dream and also the opposition, are so polarized against each other that it's impossible to move anywhere.
How would you rate Georgia's chances of getting European Union candidate status out of let's say, 100?
At this point it is between 60 to 70. I think Georgia will actually get it by the end of this year, but not thanks to the government. It will be for the sake of Georgian citizens and for the sake of not completely falling through when it comes to the European foreign and security policy. We have to take into consideration the bigger picture; that, despite the government, things are being done for the country's citizens. And we are basically, once again, in a very difficult position. Neither the government nor the opposition are making the situation any easier. They're both advocating for Georgia's getting candidacy status, yet I have to say I think that if accession talks had not been opened for Ukraine and Moldova, Georgia by itself would not be likely to get candidate status.
Is there another consideration that Georgia might get it, albeit undeservedly, because Brussels does not want the country falling deeper into the Russian orbit, which may well happen if the candidate status is not given?
This is exactly what we hear from Brussels and European policymakers, and also from people from the opposition: "If you don't give it, then there are really strong grounds that we will drift even further away." And this will not be a pretty picture. We don't want that kind of failure. So this is, at the end of the day, something that we will just necessarily have to chew on.
Central and Eastern Europe is pushing for Ukraine not to end up with a Bucharest 2.0
There is also another argument – if Bosnia and Herzegovina was able to get this status, being much less prepared, much worse off in terms of implementation of acqui communitaire and all that, then it would be somewhat unfair not to give it to Georgia. And this would be strongly used by the government against the European Union, and we may well see an increase in those anti-European sentiments that the government seems very okay swinging around.
We saw yet another round of peace talks between Armenia and Azerbaijan, attended by Charles Michel, Macron and Scholz, with Armenia seemingly close to recognizing Karabakh as Azerbaijani territory. What changes could that bring to the region from the geopolitical point of view?
I was actually following the discussion that took place in Bratislava, just two days before the EPC summit, that further extended these talks and moved them to higher level. And, actually, despite the lengthy discussions and many unsolved issues, I saw in the room that there is, for the first time ever, a real willingness to agree, maybe reluctantly from the Armenian side, but still – I think there is a strong will.
At one point, it was mentioned that both sides would like to conclude talks in June, which is revolutionary and moves the picture forward very quickly. I'm very happy that this actually happened during talks facilitated by the European Union, and also in Washington, not only in Moscow, as it used to be.
Armenia is frustrated by the Moscow leadership in the region and is also frustrated by its leadership in the Collective Security Treaty Organization, which Armenia was presiding over -it was attacked openly by Azerbaijan, and Moscow did nothing beyond rhetorics and mediated talks.
We can see that the train is leaving, and Moscow is not sitting on it. We are seeing really revolutionary changes. Russia has provided this vacuum and Azerbaijan has taken the initiative. Now, its position is further strengthened by the re-election of Turkish President Erdogan. And there is no way out beyond talks. Obviously, Armenia is trying to negotiate the best conditions possible. And the French President being in the room was a sign that Europe is trying to do so too. Unfortunately, France is not always an unbiased actor in the process, and Azerbaijan's perception of it at such maybe also be just. But the leadership of Charles Michel has been largely praised by both sides. And I'm very happy and very supportive of the return of European policymaking and return of European diplomacy and mediated talks by Brussels, especially if we consider the European mission on the border between Armenia and Azerbaijan. This is the first time ever, on the territory of the two countries, that European peace monitors are actually contributing to increasing mutual trust. And this is really significant, because without these conditions, and this will never be provided by Moscow, we would not have been able to get to this point. And I'm convinced that we will see the end of the process soon. And we have to do everything to have the two parties positioned as equally as possible, and to negotiate something that both parties are able to take back to their capitals and present to their citizens.
Interview by Vazha Tavberidze for RFE/RL