One of the protesters on hunger strike over mining damage to the village of Shukruti says a man attempted to blackmail her with intimate footage of her daughter-in-law, OC Media revealed.
The article by Mariam Nikuradze and Tata Shoshiashvili tells the story of Vera Kupatadze, who has sewn her mouth shut in an extreme form of hunger strike along with seven others. Vera said she received the threats in two calls from an unknown number on 24 May.
In a recording of the call heard by OC Media, a man threatens to publish private footage of Kupatadze's daughter-in-law if the protesters do not stop their strike.
Kupatadze, who appears visibly shaken during the calls, responds defiantly.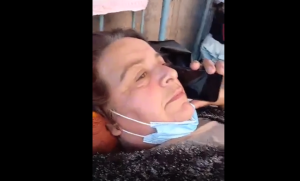 'They wanted to throw mud on my family', Kupatadze told OC Media. 'They were lying to me as if they had some dirt.'
Kupatadze said she immediately called the police and then went to the local police station with the recording and the phone number of the caller. She said that the police have not opened an investigation into the incident.
'Is it that difficult to identify a person with a phone number?' she asked.
Several other protesters have also reported being threatened.
Read the full story here.
Locals living in the village of Shukruti in Chiatura, Georgia's mining town, who have been demanding compensation from Georgian Manganese, the company that owns and operates the Manganese mines in Chiatura, for years, began to sew shut their lips in an extreme form of hunger strike.
Rallies have been ongoing for 105 days, while for more than 20 days some of the protesters have resorted to an extreme form of protest – sewing their lips shut and going on hunger strike.
Related Story: Public Defender Urges Economy Ministry to Engage in Talks between Shukruti Population & Company