"We'll continue to fight until Saakashvili is released," Nika Melia, Chairman of the United National Movement, said during the rally on Freedom Square.
He also addressed ruling party Georgian Dream Founder Bidzina Ivanishvili, saying that they will not back down.
Melia noted that when the authorities insult and make fun of Mikheil Saakashvili, who has been on the hunger strike for 2 weeks now, they are insulting themselves.
According to Melia, he does not want to see Ivanishvili in prison, but if he was in prison, the leaders of the 'United National Movement' would not make fun of the prisoner publicly.
"Until the government's unworthy clowns have imprisoned the third president of the country, we cannot be calm, we will not stop until justice does not prevail," said Melia.
He noted that everyone, the whole civilized world, except the occupiers and the Kremlin propaganda channels, show solidarity with Mikheil Saakashvili.
"No one should have the slightest hope that anyone will accept the fact that the third president, Mikheil Saakashvili, is in prison and that we will not continue to fight. We will fight until he leaves prison," Melia said.
He added that in case of regaining power, the UNM is not going to establish one-party governance in the country.
"Practice has shown us that if our aspirations are Euro-Atlantic, then we should consider that civilization and Western democracy work in unity and diversity, and that is what we want. We want to be pioneers in all this. This is a message that I wanted to send to all families," Melia said.
He pointed out that that now the main struggle lays ahead and they should protect each vote during the second round of local elections scheduled for October 30.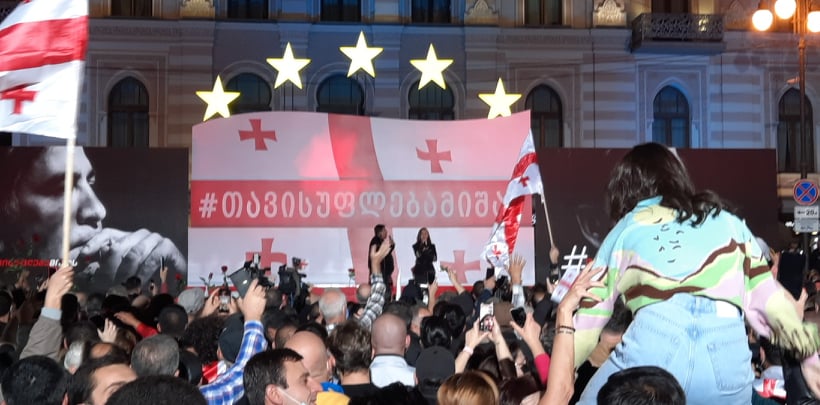 At the end of the rally, the Chairman of the National Movement and party members, together with singers Giorgi Ushikishvili, Sopho Batilashvili, Lela Tsurtsumia and Lekseni, performed the Georgian national anthem.
By Ana Dumbadze
Photos by Mike Godwin
Related Story: Yulia Tymoshenko Calls on Saakashvili to Stop Hunger Strike