Opponents of the construction of Namakhvani HPP in the village of Gumati gathered at the base of Enka Renewables this week in an attempt to prevent the construction equipment and workers of Enka accessing the construction site.
It followed on from last Friday's clash outside the construction site after protesters spent the night throwing rocks at and hitting the metal barriers erected around the site. Eight people were detained as a result.
Varlam Goletiani, spokesperson for the protestors, said, "This shameful barricade is a symbol of repression in independent Georgia. It prevents each of us from going home. Nothing more can be done than this: the HPP here is a minor issue when there is a barricade preventing us from going home.
"The conversation is not about whether we invade somewhere or we damage something: it has been 214 days since we have been in the valley and we have not damaged anything, we have not invaded anywhere. We want to move. We will see who breaks who in the end," he said.
Of the latest blockade of vehicles and staff, one of the protesters, Marita Museliani, noted they were only trying to stop the transporting of equipment, not to break the law.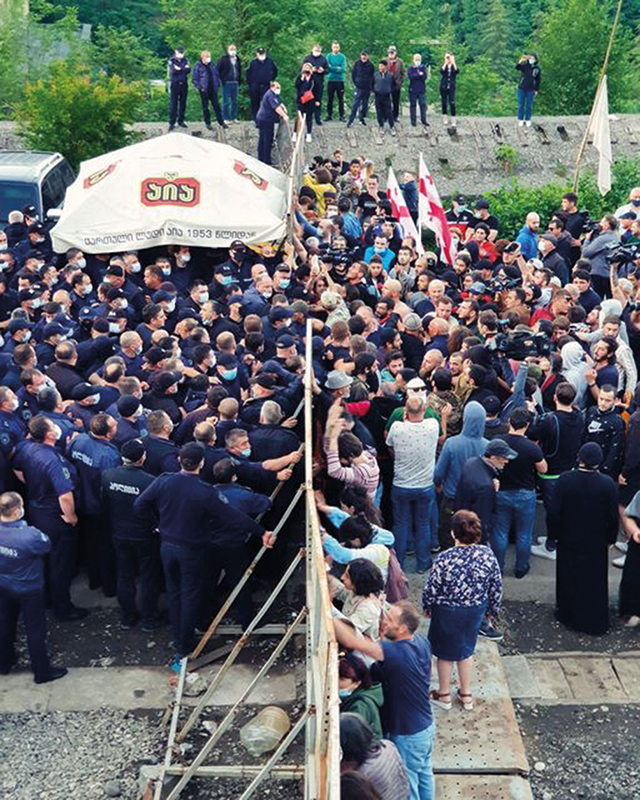 "We will try to control everything so that we don't break the law. Becoming destructive is unacceptable to us, what with the [May 29] clash, and daily tensions rising. We don't want to lose control of this situation and will aim to stay constructive. We are dealing with a big violation by the government, and people are finding it very difficult to control their emotions. We will try not to let these emotions cross the lines," Museliani told reporters.
Goletiani claimed that the police forces have now become an official helper to Enka.
"We saw a convoy passing through of police pickups taking the company employees and workers onto the site, as we are blocking their access otherwise. The police are taking them to work. It is important to block the road so as not to let them transfer equipment to the other side, which the company needs to continue work.
"We cannot get into a confrontation with the police, it isn't right and we're not going to go in that direction. But it's necessary for the public to know that the police have completely violated the law because it is not their function or duty to drive Enka employees into the gorge with their own cars," Goletiani said.
Almost as if in response to this sentiment, on June 2, Zurab Khmelidze, Assistant Detective / Investigator in the Vani District, expressed his solidarity with the Rioni Valley Guardians by resigning. An interview with him was broadcast by Mtavari TV.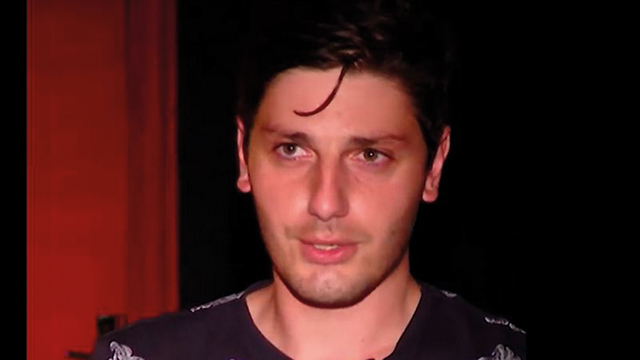 "I want to make a direct statement about my leaving my job. What's happening in Namokhvani led me to it. I express my solidarity with Varlam Goletiani, Maka Suladze, and every person standing there, whose constitutional right is being illegally violated, with their being prevented from accessing their own property.
"The police, and me previously with them, are splitting the valley in two…these people who actually lived there have parents, have houses, and we are restricting their right to move freely. It has a huge impact on a person's self-esteem, conscience, and dignity. An ordinary citizen wants to fight for their country and you are a uniformed officer of the law who owes it to his own citizens to protect and defend the land, and yet you are…actually hindering them.
"Many of my colleagues agree with me. The guys are in a very bad situation. Everyone is on edge. Many want to leave the system but they don't dare to because they have families to support," he said.
Heidi Hautala, Vice President of the European Parliament, a member of the 'Greens', responded to the protest against Namakhvani HPP, noting that the lack of transparency and accountability with "secret contracts" is shocking.
Hautala gave her support to the protest movement via a post on Twitter.
"I welcome this new kind of mobilization of people of #Georgia against a backward and destructive economic model. Lack of transparency and accountability with secret contracts is shocking. #Namakhvani," she wrote.
By Team GT