Invited by Ministry of Health, Israeli Prof. Nadir Arber, the inventor of the anti-coronavirus medicine, visited Tbilisi to hold business meetings with representatives of the Georgian government. While here, he also visited several medical institutions.
Nadir Arber is a Professor at the Israeli medical giant, world-leading Tel Aviv Sourasky Medical Center (Ichilov). It is the largest acute care facility in Israel, treating about 400,000 patients and hosting 1.8 million patient visits per year.
After the creation of the anti-coronavirus medicine, the clinic was put even more in the global spotlight, receiving more than 10 thousand applications for cooperation.
Itsik Moshe, Head of "Israeli House", contacted and convinced the clinic's management and donors to start business relations with Georgia, as a friend of Israel in the region.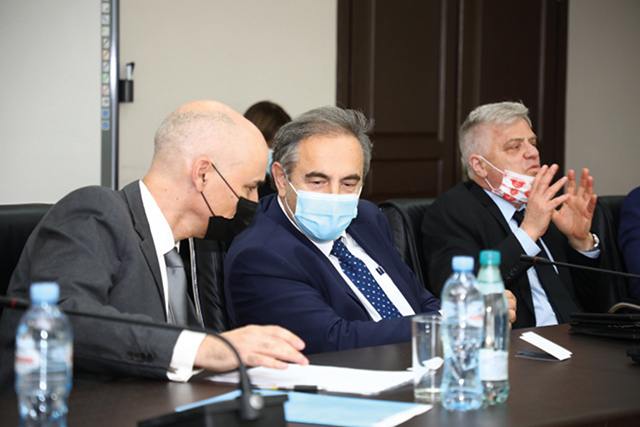 "At a time when terrorist missiles were being aimed at Tel Aviv's Ben Gurion Airport, we were able to bring world-renowned clinic donors and leading scientists to Georgia. The visit was one-day, but very fruitful", Moshe noted.
The creator of the anti-coronavirus medicine met with the management of the Tbilisi Republican Hospital and Head of the Center for Infectious Diseases, AIDS and Clinical Immunology, Prof. Tengiz Tsertsvadze, where the conversation focused on issues of future cooperation. Nadir Arber got acquainted with the vaccination process, inspected the medical equipment, and briefed his Georgian colleagues on the third phase of testing the new medicine.
Further, Israeli Prof. Nadir and one of the donors of the Ichilov Clinic, Moshe Carasso were hosted by the Minister of Health Ekaterine Tikaradze. Moshe Carasso is one of the owners of the largest group in Israel and a well-known philanthropist, who supported this cooperation and made this visit possible. The meeting was attended by Deputy Minister Tamar Gabunia and the head of "Israeli House", Itsik Moshe and George Gadelia one of the organizers. The parties talked about Georgia's cooperation with the clinic and the supply of a guaranteed quantity to the Georgian side after the production of the medicine. It was also said that the production of the medicine may be tried in Georgia.
Itsik Moshe noted that strengthening friendship between the two states is possible only through action."Organizing this visit served this purpose and hopefully further enhances collaboration with the world's leading medical center".
The Minister of Health expressed her desire for the Ichilov Center to cooperate with the Republican and Infectious Diseases hospitals in Tbilisi, so that the Georgian side can receive the medicine from Israel in the future.
Translated by Ana Dumbadze