Andrius Kubilius, a Lithuanian politician who has been serving as a Member of the European Parliament since 2019, says that not the formal, but the real leaders, Mikheil Saakashvili and Bidzina Ivanishvili, should take part in the talks between the government and the opposition.
Kubilius touched upon the return of Christian Danielsson, personal envoy of President of the European Council Charles Michel, to Georgia in the coming days to resume the EU-mediated negotiations between the authorities and the opposition.
"It would be better for Ambassador Danielsson to speak to the real leaders who have not yet taken part in the talks," Kubilius told Formula TV on March 25.
To the host's question whether he meant Ivanishvili and Saakashvili, he answered:
"Yes, exactly. These are the real leaders of both political parties. Unfortunately, the formal leaders involved in the negotiations do not understand their responsibilities and cannot find a compromise."
"It will be much more effective if informal leaders, who claim to be leaders but remain leaders of their political parties politically and psychologically, take responsibility and participate in negotiations to openly state their visions of what they want to achieve, whether they are ready to compromise, to solve the problem, and this will be an effective way forward," said MEP Kubilius.
On March 18, negotiations between the Georgian Dream and the opposition mediated by the international partners ended without an agreement and on March 19 Christian Danielsson left for Brussels to submit a report.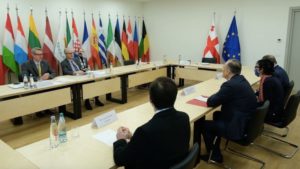 However, on March 22, President of the European Council Charles Michel announced that his representative Danielsson would return to continue the mediation between the political parties in Georgia.
By Ana Dumbadze
Related Story: Charles Michel: Envoy Will Be Back to Continue Mediation in Georgia