Many Georgians still have the images of Russian soldiers burned into their memories from 2008. However, it's likely that not all of those witnessed were actually serving members of the Russian Armed Forces. The use of irregular and militia-style units in combat operations by Russian sympathizers dates back to the myriad of Eastern European conflicts in the 1990s. With the combat experience in these wars, in Georgia, and Moldova, they were used as shock troops in Ukraine. Now, with deployments ranging from Tskhinvali to Venezuela, these groups have become a hallmark of Russian aggression, and will likely be increasingly common nearby.
First, it helps to define the term "hybrid warfare," as it has taken on several different definitions in security and defense communities. For the purposes of this analysis, this type is the combined use of government regular soldiers, irregular paramilitary and local militia units folded into service, and private military company (PMC) employees hired in offensive, defensive, and more recently in Abkhazia and South Ossetia- occupation duties. The use of these unofficial units provides several key benefits for the Kremlin:
• Budget – Depending on the specific PMC, many of these employees make below-average to average working wages, but already have the training and equipment since they are usually preyed upon for recruitment shortly after they leave regular military service. These men are typically from low-income homes and with only a military service record to show their station, and chances of landing any considerable career are slim.
• Deniability – As we've seen time and time again from the Kremlin, the existence of mercenary units being used in Georgia, Ukraine, Syria, and recently Nagorno-Karabakh have been denied vehemently. By burying the papertrail so deep in Russia's already widely corrupt hierarchy, it's virtually impossible to connect all the dots definitely. Because of this, it's too easy to simply shrug and deny any knowledge of their existence, as well as not face the public when the inevitable death toll comes in.
• Flexibility – Because their existence can be denied, legal responsibility is almost impossible to pin down. Just as they rise and commit their deeds, they can just as easily fade into the sand. As most of these units are raised and formed only temporarily, there is no Public Relations Officer or Commandant to bring before a court, let alone a press corps.
With these combined, they are able to operate effectively and with total impunity, and since their shadowy leadership is often so well connected to Putin's inner circle, there's little hope of exposing them. In fact, since the actual operation of a PMC is illegal in the black-and-white of Russian law, it's almost certain to rule out any competition and keep the profits centered around the gilded elite in Moscow.
This profit incentive lies at the core of the use of these companies, some of which have recently begun to become more infamous; ENOT, Cossacks, and the most famous by now, Wagner Group. Putin and his circles of oligarchs need more foreign money sources, since Russia is not exactly known for its overly robust and healthy domestic economy. Some of this comes in the form of oil, such as the Nord Stream 2 project, and seizure of oil fields and their profits in Syria. However, in order to diversify and expand, they have found other cash avenues in the PMC markets.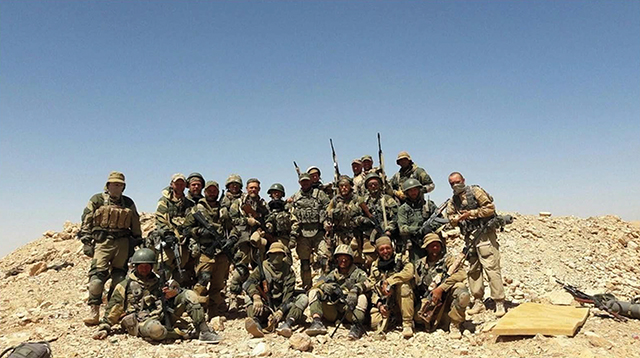 The deployment and management of mercenaries in Syria was largely overseen by Evgeny Prigozhin, one of Putin's closest associates. Prior to his role in command, he was the head of Concord Management and Catering companies, providing the majority of the food and clothing services to the Kremlin as well as the Russian Armed Forces. While it's largely unknown how much exactly he has profited from these combat operations in Syria, it's certain to say it's no small figure. A new project, reportedly named "Patriot" has focused on using the survivors of these PMC units devastated in Georgia, Ukraine, and Syria, as well as some of the more trusted special operations team members, to focus more on modern objectives. Reports are already coming in about their use in Africa, Southeast Asia, and South America.
With this force conveniently masked by an ever-shifting identity, and money flowing favorably, it's becoming apparent that they can begin to emulate their Russian Army counterparts. Armored vehicles, advanced anti-tank and anti-air weaponry, uniforms and equipment to help further mask their organizations, and the financial backing to achieve any nefarious goals are only the beginning. It's not out of the realm of expectations that naval and air assets will follow.
In addition to this, these units also act as a front for international crime, facilitating arms trafficking and provoking regional security incidents in favor of their masters. It's not outside the realm of possibility that their operations also involve border incidents near Abkhazia and South Ossetia. With a shadow budget that is estimated at almost 65% of the national defense spending of the Russian Federation, these PMCs are largely operating unchecked. Like a mold that continues to grow back, the only way to effectively eliminate this threat is to attack the financial roots of these elements. In addition, Georgia and her allies that have borne the brunt of their cruelty needs to call on the international community to bring more action against the use of these organizations. Proper PMC regulation, licensing, or formal third-party inspection to ensure compliance and transparency is adhered to, particularly with respect to foreign operations.
With this, it is imperative for Georgian security services and military forces to bear this threat in mind. Because these PMC units operate somewhat autonomously from their regional Russian Army partner forces, the tactics and techniques used in the field will not be so easily identifiable by traditional means. As Georgia is such a key strategic partner in the defense of the Black Sea, the jewel of Putin's eye, appropriate countermeasures, both militarily and legislative, should be assessed and implemented. To prevent these shadow actors from interfering with the current and fluid political situation, Georgia should be a leader in these initiatives at PMC reform aimed at Russia.
Analysis by Michael Godwin