Lemonade Natakhtari and the Georgian Teqball Federation signed a cooperation agreement, with the goal of promoting and supporting the development of a new sport – Teqball – in Georgia.
And this isn't the first sport that EFES Georgia has supported and helped develop. Lemonade Natakhtari plans a lot of interesting events and activities to support sports in collaboration with the Teqball Federation.
The Georgian Teqball Federation was founded on August 8, 2018, and soon, on October 19, 2018, it became a member of the International Teqball Federation Fitek.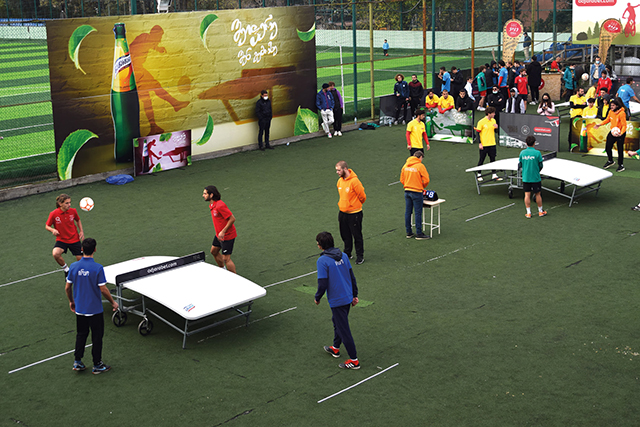 What is Teqball?
Teqball is a football-based sport, played on a specially curved table (the Teq table) like table tennis, a fact which is attracting a new generation of athletes and amateur enthusiasts, whose ambition is to develop their technical skills, concentration, and stamina.
The sport, which was created in Hungary in 2012, is a truly gender-equitable game, as the rules define that Teqball should be played between two (singles) or four players (doubles), irrespective of gender. The sport follows a points-based scoring format and can be played on various surfaces, including sand, acrylic, or indoors. Teqball allows players a maximum of three touches before returning the ball to the opponent, so if you can juggle a football three times, you will excel at Teqball too! Teqball is the purest use of a football, with the rule of no physical contact allowed between the players, or between the players and the table, helping eliminate the risk of impact injuries.
More than 3,000 professional Teqball players are registered in more than 100 countries around the world, with 102 national federations and more than 1,500 registered Teqball clubs globally. Referees are trained by 250 FITEQ. 3 World Cups (2017, 2018, 2019) have been held since its inception. Teqball is recognized by two Continental Olympic Associations (OCA, ANOCA), and is also a member of the World Anti-Doping Agency (WADA). Work is underway to include Teqball in the list of Olympic Games.