Moscow is continuing the war of words with Washington. This time the Kremlin wants the US to explain why it is "violating" the 1999 Istanbul Document's provisions on "security indivisibility," according to which "no country should ensure its own security at the expense of the security of others." Russia points out that NATO enlargement, and especially talk of Ukraine joining NATO, is nothing more than a gross disregard of these provisions.
Radio Free Europe spoke to the former US Ambassador to Georgia, Ukraine and Russia John Tefft about the situation in Ukraine, Putin's grand schemes, the Minsk agreement, and parallels with the war in Georgia in 2008.
Russia received a written response from the US, and now apparently wants another piece of correspondence on the principle of indivisibility of security. What's the Western response to this?
The fundamental point here is that the Russian policy these days is to try to walk back a number of decisions that were made a long time ago, and to look at not just Ukraine, but European security as a whole. Putin thinks Ukraine is part of Russia, despite the fact the Ukrainians have fought for over a century to have an independent country, and certainly since 1991, tried to build an independent country. Putin wants to turn back the clock so Ukraine doesn't have sovereignty or has limited sovereignty; so it is under Russia's sphere of influence, Russia's control or domination, hegemony, pick your word.
The second part is these sweeping "treaty drafts" that Russia has put forward. Most serious analysts, from the beginning, looked at these and said, "There's no way" because it basically goes back and under and tries to undo all that has been achieved in trying to build a European security system, and some stability in Europe and Eastern Europe; security that helped Europe elude wars in the late 20th century. And it's no surprise that the United States, Europe all want to keep the existing system in place.
What Putin and Russia are trying to do is to challenge that fundamental point; to break down the old institutions. And they did so to an extent with the invasion of Ukraine in 2014, and by challenging many of them now to build a new European security architecture, which, frankly, is going to be much more unstable than what we've tried to achieve thus far. For me, this is a fundamental question for Europeans: Do you want to go back to those battle days? I don't think so. We certainly don't in the United States.
How would you explain the growing discrepancy between the alarm coming from Washington and an increasing number of statements from Ukrainian officials playing down the possibility of an attack?
I think it's important to keep in mind all of the different audiences here, and not to overreact to this or that particular statement. Some of the signals that President Biden is trying to send are not just to Ukraine, but are public warnings about a Russian military attack- sent as signals to Russia to try to help lead the NATO alliance in dealing with this Russian-manufactured threat to European security. I think President Zelensky has to manage the Ukrainian people, who are quite concerned about a Russian attack; to manage expectations there.
Clearly, the Russian military buildup is very advanced, it's very threatening and worrying and dangerous. I'm not sure what President Putin has actually decided, as Russian leaders themselves have said he and he alone is calling the shots, both literally and figuratively.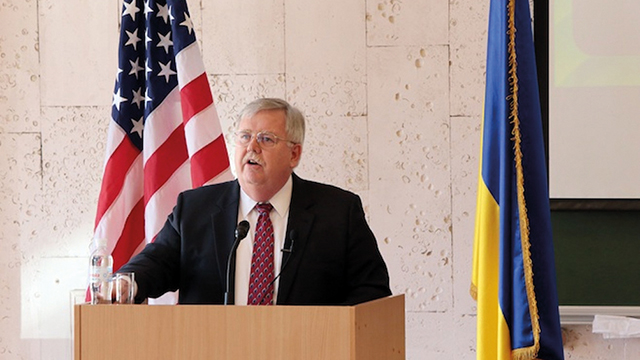 With Berlin and Paris pursuing their two-track diplomacy, how likely is it that the Normandy format and the focus on the Minsk accords will prove more successful in dealing with Russia?
It's going to take a political decision, and this is the problem with the Minsk agreement. Sure, it had a group of elements that would stabilize and withdraw Russian military equipment and forces from the Donbas, but then there were also pieces about giving Donbas more autonomy and a greater say in the government. Those are still non-starters, because we know how strongly the Ukrainian people feel about these things. They're not going to give Russia or Russian proxies a say inside the government in Kyiv, particularly after what they've been doing this past year.
According to the latest reports, the US and Germany have reached a consensus that in case of escalation, Nord Stream 2 will be part of the Western sanctions. How important is that inclusion for the sanctions to be truly "unprecedented"?
I personally think it's very important. Some of the best news I heard yesterday was that Chancellor Scholz is planning a trip to Washington. I think it's important that President Biden and the Chancellor sit down and have a real heart-to-heart talk about this and a whole range of other issues. President Biden has said that if Nord Stream 2 doesn't go through, or if gas is cut off, this won't be easy for Europe. There are fundamental principles at stake here. And I'm sure one of the things that the President and the Chancellor will talk about is, if things do go to the point of military conflict, how will we manage such energy issues? The White House has said, "We will do everything we can to get more energy supplies into Europe," and I'm sure efforts are already being made or planned to deal with that issue.
On to Georgia now – does the situation at the Ukrainian border and the ongoing blame game remind you of the prelude to the 2008 war?
I was there with courageous Georgia and its people during that period, so I remember it well.
From February 10-20 this year, Russia is carrying out exercises, as they call them, in Belarus, with the Belarusian forces. By the 20th of February, all their troops will be there. At that time, the Olympics will be coming to an end in China. Many of the analysts felt that President Putin would not launch anything during the Olympics so as not to upstage his friend, President Xi of China. But if you end up with a lot of extra Russian forces on the border with Belarus… well, ask any Georgian if they remember what happened in Georgia in 2008, when there were "exercises" in the North Caucasus, and many of those troops did not go home after the exercise was completed – they were among those who invaded Georgia. And there were Olympic Games in China back then as well. There are a lot of parallels here that make you wonder.
The move was designed in Moscow, and Foreign Minister Lavrov, in the now-famous phone call with Secretary of State Rice, basically admitted this was about a regime change. So, the other day when I heard the British announcement that Russia was talking to some of the former Ukrainian leaders in exile, that also came to mind.
Interview by Vazha Tavberidze for RFE