As Russia's invasion of Ukraine enters 2023 and a cold winter settles in, the front line has remained hot. Ukraine has entrenched itself along the eastern front, with Russia pressing hard, at high human costs. Inside this hostile front line, some have shared their experiences, which paint a grim picture of modern warfare.
Speaking on the condition of anonymity, one Western volunteer working for Ukraine's intelligence service sat down with GEORGIA TODAY. This service member, serving with the Main Directorate of Intelligence of the Ministry of Defense of Ukraine, offers an interesting and unique view into the fog of war.
Without giving away any PII, how would you describe your professional background and your current operational capacity?
I was never employed by the military until I joined the Ukrainian Army. My background is in intelligence operations and private contracting for private companies and government agencies. Currently, I'm a member of a small team working under the Main Intelligence Directorate (GUR). We undertake small unit missions such as recce, sabotage, raids, and also often attached to larger units as infantry support.
How would you describe the state of affairs right now?
I would say things are much better than early in the war, in all aspects. I have not seen issues with food, there is always enough for our team, sister teams, and partner units to eat. The military, along with many volunteer groups, ensures this. The cold is not fun to fight in, it makes everything harder and slower. But to be honest, we would be better off if it was a bit colder. The autumn and early winter have been extremely wet, which means everything has been extremely muddy, and mud really sucks, more than cold. It would be easier, and we would be able to be more effective if things froze and firmed up.
Transportation is an ongoing issue, especially for foreign teams, as vehicles are expensive and never last very long. We seem to be in a constant state of trying to get vehicles repaired or trying to procure new ones.
Leadership is like it is everywhere: There are good things and complaints, some legitimate, some not. In general, I have seen a lot of improvement in Ukrainian leadership over the course of the war, just as I have seen enormous improvement in just about all aspects of the Ukrainian side of the war, from training, to supplies, to morale.
In general, morale is very high, everyone, and I mean everyone, is committed to not just ending the war, but to winning the war. By winning, I mean to removing Russian forces from the entirety of the internationally recognized borders of Ukraine. Of course, there are times when individual morale goes down, especially in Bakhmut, or when manning trenches, as it is a very difficult battle, but this is a normal human response to such a situation.
Has the international support in equipment and finances made a visible effect on the operations tempo and preparedness on the front line?
Yes, of course. This is undeniable. Russia's standing army and military equipment was roughly 10 times the size of Ukraine's in January 2022, largely composed of the same arsenal on both sides, but Russia also had more advanced weapons and capabilities. Weapons such as Javelins, NLAWs, and now HIMARS, have done a lot to level the playing field. The sheer volume of artillery ammunition fired and required has been enormous, and foreign assistance, whether in donation of weapons/ammunition, or financing to allow Ukraine to purchase for themselves, has also been invaluable.
Large industries in Ukraine now find it difficult, if not impossible, to operate. In other words, the large scale economy is in a shambles. Governments have money only by citizens and businesses paying taxes, so the Ukrainian government's income, which goes towards all the civilian and military expenses the government pays for, would be severely hampered if not for foreign financial assistance.
All this being said, it appears to me that many countries have realized that the war in Ukraine is an opportunity for them to clear out old, outdated weapons and munitions while writing them off at full value. We have seen and received weapons and weapons systems from as far back as the 1960s/70s. Kind of like how countries have programs to donate old cars for a tax write-off. Many people in the West see these as huge sums of aid provided to Ukraine and have the mistaken impression that these sums are just being transferred over to Ukraine, while in reality that is usually not the case.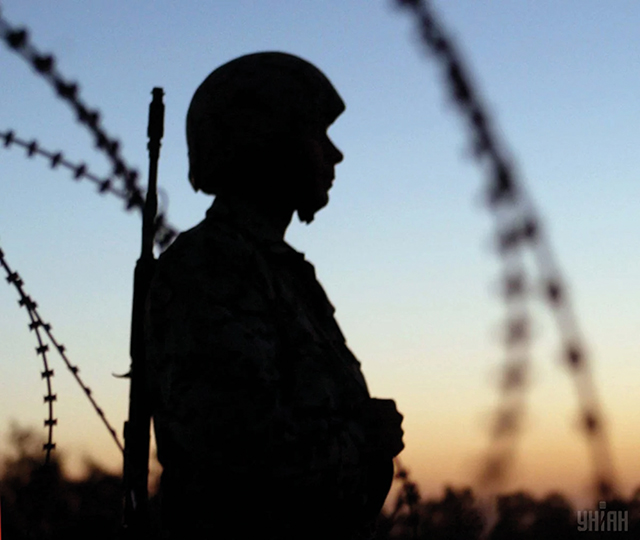 Much of the Western media downplays the state of Russian troops. Is this what you're seeing, or are they far more hardened, trained, and professional than some perceive?
In my experience this varies considerably. When we were in Kharkiv, prior to the autumn offensive, there were several Guards and Marine units, along with a couple of GRU Spetsnaz units, that were very good. At the same time, many frontline positions were held by LPR/DPR units which were not good at all.
Soviet military doctrine is very different from Western military doctrine: They put their worst units up front to hold frontline positions and lead attacks. Their better troops are held in the second and third lines, where it is hoped that they will be able to be more effective after the first line has softened up the enemy and identified enemy positions.
Expansion of the war is likely in 2023, as I do not think Russia will accept defeat
Conscripts are often very poorly equipped and trained, literally being used as cannon fodder. The same strategy can be seen with Wagner PMC. Earlier in the war, everyone had a healthy respect for Wagner troops, they were the best equipped, best trained, and usually had combat experience. Now it is a bit different. According to what we were told by some Wagner prisoners we captured, all of whom were convicts recruited from Russian prisons, prisoners who were asked to join Wagner were killed outright if they rejected the offer.
In Bakhmut, these untrained Wagner prisoner recruits have been being used for "recce by cannon fodder", with waves of them being sent to attack, primarily in order to identify our positions, heavy weapons, and defenses when we engage them. Then they attempt to target these positions before sending in the next wave of better equipped/trained Wagner or regular forces.
Pro-Russian commentators have described the fighting as a "meat grinder," particularly in reference to irregular troops. What has been your experience when facing non-Russian Armed Forces troops?
Yes, meat grinder is a fair and accurate term to describe the fighting in some places, especially in Bakhmut. The Russians seem to favor quantity over quality in all aspects of war, from artillery, to armor, to soldiers. Their commanders and leaders seem to have much less regard for the lives of their people than the Ukrainians or Westerners do for theirs.
Wagner has gotten worse in terms of quality in the past 6 months, but they seem to have grown in numbers and seem to be in many more places than they were early on. The LPR/DPR militias were kind of a joke early on, but like us, those that survived learned and improved, so they cannot be discounted or underestimated these days.
However, this war truly is a war of artillery, and artillery will take out the best trained and equipped troops in the world just as easily as it will take out the worst. One shell can take out large numbers of troops, so, much of the fighting is a cat-and-mouse game, with both sides trying to identify enemy positions and strike them before the enemy can identify them and strike. The Russians are pretty good at this static warfare, but not very good at dynamic warfare. When there is a breakthrough, or lines are fluid, we usually make significant gains, such as what happened with the offensives in the autumn.
How would you describe your own experiences to that of many Western veterans who served in Iraq, Afghanistan, Syria, etc, in the Global War On Terror?
I was in operations in Iraq, Syria, and Yemen, but I did not participate in conventional warfare or battles, so my experience doesn't really directly compare. That being said, I see a couple of major differences between what I saw in the Middle East and what I see in Ukraine. First, of course, is being on the receiving end of serious artillery, electronic warfare and armor. I did not face any of that in the Middle East- it was mostly small arms and IEDs, with RPGs and the occasional mortars being the biggest threat, with small arms and IEDs being my personal biggest threat.
The second thing that is different is the clear lines and enemy/friendly areas. The Middle East was more insurgent warfare than traditional war. I was always on guard, and there was always the risk of enemy action no matter where I was in theater. In Ukraine, it is simpler: For the most part, the enemy is over there and everyone over here is on my side or of little threat. I can also be at the front in the morning, then jump in my vehicle and be back in a safe/"normal" area within a couple hours or less, except for the occasional missile strike of course. Although I only have limited first-hand knowledge to compare the war in Ukraine to, the closest approximation is to the documentaries I have seen my whole life about World War II.
Finally, without holding you to any firm predictions, where do you see things in Ukraine going for 2023?
Emphasis on "not holding me to this," but I think 2023 will either bring Ukrainian victory, i.e. pushing Russian forces out of Ukraine, with the possible exception of Crimea, which might take a bit longer, or a significant expansion of the war to include/involve other countries. This would be the result of Russia escalating the situation, such as using tactical nukes, chemical weapons, etc, or Russian allies, such as Belarus, entering Ukraine, both of which would be the result of Russian losses on the battlefield. I actually think the second option, expansion of the war, is more likely, as I do not think Russia will accept defeat.
Exclusive Interview by Michael Godwin