The protesters "Guardians of the Rioni Valley" named three conditions for resuming dialogue with the government:
Stop the construction works in the valley

Remove fences and large-scale police mobilization

Allow the tent protest in the village of Namokhvani to continue.
Yesterday, the government administration announced that their representatives were in Kutaisi and ready "to resume dialogue with the protesters."
Varlam Goletiani and other leaders of the protest went to the municipality building in Kutaisi to introduce the conditions under which further dialogue was possible.
So far, there has been no response from the officials as to whether they accept these conditions or not.
The peaceful protest continues in Gumati, next to the police check-point, still blocking the entrance to Namokhvani village.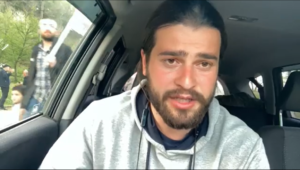 Goletiani mentioned in his new Facebook live video that unless the demands are met, they will continue the massive street rallies.
By Ana Giorgadze
Related Story: Goletiani: Meeting with Gov't Reps Must Be Public