The Prime Minister of Georgia, Irakli Garibashvili, published a post on his Facebook page thanking the Prime Minister of the United Kingdom, Boris Johnson, and the Secretary-General of the United Nations, António Guterres, for their efforts, in spite of pandemic, to bring more than 120 world leaders together for the climate this week.
"I had the honor to participate on behalf of Georgia in the 26th UN Summit of World Leaders on Climate Change 2021, held in Glasgow," the PM wrote. "I thank the Prime Minister of the United Kingdom, Boris Johnson, and the Secretary-General of the United Nations, António Guterres, for their efforts to bring together more than 120 world leaders in the wake of the pandemic.
"Climate change is a global challenge that cannot be tackled without joint efforts. We owe it to ourselves to work together," the post reads.
He participated in the 26th United Nations Climate Change Conference (COP26) held on November 1-2 in Glasgow, along with other world leaders, who over the two days agreed on two important advances on climate change, promising to curb methane emissions by 30% by 2030, and agreeing on a deal to end deforestation by 2030.
A total of over 100 countries have now joined the US and EU's 'Global Methane Pledge' to cut methane emissions by 30% by 2030.
Methane is a strong greenhouse gas which has higher heat trapping potential than carbon dioxide. Methane takes 20 years to break down, as opposed to hundreds of years for the number one greenhouse gas, carbon dioxide, which means that cutting methane emissions can have a rapid impact on global warming. If met, the pledge could prevent 0.2 degrees of warming by mid-century, which in turn fulfils the 2015 Paris climate Agreement. China, Russia, and India did not sign the pledge, although they are among the top five methane emitters. Skepticism remains high as to transparency and accountability, however, as members of the alliance are not required to set individual targets for reducing their emissions.
Further results this week saw over 100 world leaders promising to end and reverse deforestation by 2030. Countries such as Canada, Russia, Brazil, Indonesia, and many more will endorse the Glasgow Leaders' Declaration on Forest and Land Use. Together, they account for 85% of the world's forests. Brazil, now infamous for the huge loss of stretches of the Amazon rainforest, was among the signatories on Tuesday.
Deforestation contributes to climate change because it reduces the number of trees absorbing the greenhouse gas carbon dioxide.
28 governments also committed to removing deforestation from the global trade of food and other agricultural products, such as palm oil, soya and cocoa. These industries impact forest loss by cutting down trees to make space for animals to graze or crops to grow.
The deforestation reduction pledge includes almost $19.2bn of public and private funds, some of which will go to developing countries to restore damaged land, tackle wildfires and support indigenous communities.
Many experts welcomed the pledge, but warned the last deal made in 2014 had failed to slow deforestation at all. It is also uncertain how governments would be held accountable, as, although national laws would be needed to guarantee the agreement is upheld, none have yet been announced.
"Delegates on Wednesday focused on how to get private finance working with public sector funding to boost global investment and nature-positive technology, innovation, and infrastructure projects in a bid to ensure Climate Change funding and adaptation," impakter.com reported. "More than 30 of the world's biggest financial companies, including Aviva, Schroders and Axa, have also promised to end investment in activities linked to deforestation. And a $1.5bn fund will be established to protect the world's second largest tropical rainforest – in the Congo Basin."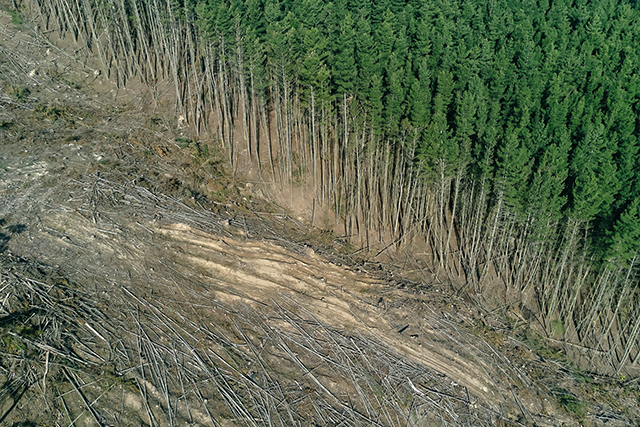 ***
A survey conducted by the Regional Environmental Center for the Caucasus within the EU4Climate program implemented by the UN Development Program in Armenia, Azerbaijan, Belarus, Georgia, Moldova and Ukraine, found the following results in Georgia last year:
• 97.6% of respondents have heard about climate change.
• 91.35% think that climate change is real and poses threats to humanity.
• 25.9% of Georgia's population believe that international organizations will be able to manage the consequences of climate change.
• The majority of respondents think that climate change is more important than international terrorism and armed conflicts (57.9%).
• 36.19% believe they can do nothing to tackle climate change (among them, women: 41.4%, men: 30.1%).
• Global warming and draughts (96.11%), disasters (92.84%), melting glaciers and warming ocean (91.83%) are considered as negative effects of climate change.
• 86.7% of Georgia's population are aware that energy efficiency measures can reduce their monthly expenses, and 7.9% believes that energy efficiency measures do not affect their monthly expenses.
The data was collected by face-to-face interviews with 1100 respondents in urban and rural settlements across the country in August and September 2020.
By Team GT