"The lies told by Nika Melia when interpreting the June 20 events proves that they are trying to stain Georgia's image in the eyes of its neighbors." – Sergei Gavrilov 
Russian MP Sergei Gavrilov responded to UNM Chairman Nika Melia's statements about the June 20 events, claiming the ruling party of Georgia is "doing its best to prevent coups, repressions and dictatorship in the country."
"We are ready to support the free choice of the Georgian people in favor of independence and sovereignty. One of the goals of the opposition and those participating in the coup is to complicate Georgia's relations with its possible partners in economic, spiritual and cultural issues, discredit Georgia as much as possible, and cut it off from its friends. The lies told by Nika Melia when interpreting the June 20 events proves that they are trying to damage Georgia's image in the eyes of its neighbors," Gavrilov told TV Pirveli.
The Russian MP pointed out that after overcoming the pandemic, the Georgian parliament should establish direct relations with the parliaments of Russia, Armenia and Turkey, and not only with the United States, in order to form the "normal multi-vector, multipolar position of sovereign Georgia."
"This is a direct directive for the Georgian Dream to continue the repressions," Melia said in response to Gavrilov's comments.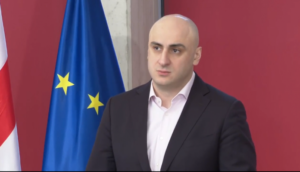 "This is a direct directive for the Georgian Dream to continue repressing the members of the Democratic Opposition and the June 20 participants, and to punish them. Everything is clear. Occupier Gavrilov stands on one side, the protest of the brave Georgian people stands on the other side. The MPs of the Georgian Dream should make the choice for themselves," Melia added.
For the record, the notorious June 20 events, also known as Gavrilov's Night, took place on the central Rustaveli Avenue in Tbilisi in2019. 
The protests launched after Sergei Gavrilov, a Communist Party member of the Russian Duma who was visiting through the Interparliamentary Assembly on Orthodoxy, sat in a chair reserved by a protocol for the Head of Parliament. He delivered a speech in Russian, extolling the Orthodox brotherhood of Georgia and Russia.
Following Gavrilov's actions, the Georgian opposition blocked the speaker and called for protests that demanded the government's resignation. As night fell, Georgian law enforcement used tear gas and rubber bullets to disperse protesters. Approximately 240 demonstrators were injured during the clashes with police and 305 protesters were arrested. At least two people received eye injuries and loss of vision due to rubber bullets. The government accused the protesters of attempting to storm the parliament building.
By Ana Dumbadze