The past decades have brought the use of Unmanned Aerial Systems (UAS) to the forefront of not only military operations, but search and rescue, surveying, journalism, and even private recreational use. While these systems take on many forms, their importance to national security and defense networks have taken on a new meaning. Commonly referred to as "drones," these systems gained fame in the conflicts of Iraq, Afghanistan, and Syria as both an observation platform, and a weapons delivery platform.
The missions of these UASs have expanded from their infancy as a small aerial surveillance system fraught with technical issues. Land based and maritime platforms have expanded the roles of these advanced and durable systems. Their virtually undetected application during Intelligence, Surveillance, and Reconnaissance (ISR) missions with military forces have removed the threat posed to deploying small ground reconnaissance teams. The ability to precisely deliver a variety of air-to-ground munitions with near-pinpoint accuracy further restricts the freedom of movement and operations of hostile non-state actors.
In domestic application, they have assisted law enforcement entities in finding and apprehending fugitives that would otherwise have taken months to track. They have assisted surveyors in achieving high-quality imagery of land for development and assessment. Journalists have been able to attain some of the best vantage points during events. Even mining companies have used them underground to explore unsafe or new sections of their projects.
However, it is the military usage that has made most of the headlines, with both air and ground UASs, that continue to expand the capability of all UASs. Georgia has not been left out of this race to develop more capable UASs. Recently, one of the nation's aircraft manufacturers revealed the readiness of their T-31 UAS. After a two-year design and production venture, they have developed two variants; a combat version and a surveillance version.
The combat variant has been shown to carry four air-to-ground missiles mounted on pylons to the wings and a 24-hour flight time. The surveillance version has a 3-day flight time and carries an exceptionally capable optical payload as well as two fuel tanks mounted to the wings via their own pylons. Designed from the ground up to be a pure military UAS, it has shown an immense advancement in Georgian UAS technologies.
Some have postulated that the Georgian rush to develop these systems and the rise of the overall regional importance of UASs was highlighted during the recent conflict in Nagorno-Karabakh. Hundreds of videos on social media and other media outlets displayed Azerbaijan applying these airborne systems to devastating effect against Armenian ground units. Using both their own as well as Turkish platforms, their ISR and combat use was cemented as the new normal in warfighting. This is not the first time UASs have been used in the South Caucasus.
Georgia used an Israeli UAS platform in the 2008 War to significant effect, despite several being shot down during their mission. Two systems, operated by the Ministry of Internal Affairs, were the Elbit Hermes 450 over Abkhazia before Russian Su-27s shot them down to prevent them from revealing the fact that Russian combat troops were operating in the country offensively. Georgia also deployed the Elbit Skylark on surveillance operations during the conflict. More recently, in conjunction with Estonian firm ELI Military Simulations, Georgia has also been producing and using the SWAN III UAS, mostly for border police operations and non-combat uses.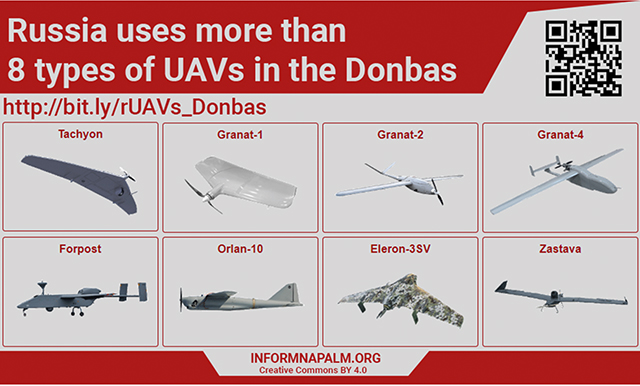 So far, the UAS systems used by Georgia require some type of static launching apparatus. They are generally operated by extensively trained pilots, and are not field expendable. These limitations confine their usage to brigade and strategic level commanders, leaving battalion commanders and below vying for them to be allocated to their unit's operation. The natural answer to this is to get small, man-portable, hand-thrown UASs into the hands of these leaders, even down to the platoon level.
One of the best examples of this is the RQ-11 Raven, used by the United States military. First deployed in 2003 and produced by manufacturer AeroVironment, it saw repeated use in Iraq and Afghanistan as a company or platoon means of attaining relatively short-range ISR. With only a range of approximately 10 kilometers and max speed of 100 kilometers per hour, they had a limited application. Nonetheless, they were able to provide real-time video to leadership in color, infrared, and night-vision modes.
This UAS platform greatly expanded the frontline commander's abilities to gain immediate ISR prior to, during, and in the aftermath of combat operations. Applying this platform to Georgian commanders below the brigade level eliminates the restrictions of having to go to high levels of leadership before getting access to real-time ISR. While not able to carry any munitions, it will enhance the confidence of commanders during operations in the field.
The implementation of these systems would come gradually, being issued to the most capable and deployable units first. The field tests and reports from both commanders and the soldiers operating them will become invaluable in planning their further deployment. Because these systems are field expedient, the combat loss of one system, designed with an internal memory-wiping mechanism, would also remove the threat of losing ISR data to an enemy or being able to trace them to any particular unit.
Getting these systems to the field will overall advance the total warfighting and peacekeeping abilities of the Georgian military. In addition to enhancing the individual unit's ISR and preparedness, it will also accelerate the battlefield decision making process and remove some of the more common errors. The result of this reduces casualties and increases the total lethality of ground units. The existing strategic-level UASs Georgia are important, but having tactical-level ISR is what decides battalion and below operations.
With over 32 countries, many of which are NATO countries, using the Raven UAS platform and many more using similar man-portable UASs, it's clear that the use of these small systems provide immense advantages to military leadership. Georgia is, and has, excelled in the use of these systems in their modern history. It's time for the Georgian military to advance the small units' leaders abilities in field training, humanitarian aid mission, peacekeeping, and in its inevitable future combat operations.
By Michael Godwin