The epidemiological situation in Georgia continues to slowly improve and, just like in Europe, numbers of newly detected coronavirus cases are decreasing.
The World Health Organization (WHO) reported that there have been approximately 3.5 million new cases of coronavirus infection worldwide in the past week, and 78,000 people have died, which is 15% and 7% less compared to the previous week.
Amiran Gamkrelidze, Head of the Georgian National Center for Disease Control and Public Health (NCDC), this week announced "the end of the peak of the third wave in the country." However, he noted that due to opening land borders on June 1 and the lifting of several restrictions, it is vital that all the citizens strictly follow the safety rules to prevent further case increases.
"We can say that the peak of the third wave is over: today, the epidemiological situation in our country is heading towards improvement. But the pace is slow, so we must be very careful," he stated on Wednesday, adding that the intensity of vaccination in the country is gradually increasing and at this time, over 150,000 people in Georgia have been vaccinated.
Naturally, despite the notably improved epidemiological situation, the country's capital Tbilisi and its largest regions by population, Adjara, Imereti and Samegrelo-Zemo Svaneti, still maintain the leading positions in terms of the virus spread.
On June 1, it was announced that despite having received a vaccination with AstraZeneca, Health Minister Ekaterine Tikaradze had contracted coronavirus. The Minister feels well, is in self-isolation and continues to work remotely.
Gamkrelidze responded to public concern, saying that people who had received single-dose vaccines, and as well as those who had double-doses, could still be infected.
He noted that in Georgia, the infection rate of people who received a double-dose of vaccine is 0.2 to 0.3%, and 0.8% for single-dose vaccinated people.
"As you know, there is nothing absolute in medicine, so both people who received single-dose vaccines, as well as those who received double-dose vaccines, can be infected, and we already have cases of this. In double vaccinations, it is much less.
"But for the most part, all of these cases had relatively mild symptoms, requiring almost no hospitalization or intensive medical care. Therefore, whether it is a single or double dose of vaccine, the vaccine in general protects people from a severe course of the disease and vastly lowers the mortality rate," Gamkrelidze said.
Georgia reported 360 coronavirus cases, 1,195 recoveries, and 16 deaths on Monday, with 12,207 tests conducted. Georgian capital Tbilisi recorded the highest number of 200 Covid-19 cases, followed by the Adjara region with 43 cases and the Samegrelo-Zemo Svaneti region with 24 cases.
On Tuesday, as a result of expanded testing (a total of 32,930 tests), the number of detected cases significantly increased, with the country reporting 1233 coronavirus cases, 1002 recoveries, and 31 deaths. Tbilisi recorded the highest number of 676 COVID-19 cases, followed by the Imereti region with 126 cases, and the Adjara region with 102 cases.
Georgia reported 954 coronavirus cases, 896 recoveries, and 30 deaths on Wednesday, with 30,603 tests conducted across the country. Tbilisi recorded the highest number of 509 COVID-19 cases, followed by the Imereti region with 99 cases and the Samegrelo-Zemo Svaneti region with 88 cases.
On Thursday, the country recorded 833 new cases, 1205 recoveries and 19 deaths, with 28,191 tests conducted.
Test-positivity rates for the recent period are: daily 2.95%, last 14 days 3.16%, the last seven days 2.91%.
The total number of confirmed cases has reached 346,983, among them, 330,721 people recovered and 4853 died. Presently, there are 11,409 active cases of infection in Georgia.
The Vaccines
A total of 155,538 people had been vaccinated in the country as of Thursday, with around 6000 being vaccinated daily.
Georgia expects the first batch of a total 1 million doses of Pfizer in June, first intended for those who need their second dose, followed by the most vulnerable groups.
On Wednesday, WHO gave authorization to the Chinese-made Sinovac vaccine for emergency use, "giving countries, funders, procuring agencies and communities the assurance that it meets international standards for safety, efficacy, and manufacturing," WHO reps stated.
The Sinovac vaccine is recommended for people over the age of 18 and requires 2 doses at a 2-4-week interval.
Sinovac is the seventh vaccine that WHO has listed for emergency use, along with Pfizer / BioNTech, AstraZeneca, Serum, Janssen and Moderna, and Sinopharm.
Georgia received 100,000 doses of Sinovac on April 29, which were eagerly snapped up by the Georgian population.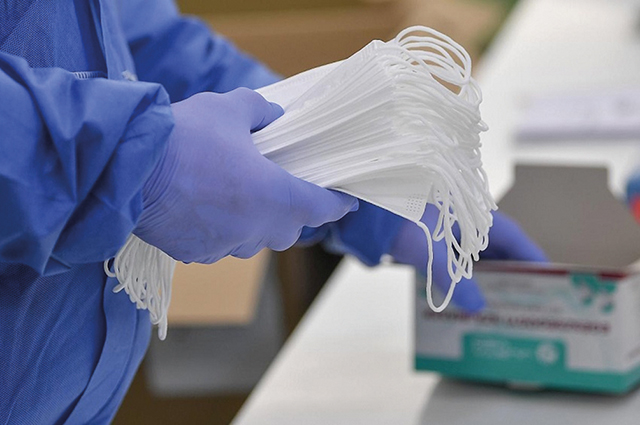 The Restrictions
In Georgia, from June 1, restaurants and cafes will be able to open to customers inside and out on weekends, following sanitary and distancing restrictions.
Weddings, parties, and celebrations are still banned.
Also from June 1, the night curfew was reduced by an hour, starting at 23:00 and lasting until 04:00, (instead of the previous 05:00).
Giorgi Gibradze, Chief of the Operational Staff at the Interagency Coordination Council, said that the above decision was taken in order to "support the farmers in their activities and in the process of selling agricultural products."
The curfew has been in force in Georgia since the end of November.
Also from June 1, Georgian authorities decided to reopen the country's land borders.
"Land borders will be open and it will be possible to cross the border with a full vaccination certificate and a negative PCR test result, or only a negative result of the PCR test performed in the last 72 hours, if these persons will again be tested within the 72 hours after entering Georgia," Gibradze said.
The Council recommends that all visitors have health insurance which covers COVID cases.
In addition, Canada, Japan, Kuwait, China, South Korea, Moldova and Oman are to be added to the list of countries whose citizens and residents will be able to cross the Georgian border with a negative PCR result received in the last 72 hours.
Air Traffic
Adjara is preparing for the summer tourist season. The number of flights to the renewed Batumi International Airport is increasing, seeing tourists from Belarus, Israel, Kazakhstan, Ukraine, Turkey, and Saudi Arabia already visiting the region. From June, LOT Polish Airlines will start regular flights to Batumi (Warsaw – Batumi – Warsaw), Ukraine International Airlines (Kyiv – Batumi – Kyiv), as well as Fly Dubai (Dubai-Batumi-Dubai) and Air Arabia (Sharjah-Batumi-Sharjah).
In April, Batumi International Airport restored 60% of the existing flights seen in 2019, and this process is ongoing. According to the available data, an average of 25 flights a week were operated at Batumi International Airport from Israel, Ukraine, Belarus, Kazakhstan, Saudi Arabia, and Turkey during May.
Regular air traffic between Georgia and Greece will be resumed on June 3. Athens – Tbilisi – Athens flights will be carried out by the Greek airline Aegean Airlines.
Initially, flights will be carried out once a week, however, the number of flights will gradually increase during the summer season, the Civil Aviation Agency announced this week.
Athens-Tbilisi-Athens regular flights will be carried out with the following schedule:
• From June 3 to October 29 – on Fridays
• From July 4 to October 29 – on Fridays and Sundays
• From July 21 to October 29 – on Wednesdays, Fridays and Sundays.
Also starting June 3, Kuwait's low-cost Jazeera Airways will resume flights to Georgia and carry out Kuwait-Tbilisi-Kuwait flights. Initially, flights will be carried out on Thursdays. However, the flight frequency will increase starting June 12, with flights on Thursdays and Saturdays.
Jazeera Airways announced that the flight frequency will gradually be increased until the end of October, with fights carried out four times a week.
Jazeera Airways started operating in the Georgian aviation market in 2018.
By Team GT