The Embassy of the Republic of Bulgaria in Tbilisi contributes to help raise mutual cultural awareness in Georgia, and this month it has held several events in that regard in Tbilisi.
The 'Sofia Garden' was opened on March 19. The naming of urban landscaping in the main Georgian city after the Bulgarian capital Sofia was dedicated to the National Holiday of the Republic of Bulgaria.
The ceremony was organized by the Embassy of the Republic of Bulgaria in Georgia and the Sofia Municipal Council of Tbilisi. The Georgian side was represented by the First Deputy Speaker of Parliament Giorgi Volski, and the event was hosted by the President of the Municipal Council of Tbilisi, Giorgi Tkemaladze.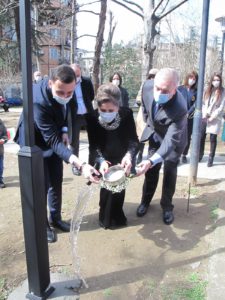 After the ceremonial opening of the sign 'Sofia Garden,' according to an old Bulgarian tradition, Ambassador Ivanova,  Volski, and Tkemaladze together water the flowers there with water brought specially for the occasion by representatives of the Bulgarian community.
Ambassador Ivanova thanked the Municipality of Tbilisi and the leadership of the Municipal Council for the implementation of the initiative, the idea of ​​which was first launched by the Embassy. She pointed out that she is extremely proud of the fact that the naming of an urban space after the capital of the Republic of Bulgaria Sofia took place a few days after the celebration of the National Holiday, which is a gesture in itself "saturated with symbolism, showing attention to our country and once again reaffirming the existing excellent bilateral relations, both between the Republic of Bulgaria and Georgia and between their capitals." 
Ambassador Ivanova, in her speech, focused on the traditional Bulgarian support for the territorial integrity and sovereignty of Georgia, and its ambitions for EU and NATO membership.
Another important event related to Bulgaria was the 'Bulgaria Hall' that opened at Sokhumi University in Tbilisi on March 17. A "Laboratory for Innovative Ideas", the Bulgaria Hall has been renovated and equipped with funds from the Bulgarian Development Assistance Fund to the amount of 34,000 Euros.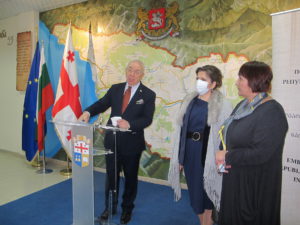 Ambassador Ivanova pointed out that with the opening of the "Laboratory" at the Sokhumi State University in Tbilisi, which since 2019 has hosted the first lecture on Bulgarian language and literature in Georgia, the cooperation between Bulgaria and Georgia in the field of education deepens and gains additional visibility. 
The Bulgarian Ambassador noted that the Bulgarian-funded project aims to create a fully equipped center where students can generate and develop their innovative ideas and projects by organizing training, round tables, and conferences.
She recalled that this is another project in the field of education and children, which the Bulgarian side finances under "Development Assistance" in Georgia, and that the total assistance to Bulgarian projects already exceeds 600,000 Euros. "Development aid," said the Bulgarian Ambassador, "is one of the instruments of our country to support reforms in Georgia and, respectively, its aspirations for EU and NATO membership."
By Ketevan Skhirtladze