Fashion is all about the statements that it communicates to societies. What we wear is about who we are. For all those concerned that LGBTQ+ rights and freedoms are threatened in Georgia, the good news is that at least fashion is the way to communicate the messages of tolerance and fairness. A good case in point is GOD ERA, a fashion brand based in Tbilisi, run by rising Georgian designer Nini Goderidze. The brand was first presented on Mercedes Benz Fashion Week Tbilisi in 2021. GOD ERA is a non-binary slow fashion brand, sensitive to queer topics and critical of patriarchal society. Nini Goderidze graduated from Tbilisi Academy of Arts and is an active supporter of sustainable and ethical fashion. Her current activity also involves the work on the creation of biodegradable vegan leather. Her Tbilisi studio over the city roof-tops is a co-working space and an open lab where insights into her creative process are as fascinating to follow as her provocative outfits are ready to wear. The author has had the privilege of following the degradable leather development process, explained in detail by the designer personally during a studio visit. GOD ERA has been active in collaborations with various artists, including a costume collaboration with the Berlin based artistic duo CROSSLUCID for their short movie 'First Date' in July 2019.
She is also part of the Fungus project, which is a platform for queer-identifying people from the Caucasus region, expressing themselves in various artistic mediums. Known for her brilliantly weird creations, like corsets with fake rubber tits and chunky jewelry strewn with molded latex appendages like babydoll arms and jelly ears, GOD ERA is pretty much subversive, provocative and edgy. As well as regularly participating in the Mercedes Benz Fashion Week in Tbilisi, Goderidze runs a virtual look book Dress X digital collection.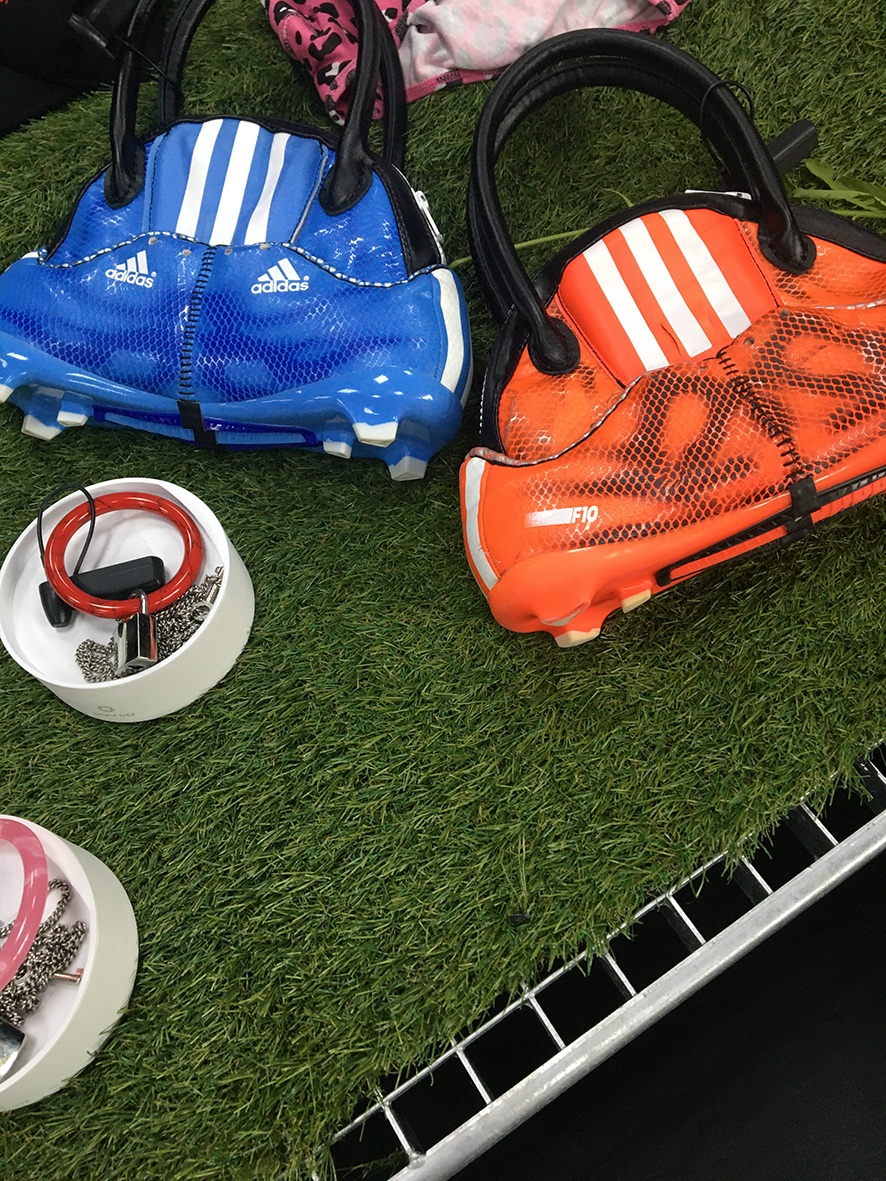 Berlin Fashion Week, which took place 10-13 July, was once again a bright event in the city social life calender, attracting huge crowds right before the summer break. The fact that Mercedes Benz is no longer Berlin Fashion Week's official sponsor has not affected the creativity and experimental character of Berlin designers. Diversity, inclusion, body positivity, sustainable and ethical practices have been celebrated by many new collections. In a city like Berlin, with its complex history, it all came at a price, therefore it's all the more important that the fashion created in Berlin focusses on these values.
Among the numerous destinations where young and established designers showed their new creations, PLATTE.Berlin stands out as the place to be for fashion without prejudices and conventional stereotypes. Situated in the very heart of the city, amidst the excessively hyped Berlin-Mitte, not far from Alexanderplatz, this location, as it's name indicates, is harbored in the GDR style architectural complex constructed in the spirit of the bygone socialist esteems.

The term "platte," which actually stands for a negatively charged dwelling of lower standards for the masses, has been given by the team currently in charge a positive turn without covering up its past history, but attempting to evolve it into something better. Thus the PLATTE Award Runway Show that presented winner Melisa Minca's new collection was the absolute highlight of the Berlin Fashion Week.
The temporarily constructed catwalk made up of used wood pieces commonly used for facade refurbishments set up in the courtyard surrounded by the bare concrete tower-like apartment units pierced with rectangular window slots was the most sustainable setting one would ever imagine in these times plagued with excessive waste and shortage of resources. The show concept was less elitist and exclusive as is often the case with fashion labels, as even the dwellers of the apartments could follow the show from their respective windows if curious enough.
Likewise, Melisa Minca's new collection was all about up-cycling, sustainability, re-use and moreover about the uniqueness of individuals from various backgrounds, cultures, ethnicities, genders, body types and empowerment. And although the outfits wouldn't suit each and every one of us, although we may need more time to get used to unconventional models walking down the catwalks, and maybe one would ask for more sophistication in certain details of garments and footwear, or less explicit language on what one wears, it was the idea that mattered. The idea that ethical fashion using up-cycled materials and outifts created for all irrespective of body-shape and size, gender identities and ethnicities is our rescue and our future.
Melisa Minca's show was more like a look inside a fashion lab, where there are more open questions than ready solutions, more opportunities for development than dead-ends, which made it extremely exciting – especially the color palette of whites, beige and light browns making it all so agreeable to the eye.
The PLATTE show room went on presenting the top hits of season's sustainable fashion through a variety of designers, presenting a carefully selected array of up-cycled handbags, appropriating the motives of adidas football shoes, classy looking Bondy bags, deconstructed pieces of garments and more wearables to challenge and enrich traditional tastes.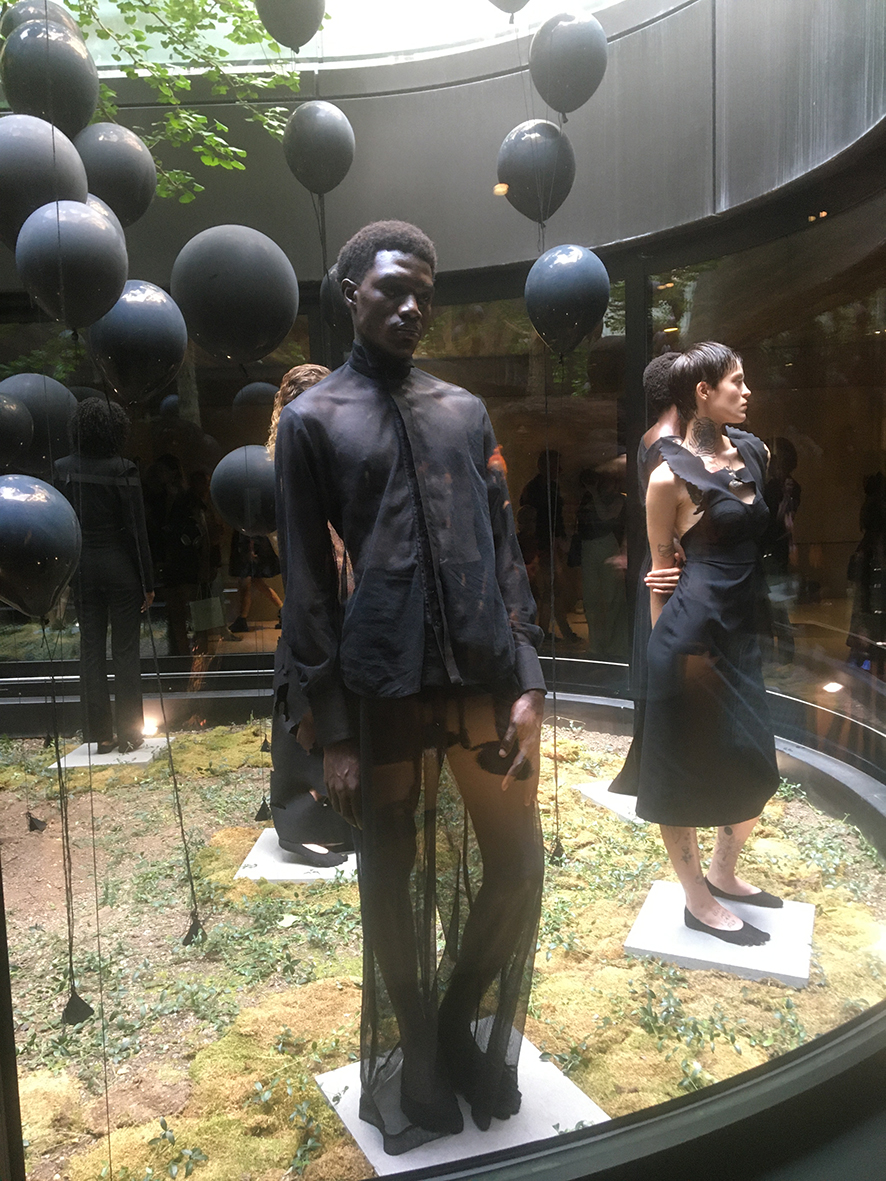 Another outstanding highlight of the Berlin Fashion Week this season was unmistakably Esther Perbandt's new collection Concrete Jungle at the Acht Berlin. Rarely would the collection spirit – all in Perbandt's signature black – work so elegantly with the state of the art architectural austerity of Berlin Prenzlauer Berg's stylish new quarter in Schönhauser Allee 8. Apart from excellent catering and classic music played live to accompany the show, the event was a true meet-up of Berlin's creme de la creme of the fashion society with iconic Christiane Arp from Vogue, now the CEO of the Fashion Council Germany, attending in person.
Perbandt's 18 looks showcased by models standing within an atrium impressed by the designer's skill in combination of various fabrics: like jacquard, heavy cotton matched with light see-through cloths revealing alluringly and adding extra sexiness to austere aesthetics of sleeveless tops, gowns and cloaks.
All varieties and shades of black amplified with the richness and diversity of contours with cut-outs, fabric applications, zipper details on dresses, floor-long skirts made the looks appear like sculpted out and brought to life by the designer's hand.
Perbandt's new jewellery collection focussing on golden clockwork wheel reminiscent details – chains, bracelets, earpieces is undoubtedly an opulent addition to any outfit. Needless to say, Esther Perbandt got extra publicity since the designer participated in Heidi Klum's controversial Germany's Next Topmodel TV show this season with all the participating GNTM model candidates wearing her outfits for millions of German TV audiences addicted to fashion. The designer had the honor to judge the model candidates side by side with phenomenal Heidi Klum and supermodel Karolina Kurkova.
Speaking of, Fashion Week would be nothing without models and its epic parties with models, especially when it happens in Berlin's notorious Torstrasse. Modelwerk X Kitty Cheng party has over the years set a tradition of its own in celebrating and partying with an exclusive guest list that we had the pleasure and priviledge to attend. Kitty Cheng Bar is a unique location with Wilhelminian epoch interieur, classy DJs playing hot hits and an exclusive ambience of Berlin signature trashy chick plus glamor. This season lavish give-aways were something extra special in terms of design and taste.
Last but not least, a short update about the upcoming generation of fashion school graduates of which Berlin has a huge number, fortunately. Neo.Fashion is the format specially developed to discover and support graduate students in their work by offering show possibilities for their creations and awarding a prize. This year was Neo.Fashion 2nd Edition, with the jury made up of fashion experts and experienced connoisseurs. According to our source Florian Mueller, a fashion expert, teacher, journalist and PR manager with an experience of working internationally from Paris Fashion Week to Berlin, Hong Kong and Taipei, being on the Neo.Fashion jury has been an exciting task with the current award winners being: Best Design: Fabia Meyer, Best Craftsmanship: Catharina Holtgrave, Best Sustainability Concept: Yannik Knorn. The names that we will hopefully come across more often in future. "Neo.Fashion. Letters – Fashion meets Art" on the other hand has been an extra initiative to bridge the link between contemporary artists that Berlin is teeming with and the city fashion community by inviting artists selected for this purpose to design 10 human-sized 3D letters spelling "Neo.Fashion" to visually decipher the DNA of the concept.
By Lily Fürstenow