From October 25 – 29, Greece hosted the European Youth Table Tennis Championship (EUROPE YOUTH SERIES). This tournament is a ranking competition for youths in the U13 and U15 age categories, and it features participation from young athletes representing their national teams.
The Georgian youth national team was proudly represented by four athletes: Anastasia Chkhartishvili, Tekla Liparteliani, Nikoloz Chkhartishvili and Mate Gambarashvili. These talented athletes were accompanied by coaches, Giorgi (Zhora) Sarkhaiani and Nino Ninoshvili.
In table tennis tournaments, singles competitions generate the most interest, since they directly impact a player's personal ranking. Anastasia Chkhartishvili, a valuable member of Georgia's national team, displayed an undefeated performance in her category and secured the 1st place in her group. She continued her impressive run by defeating Denmark's Philippa Mickelborg in the fourth final with a score of 3:0 (11-4, 11-5, 11-4).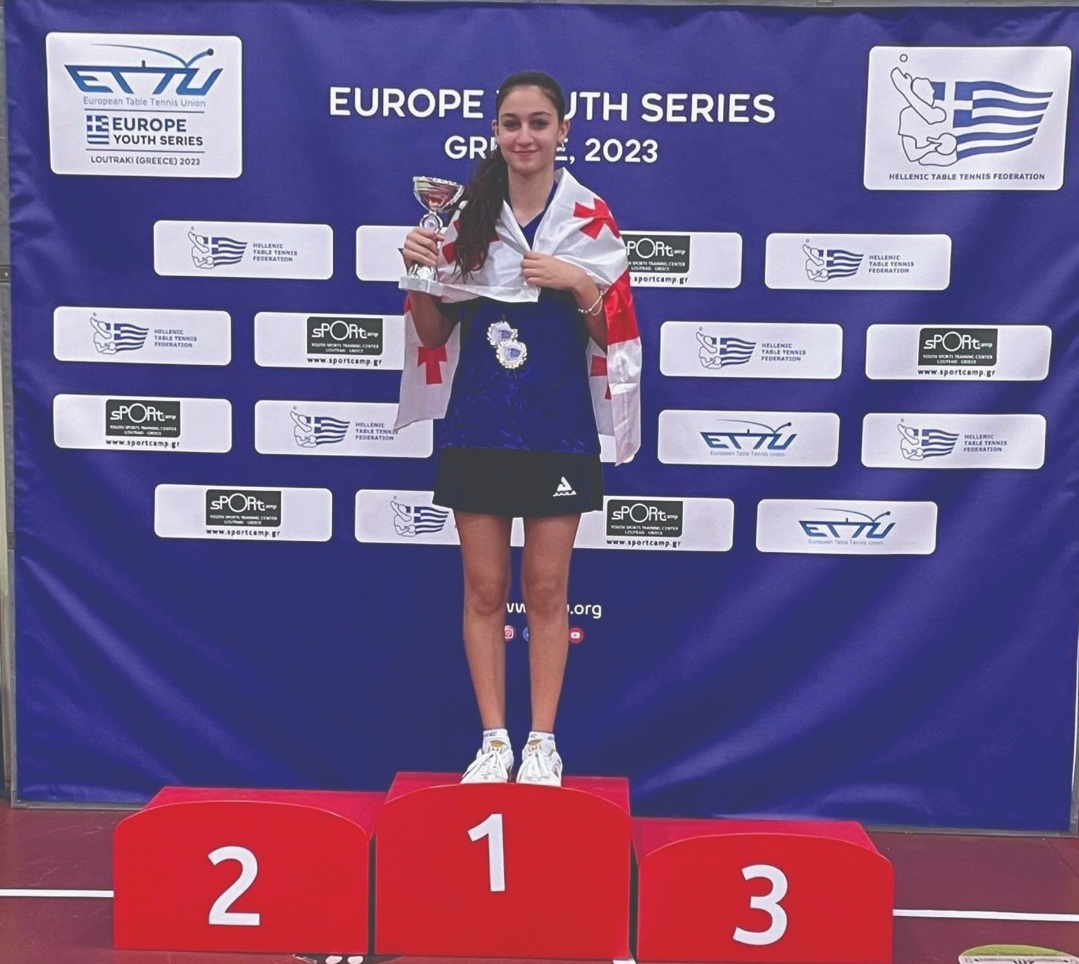 In the semi-finals, Anastasia faced a tough and thrilling battle against the representative of the host country, Greece, Angela Noure, ultimately winning with a score of 3:1 (11-5, 11-8, 9-11, 15-13). This victory granted her a place in the final where she competed against Lu Sally, a Chinese-born representative of Denmark. Anastasia displayed a high level of professionalism and a strong character, especially when the score was tied at 1-1 against Lu Sally, effectively countering her opponent's attacks, reclaiming the game, and emerging with a historic victory in the final with a score of 3:1 (11-6, 9-11, 11-2, 11-5).
Anastasia Chkhartishvili's historic victory signifies a monumental achievement, as she became the first Georgian table tennis player to proudly hoist the flag of independent Georgia at an international tournament organized by the European Table Tennis International Union (ETTU). This is a moment to celebrate, and it symbolizes the bright future of Georgian table tennis on the global stage.
The young athletes of the Georgian Team achieved remarkable success by clinching top positions in every category they competed in:
In the U15 team competition, the Georgian youth team earned the position of vice-champion.
The U15 boys pair, consisting of Nikoloz Chkhartishvili and Mate Gambarashvili, achieved an impressive third place.
The U15 girls pair, formed by Anastasia Chkhartishvili and Tekla Liparteliani, became vice-champions.
Mate Gambarashvili secured the U13 boys singles (category B) title.
We extend our heartfelt congratulations to our talented young table tennis players, and we wish them continued success in their future international endeavors.