The holiday season is quickly approaching, and everyone will soon know it as Tbilisi's main streets light up in their traditional sparkling splendor.
For those who are new to Georgia, due to the Orthodox religion and following the Julian Calendar, Christmas is not celebrated on December 25 like the rest of the world, but rather 13 days later on January 7. However, even though Christmas is still highly celebrated, the bigger celebration is New Year's Eve on December 31. Each year Tbilisi chooses a theme to decorate the central Rustaveli Avenue with. Previous years have been the solar system, angels and famous world monuments – and we eagerly look forward to finding out what this year's theme will be.
This year's celebrations will take place on the following dates:
December 9: Tbilisi's Christmas tree and street lighting ceremony.
December 31: New Year's Eve celebrations across the city.
January 1: New Year's Day (Mekvleloba) (Public holiday).
January 2: New Year's Day 2 (Bedoba) (Public holiday).
January 7: Christmas Day for the Orthodox (Public holiday).
January 14: New Year's Day for the Orthodox.
January 19: Orthodox Epiphany (Public holiday).
The first commemoration of the holiday season will be December 9 at 8pm, when the light displays around the city are turned on and the annual tree lighting ceremony takes place in front of the parliament building on Rustaveli Avenue. The lights for this season have already started to go up in main streets in various districts citywide, giving a sneak preview to the upcoming festive spirit. The biggest light displays will be on the Freedom and Orbeliani squares, Rustaveli Avenue, Atoneli and Kostava streets, and along Chavchavadze Avenue in Vake and Saburtalo's main avenues.
The Christmas markets will begin around mid-December and last through mid-January. The Christmas Village in Orbeliani Square will present an exciting array of vendors and food stands from December 22 through January 14, from 10am until late evening daily. There will also be live music and performances, as well as a mini ice-skating rink for children to enjoy.
The Agrarian Christmas market will be held at Dedaena Park on the weekend of December 16 and 17 from 1pm to 7pm, and a month-long Christmas market set up near Parliament. Each of these three Christmas markets is organized by the Tbilisi City Hall and will offer food, mulled wine, souvenirs, hand-made gifts by local craftspeople, and bright, flashing toys for children.
Wait – there's more! Privately organized Christmas markets include The Fabrika Christmas Fair which will be hosted from December 23-24 in the Fabrika courtyard, and the Winter Fair 2023 which will be a traditional one-day event on December 9 from 10am to 6pm at the Sheraton Grand Tbilisi Metechi Palace. The Winter Fair costs 1 GEL to enter, and this and a part of all proceeds go towards charity projects to help Georgian people in need. Stock up on Christmas gifts for loved ones – there will be artists selling their wares, a variety of local products, and an exclusive chance to buy country-specific goods from representatives of the many embassies present in Georgia – get a hat with the British flag on, a Swiss knife, Turkish Delight, a Japanese teapot and many other treats thoughtfully selected by the embassy staff to sell for charity. As you shop, there will be Christmas carols to boost the festive vibes, and plenty of activities to keep the little ones busy.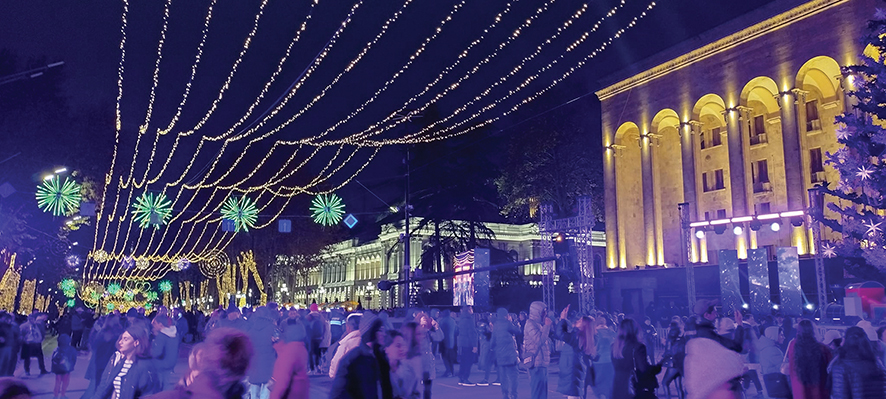 Far from home and fancy treating yourself to a Christmas dinner? There will be a variety of Christmas dinners held around the city, but be sure to reserve beforehand to guarantee your spot at the table!
For New Year's, Tbilisi doesn't have a standard fireworks show for everyone in the city to watch (or any safety laws in this regard whatsoever!). Instead, people buy and set off their own fireworks from their balconies, so it's best to find a high place in the city to stake out and enjoy the views.
A big New Year's Eve celebration will take place at First Republic Square in front of Rustaveli Metro, where people can enjoy vendors and live music. Various restaurants and hotels will also be hosting events such as Ambassadori Tbilisi Hotel, Radisson Blu Iveria, and Hualing. Of course bars and clubs like Fabrika and Bassiani will also be open to ring in the new year.
The next observed holiday is New Year's Day, or Mekvleloba. On this day, Georgians believe the first person to enter the home in the new year will determine the fate of the family for the year to come. So, on January 1, Georgians spend the day visiting or welcoming loved ones into their homes and exchanging candy to represent happiness and prosperity.
January 2 is known as Bedoba, and this day is dedicated to doing something that will lay out how the rest of the year looks. Many people take this holiday as a self-care day and spend it with family and friends either eating good food and drinking wine, or simply enjoying the moment.
On January 6, the night leading up to Orthodox Christmas Day, there will be a midnight mass at the Holy Trinity Cathedral led by the Georgian Patriarch. Other masses will be held in almost every church in the country. These masses go on throughout the night until early morning on January 7 when people go home to literally "break the fast" with their families.
The last holiday with an event is on January 7 when the religious Alilo Parade happens in cities around Georgia for people to participate in or watch – seeing boys and men decked out in white, red and gold and marching through town with crosses and icons. In Tbilisi, it will start at the First Square Republic around 1pm and continue through the Old City before ending at the Sameba Cathedral in Avlabari.
The Orthodox New Year and Orthodox Epiphany will also take place, but celebrations will be minimal– you'll get more balcony fireworks to see from up-high and another chance to hang out with friends, eat and drink. The eve of Epiphany on January 18 is traditionally the day some Georgians add an old pagan tradition to their Christianity and burn their wooden (chichilaki) Christmas trees to let go of the bad spirits of the past year and cleanse ahead of the new.
All-in-all, the holidays in Georgia are a month-long celebration involving lots of wine, lots of food, plenty of chance to shop and hear Christmas music, and as much fun with friends and family as you can take! Enjoy!
By Shelbi R. Ankiewicz