Speaker of the Parliament of Georgia Shalva Papuashvili congratulates the population on Constitution Day.
"27 years have passed since the Parliament of Georgia adopted the supreme law of the country – the Constitution of Georgia.
"The Constitution of Georgia and the values ​​reflected in it are the guarantees of the country's European future.
"I congratulate everyone on Constitution Day!" Shalva Papuashvili wrote on Facebook.
The US Embassy in Tbilisi also congratulated the citizens of Georgia on the occasion.
"We the People…." These words frame the United States Constitution, empowering our citizens and guiding our country. To us, the Constitution is more than a document: it is a symbol of democracy that reminds us that "the source of governance is the people," and the very same words are found in the Georgian Constitution. Congratulations to the citizens of Georgia on your Constitution Day!" – the Embassy wrote.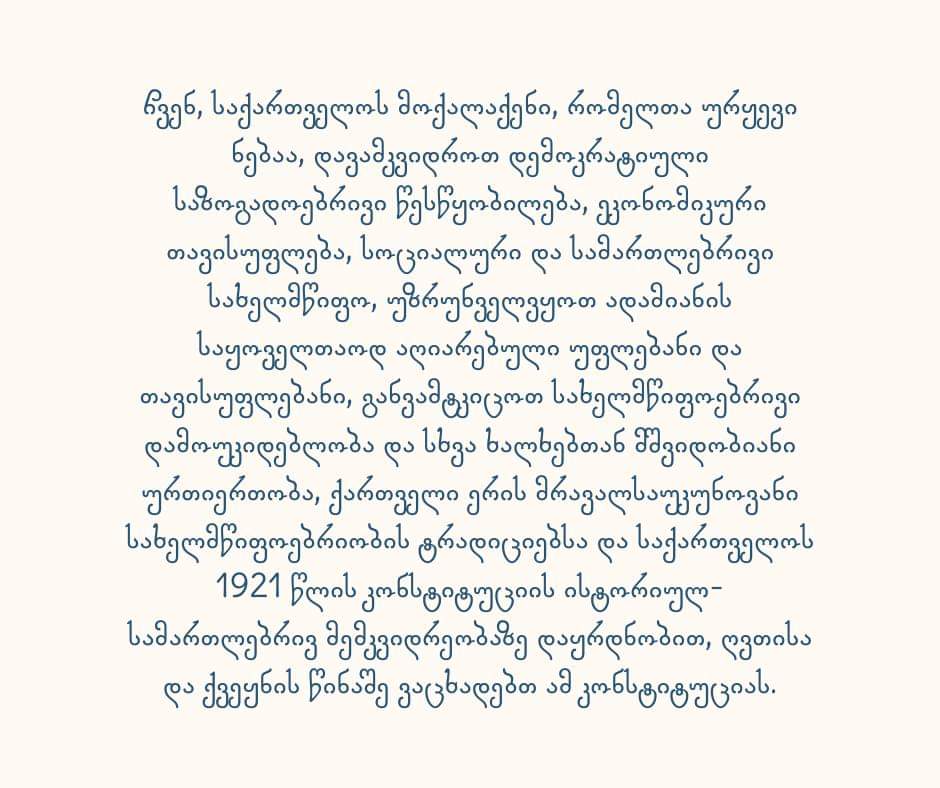 The Constitution of Georgia is the supreme law of Georgia. It was approved by the Parliament of Georgia on 24 August 1995 and entered into force on 17 October 1995. The Constitution replaced the Decree on State Power of November 1992 which had functioned as an interim basic law following the dissolution of the Soviet Union.
The history of Georgian constitutionalism begins in the twentieth century, when on May 26, 1918, the Democratic Republic of Georgia adopted the Act of Independence and began drafting the Constitution. The drafting of the constitution lasted for three years. On February 21, 1921, facing the onset of Soviet aggression, the Constituent Assembly of Georgia adopted a constitution of the Democratic Republic of Georgia which was the first modern fundamental law in the nation's history but was adopted on February 21, 1921, which, in fact, failed to fulfill its function and lasted only four days.Georgia then adopted four Soviet constitutions in 1922, 1927, 1937 and 1978, which were typical Soviet constitutions and did not differ in any way from the constitutions of the Russian Soviet Federal Socialist Republic.