The 15th anniversary of the August War in Georgia marked 18 months since Russia started the war in Ukraine. From February 24, 2022 until today, the country's strategic partner has been in need of support from its friends – during these times, the support extended by Georgia, compared to powerful countries, is modest, but nonetheless the help offered by Georgian organizations and citizens to the Ukrainian people stands out – the list of these activities is long, and a portion of them is reviewed in this article.
On the very first day of the full-scale war, the country's main street, Rustaveli Avenue – where the Georgian Parliament stands – was overflowing with protesters who gathered spontaneously. It is the very place where the President of Ukraine Viktor Yushchenko stood as a show of support to Georgia during the war of August 2008. Supporters of Ukraine gathered in other major Georgian cities too: Batumi, Kutaisi, Gori…
On the freezing winter's day of February 25, Georgian and Ukrainian national flags were flying. Friendly moral support grew even stronger in the days that followed – an increasing number of people gathering on the main avenue. And of all the protests that were held for this cause, the March 4 protest was particularly significant. On this day, the presidents of Georgia and Ukraine addressed their citizens.
"Today, I'm standing where Georgia should be standing. I'm standing by President Zelensky's side, by the side of Ukraine. To stand beside our friend, who is fighting for freedom, independence, a European future, is to show the dignity of our culture, our traditions, our nation. We are with them; we shall remain so, and I would like to extend to President Zelensky my support and that of my people. You are a nation which represents Georgia's dignity today. Let me thank you immensely for it," said the President of Georgia, Salome Zurabishvili.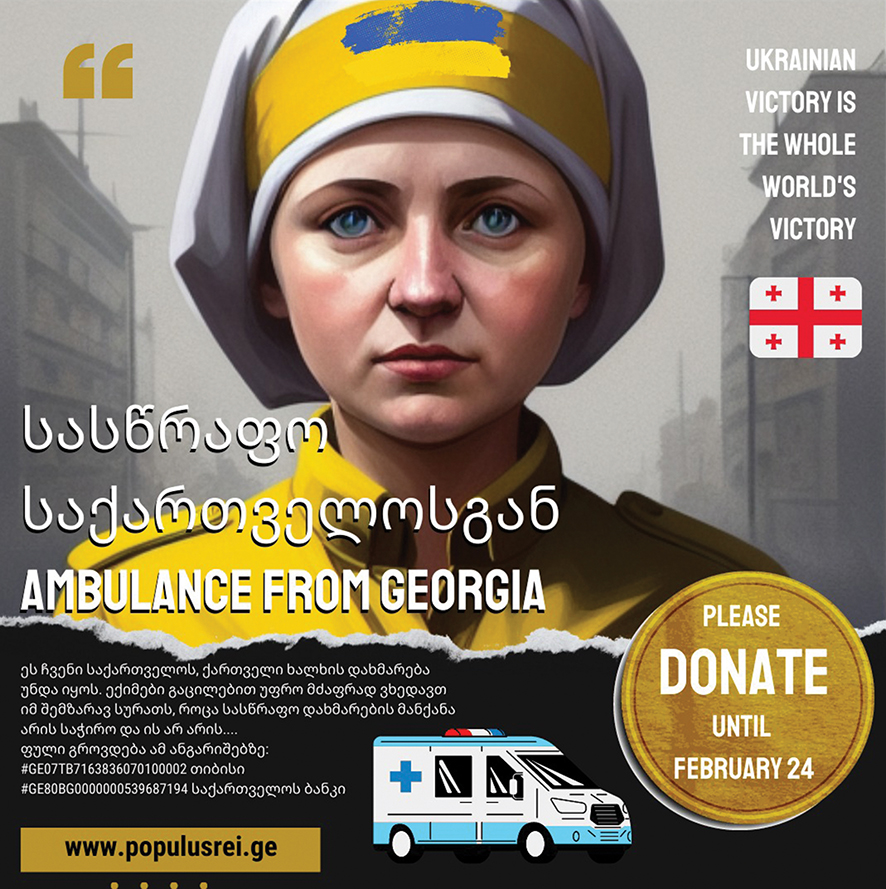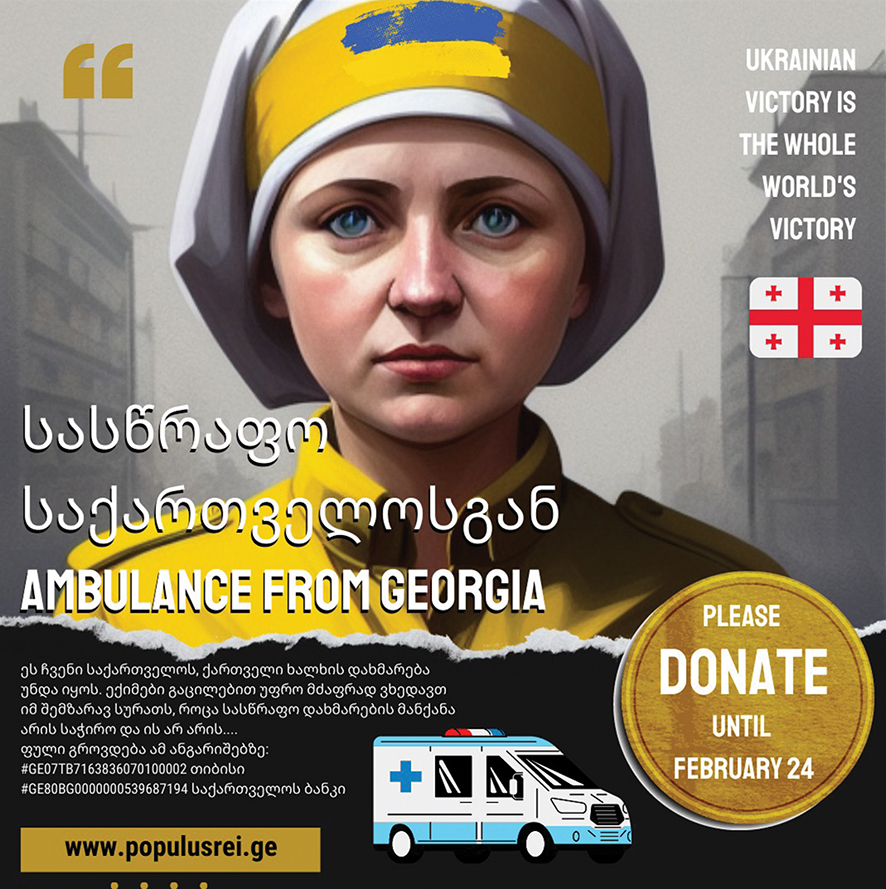 Protests were organized by TV company "Formula", which also created a charity fund to help the people of Ukraine – the channel was the first to transfer GEL 500,000 for the cause. In the following day, the funds increased to 677,000 GEL. An additional 700,000 GEL was raised through a marathon on the Public Broadcaster.
Other media outlets also showed their support. For instance, "Mtavari Arkhi", "TV Pirveli", "Tabula", On.ge, and others painted their logos in the colors of the Ukrainian flag – blue and yellow.
As a show of solidarity for Ukraine, Georgians launched the idea of "displaying the flag" to demonstrate their support and respect for the nation in the time of war, and Georgian citizens started to fly Ukrainian flags on their balconies.
In the wake of these events, a humanitarian aid center for Ukrainians was launched near the building of the Parliament, where the citizens could bring non-perishable food, jams stored in jars for the winter, pickled food, and fruity beverages. One could also see clothes, hygiene items and toys which had been donated. Later, the organizers would sort the collected items and send a portion of them to Ukraine, while the remaining half was distributed among the local Ukrainian refugees.
Following the outbreak of the war, Tbilisi City Hall opened a special bank account for donations. Moreover, a separate space was allocated within the municipal building to collect humanitarian items that were later sent to Ukraine. Private enterprises like development company "Archi" and supermarket chain "Magniti" rallied to support the initiative. Various universities, including Tbilisi State University, Medical University, Batumi University, Sokhumi University, and others were also enrolled in the humanitarian initiative.

Since the start of the war, several million people have fled Ukraine. A large number of them took refuge in European countries, and a small portion chose Georgia as their destination. According to the data of the United Nations High Commissioner for Refugees, on May 9, 2023, there were 24,182 Ukrainians in Georgia. Most of them are from Mariupol and Kharkiv – cities that were particularly affected by the war.
In 2022 the humanitarian status was granted to 367 Ukrainians and 516 persons were registered as asylum seekers.
A few weeks after the war started, it became apparent that getting a proper education would be a challenge for Ukrainian children. To this end, special programs were introduced in major Georgian cities (Tbilisi and Batumi) and a Ukrainian-language sector was established within the 41st Tbilisi Public School and 20th Batumi Public School. In addition to this, for the 2022-2023 academic year, another Ukrainian-language sector was opened in the 220th public school in Tbilisi, and the Ukrainian-language sector of the 20th Batumi Public School was expanded. Students were given the opportunity to receive an education in their native language, and at the same time, to participate in non-formal education circles – sports, music and technology. As of December 1, 2022, more than 60 teachers from Ukraine had been employed by these Ukrainian sectors.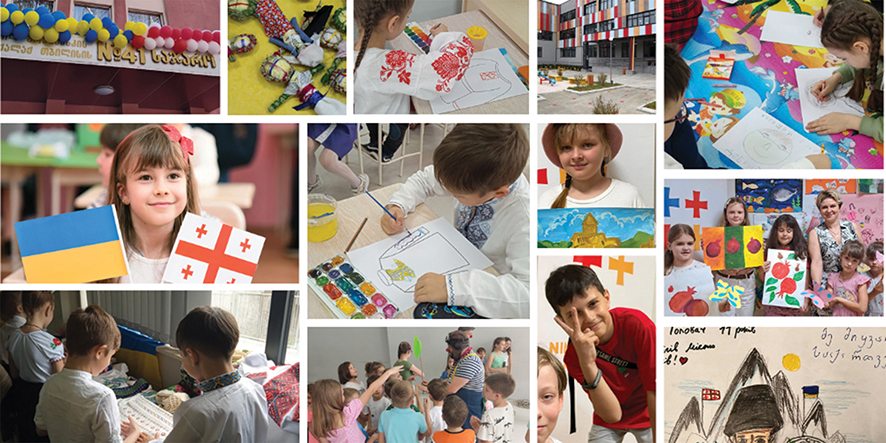 The government allowed the Ukrainians who had to flee their country due to the war to continue their studies at state universities without needing to pass Entrance Exams. In addition, Kutaisi International University exempted Ukrainian students from tuition fees.
In large cities of Georgia, including Rustavi and Tbilisi, public kindergartens receive Ukrainian children free of charge. In addition to this, with the support of the "Open Society Foundation", the "Nino Katamadze Fund" created a space where Ukrainian children and adolescents who came to Georgia after the war engage in art therapy.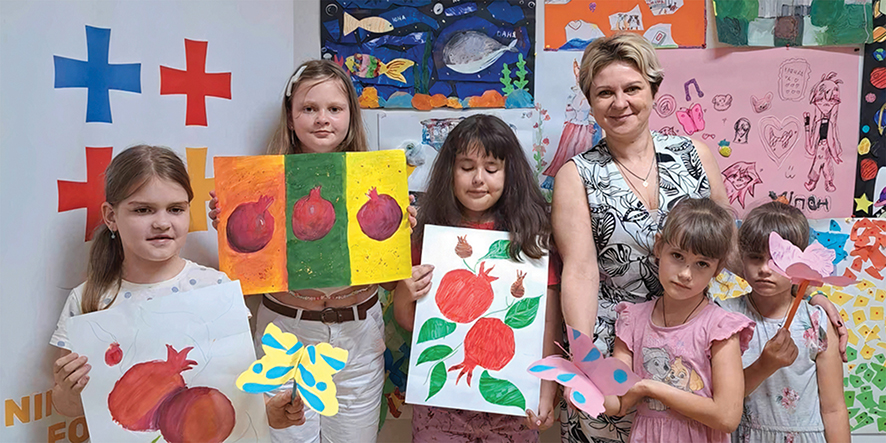 To support the academic staff at risk, with the involvement of the South Caucasus representation of the Konrad Adenauer Foundation, a Ukrainian language course was launched at "Ilia State University", which created an opportunity to learn Ukrainian language at an elementary level. There were other private initiatives too, and information about them is available on www.dopomoga.ge.
Since the immigration of Ukrainians to Georgia, apart from education, the need for legal assistance in a language that is understandable to Ukrainians has emerged. Especially considering that the services offered by state agencies are available in Georgian only.
The Office of the United Nations High Commissioner for Refugees offered Ukrainian citizens in Georgia free consultations on issues related to their refugee status via partner organizations, such as the Office of the Public Defender, non-governmental organizations: "Rights Georgia" and "World Vision Georgia". Other non-governmental organizations also offered legal assistance to Ukrainians: "Human Rights Center", "Sapari" with regards to women's rights, "Care Caucasus" and its partner organization "Human Rights Development Fund".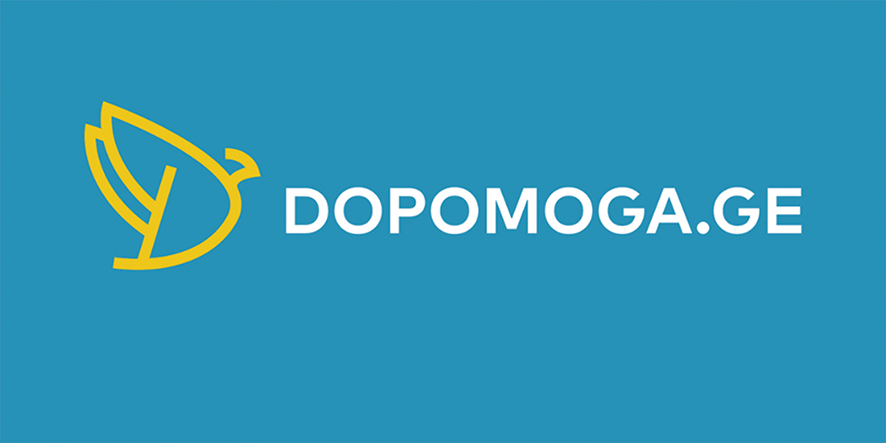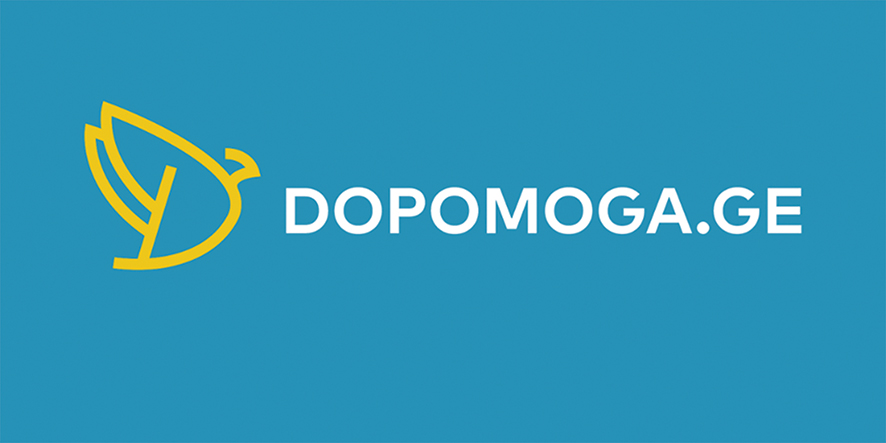 There were other initiatives too:
"Silknet" cancelled the international rates on calls from mobile phones and fixed networks to Ukraine;
"Tegeta" continues to support Ukrainians and offers employment to people displaced in the aftermath of the war;
Cigar bar 'Havana Club Tbilisi' employs citizens of Ukraine;
As a sign of respect, "Aura cottages" located in Kazbegi said it was ready to host free of charge the Ukrainian citizens stuck in Georgia;
Kiwi Tours Georgia offered the citizens of Ukraine free transfers from the airport to hotels.
In cold winter days, when the war broke out, the main concern for those fleeing the bullets, along with survival, was housing. Volunteers Tbilisi was one of the first to start the process of housing Ukrainians. The efforts of "Open Society Foundation" should also be noted, which allocated 150,000 GEL to solve the housing problem and started to seek additional funds.
At that time, one of the most important platforms was relocation.ge. "Caritas Georgia" also made a great contribution to the process of settling Ukrainians in Georgia. Furthermore, there were private initiatives which were posted in Facebook group Spend 4 Seasons in Georgia:
"Friends, if you know citizens of Ukraine who cannot return to their motherland due to the start of the hostilities, I will give them refuge in Kvesheti (in the middle of Gudauri and Pasanauri). I can host many people; the space is big enough. All the conditions necessary for life are in place. Please put me in touch with these people if you have any information! P.S. Today, the fate of our country is decided in Ukraine, my solidarity is with Ukraine and the Ukrainian people."
"I will shelter 2 citizens of Ukraine. Newcomers. I don't mind if it's a mother and a child, sisters, or spouses. I live in an apartment building with my wife. We are mostly gone. Comfort and normal conditions. They can live with us for as long as they want. Rent free, of course."
"I will shelter Ukrainian citizens who can't return to their homeland in Tbilisi free of charge."
"We can host citizens of Ukraine, 4 people in a house out of town, rent-free. Location: Jighaura village, 2 km from Saguramo."
"I can host several Ukrainian citizens completely free of charge in Guria, in the city of Lanchkhuti. If they are currently in the western part of the country, I can pick them up in my own car. I have a house with a green space. I will try my best to alleviate these difficult moments."
Also, there were government initiatives to help Ukrainians with the housing problem. In July 2022, the government issued a decree according to which Ukrainian citizens in Georgia received 300 GEL per month (per family) to cover the housing costs and an additional 45 GEL for each family member.
Tbilisi City Hall offered some free-of-charge services to Ukrainian citizens residing in the capital. With proof of citizenship, they can travel by public transport, receive services in municipal sports centers (including swimming pools), museums, theaters, media libraries, art schools, and student youth palaces without any fees.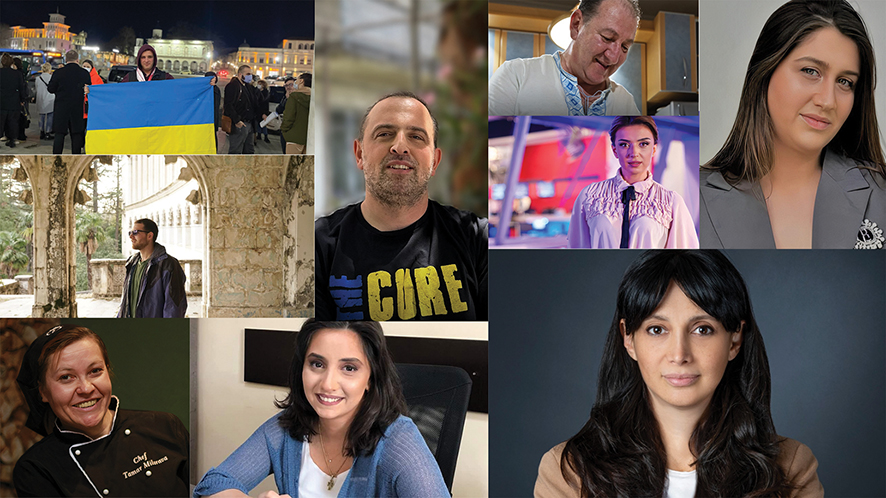 Citizens of Ukraine who entered the country from February 1, 2022 to May 1, 2023 and are permanently (continuously) residing in Georgia are entitled to receive certain medical services free of charge. Many of the medical services offered to Ukrainian citizens (beyond government services) are provided by private companies, including mental health support, which becomes even more important during war-caused trauma.
"Aversi Clinic" offered free one-time emergency medical assistance and a doctor's consultation to the citizens of Ukraine, while oncology clinic "Consilium Medulla" offered the first medical visit free of charge.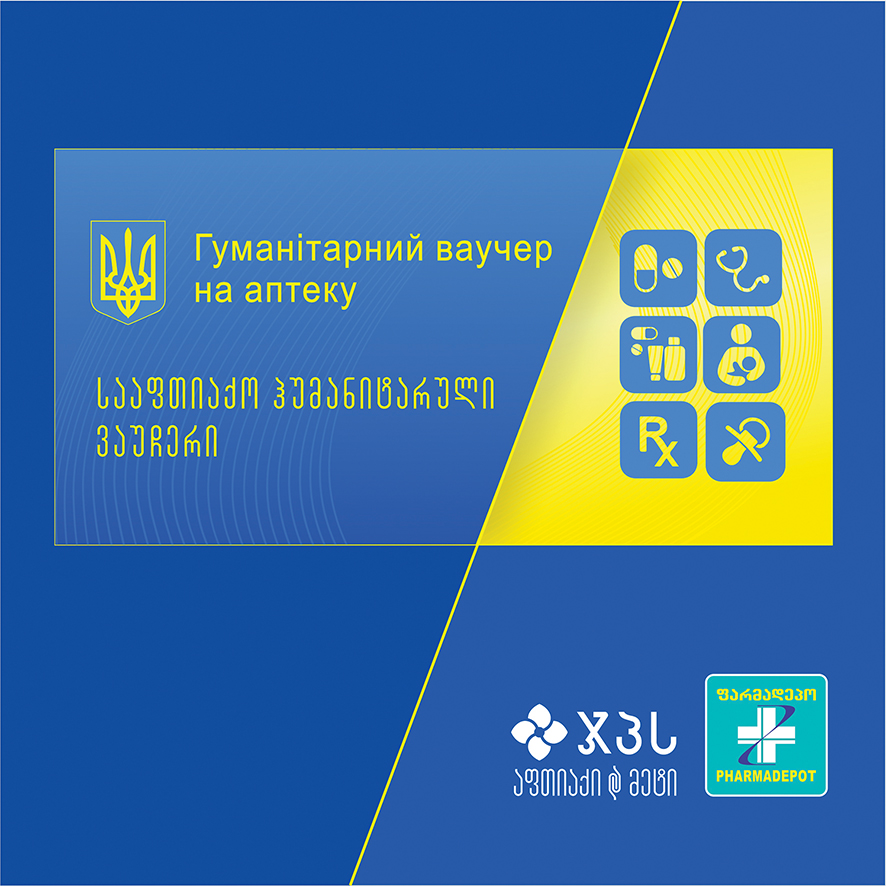 In the beginning it was possible to receive emergency outpatient care and remote consultation in 33 branches of "Evex" clinics. In addition to this, the EKIMO application could provide Ukrainians with a necessary consultation free of charge. Pharmacy network GPC allocated up to 1 million GEL in humanitarian aid, and provided Ukrainians in Georgia with the opportunity to get the necessary medications for free within 100 GEL.
In this case too, there were initiatives by individual doctors:
"I declare full support for the Ukrainian state and the Ukrainian people! I am ready, within the scope of my official competence [as traumatologist-orthopediatrician] or global knowledge, to serve all Ukrainians free of charge and offer them consultation and any procedural manipulation. Services can be provided both in the clinic and online."
At the end of 2022, as the winter season returned once again, Russia attacked Ukraine's energy facilities, leaving the war-torn country in need of generators to produce electricity. Ukraine appealed to all partner countries, including Georgia, asking for help. In response, the Government of Georgia sent 25 high-power generators to Ukraine at the end of December 2022.
Earlier, on December 15, 338 generators were handed over from "the Georgian people to the brave Ukrainians", including two units for water supply systems in Boyarka and Khmelnytsk, and the rest for kindergartens, schools and makeshift medical centers in the Kyiv region. This equipment was purchased with 490,000 GEL raised within the framework of the project "Share the Light" launched by volunteers to help the Ukrainians at war.
Another initiative "Ambulance from Georgia" belongs to the same group of citizens. Within the framework of the campaign, more than 90,000 GEL was collected in Georgia to buy a new ambulance for Ukraine.
On February 24, 2023, on the first anniversary of the war in Ukraine, the Georgian government made an exception for Ukrainian citizens and extended their visa-free stay in Georgia up to two years. Before that, Ukraine was in the list of more than 90 countries whose citizens could stay in Georgia for only 1 year.
Despite the fact that Russia had launched a full-scale attack on Ukraine, from the very first days of the war, Georgian diplomatic missions continued to work. This was, on the one hand, helping Georgia's citizens, and on the other hand supporting Ukraine. Furthermore, an additional consular post was launched in Lviv.
From the very first days of the war, the representatives of the Georgian government declared that Georgia would not be joining the sanctions against Russia. Nonetheless, Georgia is involved in the implementation of important sanctions imposed by the European Union and the USA. A few days after the war broke out, the representative office of the sanctioned Russian bank ("VTB") was closed in Georgia – "VTB Bank" was sanctioned due to the war in Ukraine, and prohibited from transferring in dollars, euros, pounds and other foreign currencies.
One of the latest sanctions implemented against Russia that Georgia is currently enforcing is the restriction of the export of vehicles to Russia. "The restriction on re-export/export of vehicles imported from the United States of America to Georgia has been enforced since August 1, and the restriction on those imported from Europe will be enforced from September 26, as envisaged by the 11th package of imposed sanctions."
The most important thing that the representatives of the Georgian government undertake as an example of supporting Ukraine is joining the statements and resolutions initiated by leading international organizations. According to the data of the Ministry of Foreign Affairs, there are dozens of such documents.
UN and its specialized agencies:
Supported, sponsored resolutions/decisions – 32;
National statements – 131;
Statements of the European Union which Georgia upheld – 92;
Other joint statements upheld by Georgia – 63;
Other supporting initiatives – 23.
OSCE:
Supported, sponsored resolutions/documents/declarations – 2;
National statements – 92;
Statements of the European Union which Georgia upheld – 131;
Other joint statements upheld by Georgia – 5;
supporting initiatives – 14.
Council of Europe:
Supported resolutions/recommendations/decisions/declarations – 25;
National statements – 36;
Statements of the European Union which Georgia upheld – 2;
Other joint statements upheld by Georgia – 2.
EU:
Declarations made by the High Representative on behalf of the EU – 11;
Restrictive measures / Sanctions – 1.
Other organizations/formats:
Supported resolutions/recommendations/decisions/opinions/declarations – 6;
National statements – 6;
Statements of the European Union which Georgia upheld – 15;
Other joint statements upheld by Georgia – 7.
The attack on Ukraine was not only an attack against a friendly country, it was an attack against the world, including Georgia, which had its last war with Russia in 2008, and the "creeping occupation" continues to this day. That is why the Georgians, who have been fighting for Ukraine's independence for the last months and years, are selfless. Dozens of Georgian military are fighting against Russia in Ukraine, and more than 50 of them have died on the battlefield.
List of fallen warriors:
1. Aleksandre Khuskivadze
2. Nikoloz Akhvlediani
3. Archil Devrisashvili
4. Malkhaz Kvizhinadze
5. Joni Odishvili
6. Zviad Gigani
7. Giorgi Gorelishvili
8. Nika Jikashvili
9. Zurab Odishvili
10. Arsen Ketsbaia
11. Vakhtang Barabadze
12. Davit Kuchukiani
13. Mikheil Mazanashvili
14. Ilia Chokheli
15. Giorgi Kaadze
16. Mikheil Tevdoradze
17. Sergo Lisikh
18. Ruslan Bayramov
19. Roland Kvaratskhelia
20. Avto Rurua
21. Romeo Pichkhaia
22. Merab Aladashvili
23. Badri Markelia
24. Jambulat (Jaba) Khopheria
25. Konstantine Kursua
26. Ernest Macharashvili
27. Temur Macharashvili
28. Levan Sakhelashvili
29. Guga Gagnidze
30. Aleksandre Martiashvili
31. Mikheil Kaplanishvili
32. Edisher Kvaratskhelia
33. Kiril Shanava
34. Gela Gogia
35. Berdia Jokhadze
36. Kakha Gogol
37. Aluda Zviadauri
38. Daniel Gerliani
39. Giorgi Grigolia
40. Rati Shurghaia
41. Tato (Telman) Bigvava
42. Vitali Orbeladze
43. Zaza Bitsadze
44. Alika Tsaava
45. Arkadi Kasradze
46. Nikoloz Shanava
47. Davit Menabdishvili
48. Davit Gobejishvili
49. Bakhva Chikobava
50. Gia Beriashvili
51. Davit Ratiani
This article is made possible by the generous support of the American people through the United States Agency for International Development (USAID).
The contents of this article are the sole responsibility of the Dopomoga Ukraini (www.dopomoga.ge) and do not necessarily reflect the views of USAID, the United States Government, or EWMI.