Since its establishment in 1996, World Vision Georgia has been at the forefront of transforming lives and strengthening communities across the country. With a dedicated focus on child welfare, youth empowerment, and community development, the organization has become a leading force in championing the rights and opportunities of the most vulnerable in society. Over the past 25 years, the organization has actively worked towards creating a healthy and active society for children, characterized by inclusivity, tolerance, and equal opportunities for all. This long-term commitment has established World Vision Georgia as a reliable development partner for both national and local governments, as well as for a wide range of civil society organizations and stakeholders.
The organization is serving Georgia's most vulnerable children and their families through transformational development and long-term commitment to communities. World Vision Georgia operates in the following regions: Imereti, Kakheti, Samtskhe-Javakheti, Tbilisi, Mtskheta-Mtianeti, Kvemo Kartli, Samegrelo, and Ajara. The targeted approach allows the organization to tailor its programs to the specific needs and challenges faced by communities in these areas. By engaging with local populations and understanding their individual circumstances, World Vision Georgia is dedicated to implementing solutions that are not only effective but also sustainable in the long run.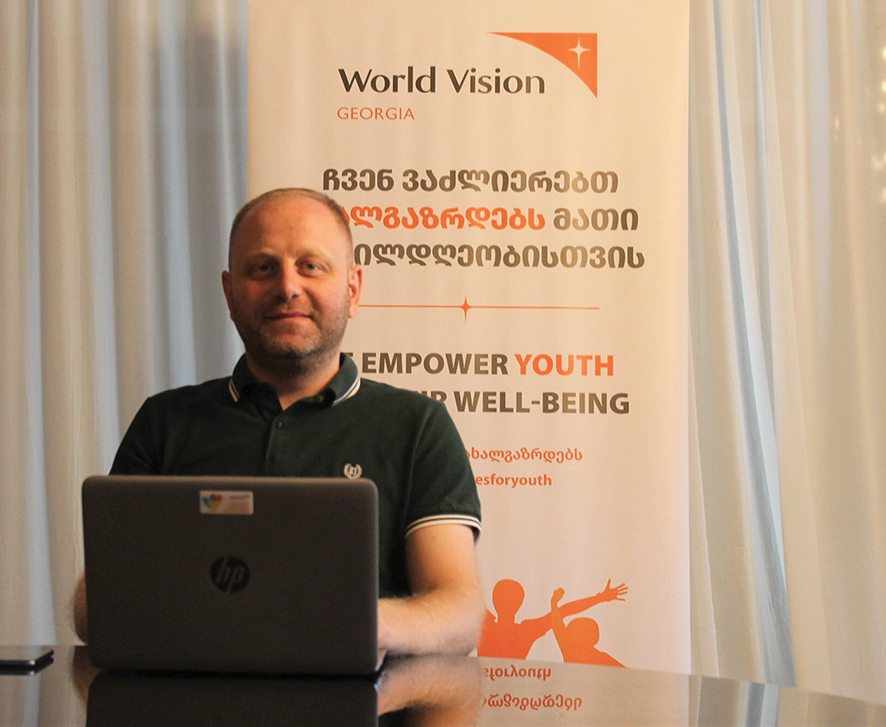 "World Vision has been actively engaged in strengthening the youth sector in Georgia by empowering adolescents and youth for their welfare," says Irakli Giorbelidze, Youth Program Coordinator. "The core aim of our project is to provide an environment where young people act as full-fledged members of society, are involved in civic activism, and feel competitive in the labor market. Unemployment is a serious problem in Georgia, and to address this issue, we offer non-formal educational initiatives in this field, including recurring year-long programs aimed at fostering entrepreneurship among the youth."
Recognizing the pressing issue of youth unemployment, which currently stands nearly at 34% in Georgia, World Vision Georgia launched the SKYE Net project (Skills and Knowledge for Youth Empowerment Network) within EU4YOUTH Program. Funded by the European Union, this initiative aims to equip young individuals aged 18-35 in Armenia, Georgia, and Moldova with the skills and knowledge needed to succeed in today's competitive job market. The project spans 24 months and encompasses a range of activities designed to enhance entrepreneurial and career management practices.
SKYE Net's objectives are two-fold. Firstly, it seeks to empower young change-makers in these three countries, providing them with the tools to turn their innovative ideas into sustainable social businesses. Secondly, the project focuses on accelerating youth-driven social entrepreneurship, with a particular emphasis on green and digital economies. This forward-looking approach not only addresses current economic challenges but also prepares young people for the industries of the future. Key actions under SKYE Net include supporting youth social entrepreneur start-ups, promoting access to existing business support schemes, and establishing a transnational platform for knowledge-sharing among youth in Armenia, Georgia, and Moldova. By engaging with private and public actors, educational institutions, and youth organizations, SKYE Net aims to create an environment encouraging the development of thriving social enterprises.
"With the support of the European Union the project SKYE Net will last for two years, establishing 10 new clubs throughout Georgia and supporting 200 young people in developing their business activities and ventures," Giorbelidze states.
World Vision Georgia places a strong emphasis on providing nonformal education, building technical skills and entrepreneurial business techniques as a catalyst for positive change. The organization operates 50 (SKYE) knowledge and skills development clubs throughout the country. These clubs serve as hubs where young people can acquire the knowledge and skills necessary to compete in the job market and embark on entrepreneurial ventures. By providing practical education and technical expertise, World Vision Georgia is directly contributing to reducing youth unemployment rates.
It is noteworthy that the organization is actively involved in the creation and support of Youth Councils throughout the country, which aims to encourage youth participation and engagement in the local decision-making process at the municipal level. Currently, 7 Youth Councils, uniting more than 150 qualified youth, are already functional, giving them the opportunity to address essential needs and be the voice of youth in their community. Additionally, through World Vision's support, young boys and girls participate in exchange programs and study visits abroad, enabling them to advance their knowledge and gain valuable experience that they can apply in practice. Furthermore, World Vision actively promotes civic activism among school-aged children. By instilling a sense of social responsibility and community engagement from an early age, the organization is nurturing future leaders who will play a crucial role in shaping a more inclusive and tolerant society.

World Vision Georgia's impact extends beyond its direct initiatives. Through being a reliable partner and with the support of diverse donors, the organization has been able to assist schools and youth in the rural areas , create a modern and inviting learning environment for them, as well as offer youth exchange programs, summer camps, and other enriching experiences.
Currently, World Vision is responsible for empowering and building the capacities of more than 5,000 young people. Looking ahead, the organization aspires to expand its reach, covering a larger area and offering even more projects to empower young people in Georgia. Through their tireless efforts and strategic collaborations, World Vision Georgia continues to pave the way for a brighter and more inclusive future for the youth of the country.
World Vision Georgia's unwavering dedication to child welfare, youth empowerment, and community development has made a significant impact on the lives of countless individuals across the country. Through strategic initiatives like SKYE Net, the organization is not only addressing immediate challenges but also preparing young people for the industries of tomorrow. By focusing on education, civic activism, and community partnerships, World Vision Georgia is creating a legacy of positive change that will endure for generations to come. As they look towards the future, their vision of a healthy, inclusive environment with a wide range of opportunities for all children in Georgia remains at the forefront of their endeavors.
By Mariam Gorkhelashvili