On August 23, World Vision Georgia hosted a special event for children to commemorate Ukraine's Independence Day and the National Flag Day of Ukraine. The significance of Independence Day, marked on August 24, and Flag Day, celebrated on August 23, was highlighted through an exhibition of artworks created by talented Ukrainian children. Citizens of Ukraine living in Georgia, their children, and representatives of the Embassy of Ukraine, gathered to mark this important day and celebrate their shared heritage and culture together. The celebration was filled with joy and a sense of unity, while the collective singing of the Ukrainian anthem amplified the atmosphere, evoking a strong and patriotic sentiment among all- children and adults.
A whole week was spent in Happy Space, the World Vision Education and Development Center, seeing children enthusiastically engaged in artistic endeavors, crafting diverse artworks centered around the theme of Ukraine. Additionally, special classes were conducted, providing children with a deeper understanding of the symbolism behind the Ukrainian flag. Alongside this, they had the opportunity to immerse themselves in the Ukrainian language, learning rhymes that further connect them to the country's rich heritage.
The event was attended by Tetiana Kolotylova, the First Secretary of the Embassy of Ukraine in Georgia, who spoke about the significance of the celebration. During her speech, she also expressed her appreciation to World Vision for their efforts in providing assistance and support to Ukrainian families who have been displaced due to the war.
"Today, we have come together to mark a remarkable occasion – the National Flag Day of Ukraine. This flag holds a special place in our hearts, and its significance is enshrined in the Constitution of Ukraine," Kolotylova noted.
"I am currently holding the Children's Constitution in my hands, created especially for Ukrainian children," she went on. "Within this constitution lies the twentieth article, dedicated to explaining the symbolism behind the colors of the Ukrainian flag. The National Flag of Ukraine embodies not only our sky and our wheat, but also our entire country and homeland.
World Vision Georgia has been a lifeline for Ukrainian families like ours
"I would like to highlight the significant role that the World Vision's program has played in providing essential support to Ukrainian families currently residing in Georgia. World Vision has gone above and beyond by establishing a space known as the Happy Space, a special area of peace and comfort for children and families. This space offers a supportive environment for Ukrainian children and parents, helping them to adapt to the new environment. Children can partake in various activities, learn, play, and grow. Furthermore, the availability of psychological support sessions is also invaluable. We extend our heartfelt gratitude to World Vision, hoping that this program will continue to thrive in the coming years," the First Secretary concluded.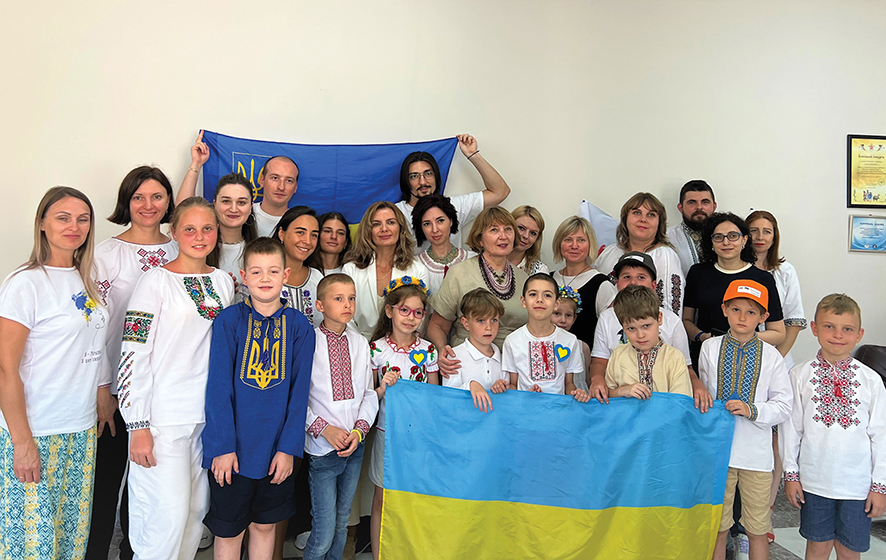 "I would like to extend my warm congratulations to the Ukrainian people on the occasion of the National Flag and Independence Day of Ukraine," said Ekaterine Todria of World Vision. "Our dedicated team behind the World Vision program has been tirelessly working to provide comprehensive aid to Ukrainian children and their families. We are currently underway with the second phase of the Ukraine Crisis Response program, which, along with financial and material support, delivers psycho-social and educational services tailored to provide extensive assistance to those affected, addressing not only their immediate needs but also recognizing the importance of their emotional well-being and adaptation.
"Events like the one we are partaking in today are regular occurrences, each carrying a cultural or social significance. World Vision events allow Ukrainian citizens to come together, fostering a sense of belonging and comfort, akin to being at home," Todria finished, wishing the Ukrainian citizens peace and a dignified return to their homeland.
World Vision started to respond to the emerging needs of the Ukrainian people from the very onset of the crisis by scaling up operations in Romania, followed by humanitarian programming in Georgia, Moldova, and inside Ukraine. Initially, the World Vision Georgia office responded to the basic needs by providing food and sanitation kits, clothes, and other essentials to the Ukrainian families and children displaced by the war. Within the frames of the Ukraine Crisis Response Program, individuals affected by the war benefited from various methods of support, including cash and financial assistance; winterization vouchers enabling parents to purchase warm clothes for children; mental health and psycho-social support services for children and women; access to education, health, and other services. As the situation evolved, assistance was diversified through various development programs in Georgia to support and empower Ukrainian families and their children.
The organization runs Happy Space centers both in Tbilisi and Batumi, hosting various non-formal child-oriented activities; psycho-social services for people of all ages; Positive Parenting training; Ukrainian, English, and Georgian language courses, and catch-up classes for Ukrainian children and adults. All these services are aimed at helping children and their parents overcome the stress they have been through and adapt to their new surroundings. The organization, in cooperation with the United Nations High Commission for Refugees (UNHCR), also manages a Multi-Service Center dedicated to supporting refugees from various countries, including Ukraine. Its primary function is to assist refugees in their resettlement, employment, and integration process.
One Ukrainian mother, Hanna Bohatyrenko, whose family regularly benefits from Happy Space services, was present at the event this week and took the opportunity to share her personal journey and experiences.
World Vision Georgia has supported through various means 24,250 Ukrainian people living in Georgia
"I came to Georgia from Ukraine with my daughter. It's been exactly one year since we started our new life here. During that time, I got to know about the World Vision organization. I heard about their program that offers free events for Ukrainian children, and that really caught my attention. The events organized by World Vision are not only interesting but also incredibly valuable. From psychotherapy to music therapy and various other engaging activities, they provide a holistic experience. Now, my daughter attends Georgian and English language classes, free lessons which play a vital role in the development of Ukrainian children. Additionally, there's a wonderful Women's Club that takes place every week, creating a supportive community for Ukrainian women in the country.
"This organization has been a lifeline for Ukrainian families like ours. The aid they provide has made a significant impact, especially for those of us who arrived in Georgia with very few possessions. In the face of challenges, we hold onto the hope for triumph and a brighter future. Just as our Ukraine has shown resilience, we believe that by standing united, we can overcome anything," Hanna told us.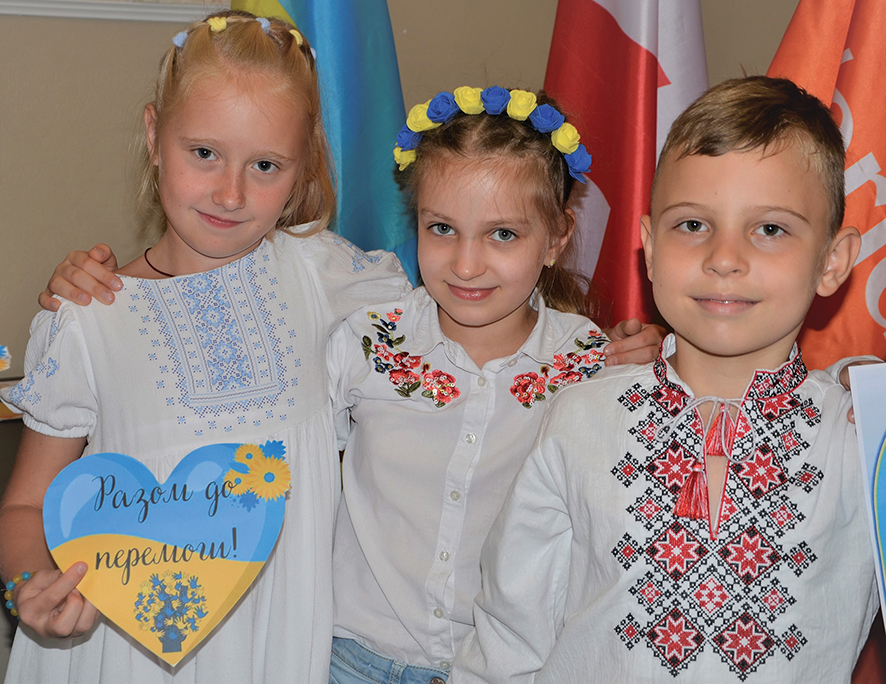 World Vision Georgia frequently hosts international guests from different regions and support offices of World Vision. Recently, Chris Palusky, the Response Director of the Ukraine Crisis Program, encompassing Ukraine, Romania, Georgia, and Moldova, visited the World Vision office in Georgia to oversee the program's activities and learn about the results and its impact on Ukrainian refugees in the country. Palusky met with the staff, local and international partners, and state authorities and interacted with those who have been benefiting from World Vision's work. The Director gave a highly positive evaluation of the work and reaffirmed the commitment to ongoing support.
World Vision provides continued support to Ukrainian citizens living in Georgia within its Ukraine Crisis Response Program, with the financial support of Aktion Deutschland Hilft (ADH) and UNHCR, in cooperation with local as well as international actors. At present, financial and cash assistance has been provided to 9950 beneficiaries. More than 1700 individuals, including children, have benefited from Psycho-Social Support sessions, while educational resources and non-formal courses offered by World Vision Georgia have covered more than 1000 children and adults. In total, the program has supported 24,250 Ukrainians in the country through diverse services and assistance.
As part of the celebration, World Vision Georgia will also join the event dedicated to Ukraine's Independence Day, organized by the Embassy of Ukraine in Georgia. A symbolic marathon, paying tribute to the memory of fallen soldiers from both Ukraine and Georgia, who have bravely served, will take place at the setting of Lisi Lake. The event is scheduled for 11am on August 26. World Vision Georgia will set up a children's corner at Lisi Lake, where kids can engage in different games and have fun.