The past two years marked many changes in our lives and on the planet as a whole, among them the loss of some great artistic figures. To recognize those lost artists, GEORGIA TODAY, in collaboration as BI Auction, is continuing its series of coverage of artists who have passed, 'With Respect.'
Baia Gallery is an art gallery specializing in modern and contemporary art with two locations in Tbilisi. Since its foundation, the gallery has been at the forefront of the Georgian art marketplace with highly desirable works of leading artists, historical scholarship, and insightful market analysis.
Established in 1992 by Baia Tsikoridze, Baia Gallery was the first private structure operating in this field. The establishment of the gallery connects with events such as war and crisis. It is paradoxical because the gallery started working at a time and in conditions that were generally unsuitable for the existence and development of such an institution: in parallel with a civil war in Tbilisi and the war in Abkhazia raging.
"The war, fire, crisis, and an instinct for survival made for the setting up of the Orient Gallery (now Baia Gallery), when in an old part of Tbilisi, on the abandoned and empty Chardin Street, we found a small, two-story house and started to work under conditions unimaginable for a gallery as well as for any other institution," Tsikoridze tells us. "Under those circumstances, few factors made this possible, the first being the mutual desire of artists and the gallery to collaborate."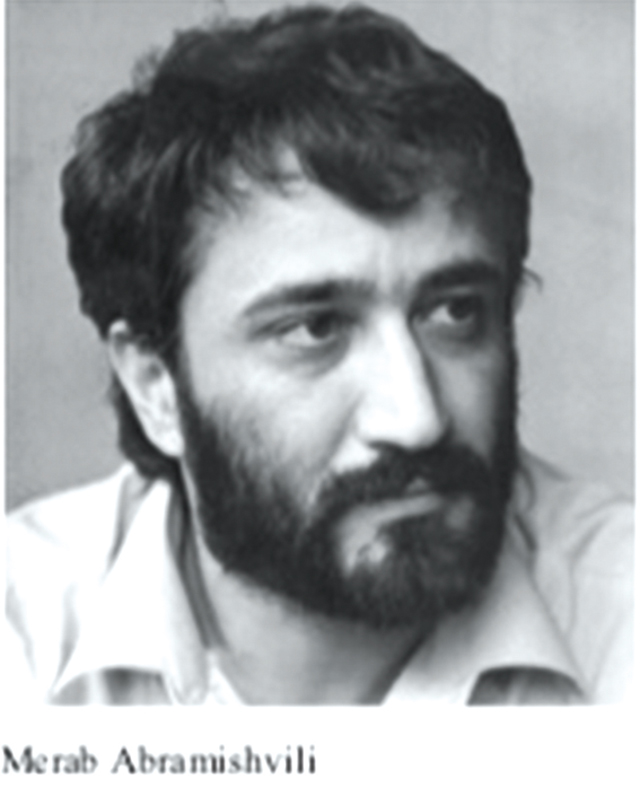 Since the day of its foundation, the gallery has been working in two main directions: cultural heritage from private collections and contemporary art, thus operating in the primary and secondary spheres of the art market.
Cultural Heritage of Georgia from Private Collections is a project within the frames of which the gallery has been studying and popularizing pieces of art kept in private collections. These items are often rarities in an artistic, stylistic, or epochal sense: to extricate them from the hidden area of private collections, to study, exhibit and popularize them, is an obligatory condition for researching the culture. Contemporary art covers those artists acting in the two last decades of the 20th century and the present day.
From its inception, Baia Gallery has presented and prepared exhibitions of such exceptional Georgian artists as Merab Abramishvili and Irakli Parjiani.
"I discovered Merab Abramishvili's many artworks at his retrospective exhibition in 2016 at Moma Tbilisi organized by Baia Gallery. It was both stunning and impressive- artworks and the excitement of crowds," says Bengü Akçardak Küçük, BI Auction Co-Founder. "Although it is rare to find his artworks in museum collections, his artworks have been successfully presented at not only our BI Auction events, but also at Sotheby's many times, with record prices."
Tsikoridze, on behalf of Baia Gallery, tells us more.
"Merab Abramishvili has a distinctive painting style. His thorough knowledge of Georgian fresco and Persian miniature painting have come together in his exquisite oeuvre. The artist has developed a technique that employs the early Christian panel painting method. He hand-prepared his plaster grounds and painted with tempera: washing off and repainting the surfaces several times, the translucent color palette becoming his trademark. The final glaze of egg yolk gives a warmer tonality and smoothness to his panels. Abramishvili's paintings speak of a meticulous artist of strict discipline: a perfectionist.
"He was exposed to Georgian frescos from a very early age and later would frequently accompany his art historian father on expeditions. Abramishvili, enchanted by medieval art, produced studies of frescos while on those trips. He often described his oeuvre as an interpretation of icon painting. The noticeable two-dimensionality of his paintings is also inspired by Christian imagery.
"Abramishvili has recurring subject matters. He frequently works on the theme of Paradise and scenes from the life of Christ. His Paradise series is nostalgic for the absolute values that the artist's surroundings were deprived of. The art of Abramishvili is impregnated with the escapist sentiment. The intricate surfaces of mythological scenes, heavenly animals, and rocking maidens are opposed to the turbulent surroundings of Post-Soviet Georgia. Abramishvili's canvases seem to offer an escape route to idealists, which developed into a trend for the artists of his generation. Instead of focusing on the turmoil of reality, these painters were concerned with universal truths and, in Abramishvili's case, on harmonious compositional aesthetics that evoke sensations of serenity, kindness, and steadiness.
"Merab Abramishvili is one of the contemporary Georgian artists whose works maintain a constant and growing price index at auctions. The international institutions have defined the formal and consistent process of the sales history of his paintings; the demand for them has increased, and the artist's works have acquired the status of a solid and reliable investment. It is not surprising that his painting, which is especially interesting as an example of the synthesis of Eastern-Western culture, has justifiably gained international interest.
"Merab Abramishvili is represented in Georgia and abroad by Baia Gallery. Our gallery has organized more than ten exhibitions of his works, including a retrospective one in 2016 at the Tbilisi Museum of Contemporary Art (MOMA). We have presented the artist at the Sotheby's London selling exhibition 'At the Crossroads: Contemporary Art from the Caucasus and Central Asia.' We collaborate with the artist's Foundation 'Bison,' publish catalogs and participate in determining the originality of his works.
By Mariam Mtivlishvili