A fascinating new art exhibition has opened at Caucasus Culture Exchange on Aghmashenebeli Avenue, Tbilisi (see details below). I met the artist for an interview recently.
Giovannino Gabadze, 27, grew up in Tbilisi. The theme of her show is wires, primarily electrical wires on their poles or other devices. She doesn't like only to take photos of her subjects, but also to sketch them, primarily in ink on paper, sometimes in sizes small enough to fit inside a 35mm film frame. Her camera is a Soviet-made Zenit film model from the 1960s, but she can resort to using her phone too, depending on what kind of feelings the wires give her.
Why wires?
I have no idea! It's just that sometimes they explain what I'm feeling inside. I would see them and it would be like, "Oh, that's what it is," and I felt really connected to them. It's something that helps me understand what is happening around me or inside me. I look at them and it happens super-fast. I can instantly connect what I see with my experiences or what I'm feeling, and I like this feeling the most. I don't know what this is called, but I like puzzles in general, and for me this is like a puzzle piece that can describe how I am or what I feel."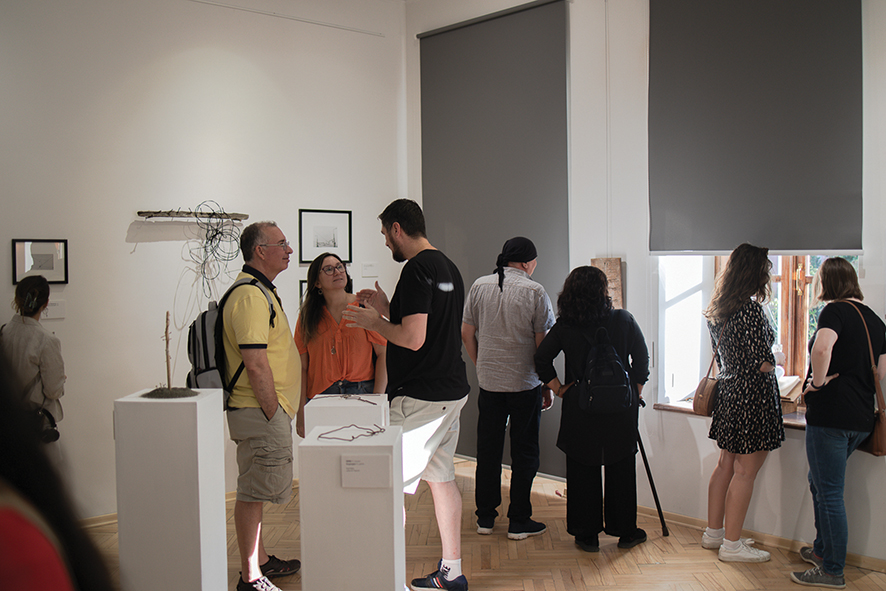 How long have you felt that you are an artist?
Heavy question! When I said for the first time "I am an artist," it was just this year; but I've been doing art, such as sketching or singing, for as long as I can remember myself. I think the shooting of this new short video about me [also presented at the exhibition, link below], and the interviewer asking me how I see these wires and the world around me, really helped me to understand who I am, and really gave me the confidence to say that I am an artist. I cried when I said it; Michelle [Gagnon], my show's curator and the film's director, was there. I felt really empowered after this. Being an artist was something that I had been avoiding saying out loud, as it's such a responsibility. I knew that I was an artist in my heart, I've never had a conflict within myself about that, but to say it was a big thing for me. It was a random girl from Belarus that I first said it to when introducing myself, and it felt like a weight was being lifted from my shoulders, a beautiful feeling."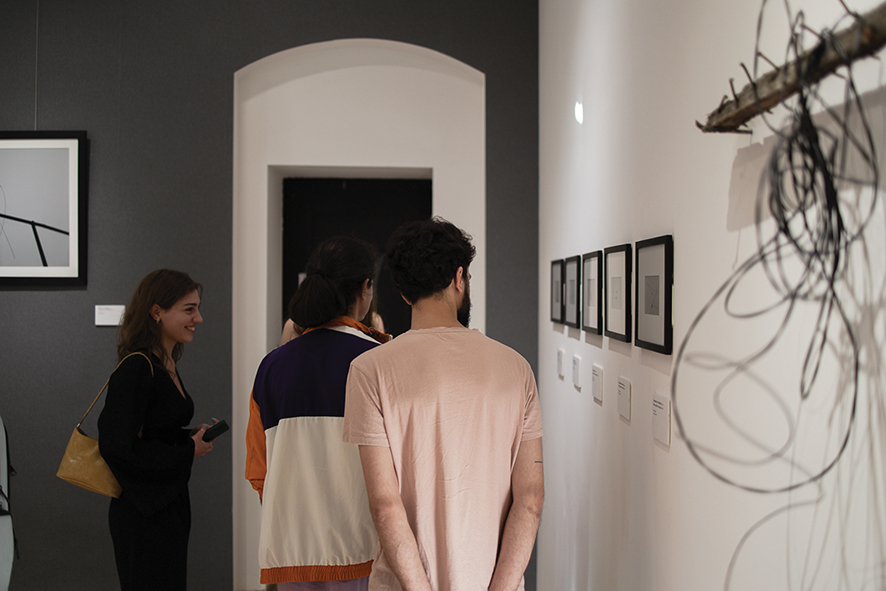 What do you want people to take away from the show?
I don't know if I want them to do anything: just to come, observe, maybe try to take whatever resonates with them. I know what I DON'T want them to do: to guess what was happening inside of me while I was making the sketches or taking the photos; I want them to consider what they themselves think while looking at these pieces. I don't want them to think about the location of the pieces, or the timing, those details that for me don't really matter sometimes. I want them to think about themselves, to see if it awakens any feelings inside of them."
Well, you're taking a risk, because you can't control what people think. But that's part of being an artist.
I guess so. That's true.
***
At the opening, show curator Michelle Gagnon reported that, "It was a really unique combination of people who came; we had everyone from young children to musicians, other artists and curators. One man told me how refreshing it was to come to an exhibition that was so 'gentle', because usually the art world demands that you ask really hard or deep questions, or offers controversial material. … People were asking Eli [Moyer, CCE director] and me about ways to collaborate in the future on projects or use the exhibition space themselves."
Eli Moyer, CCE director, had this to add: "We at the Caucasus Culture Exchange could not have been prouder on Saturday to host Giovannino's excellent exhibition, 'Wires.' As a gallery that is part of a newly formed NGO, we focus on celebrating and preserving minority Caucasus cultures through the arts. The work now on display is both innovative and original, while connecting to important aspects of the past.
Together with the deeply evocative short documentary by Michelle Gagnon, the whole exhibit really must be experienced firsthand. We hope many will take advantage of that opportunity during the month of July while the show is open."
Curator: Michelle Gagnon
Photos by Mehrdad Ruien
"Wires" at Caucasus Culture Exchange
David Aghmashenebeli 109, second floor (https://goo.gl/maps/tYkhYoJddtR1h4j97)
July 1-31, 2023
https://www.caucasuscultureexchange.org/wires
Interview by Tony Hanmer
Tony Hanmer has lived in Georgia since 1999, in Svaneti since 2007, and been a weekly writer and photographer for GT since early 2011. He runs the "Svaneti Renaissance" Facebook group, now with nearly 2000 members, at www.facebook.com/groups/SvanetiRenaissance/
He and his wife also run their own guest house in Etseri: www.facebook.com/hanmer.house.svaneti