The Georgian National Football Team is to be coached by Willy Sagnol, the website of the Georgian Football Federation reports.
He will make his debut in the Georgian national team on March 25, 2021.
Sagnol, 43, was approved as the head coach of the national team by the Executive Committee of the Georgian Football Federation on February 15.
Willy David Frédéric Sagnol (born 18 March 1977) is a French professional football manager and former player who played as a defender.
Sagnol spent much of his professional career playing for Bayern Munich in Germany's Bundesliga. He was also part of the French squad at the 1997 FIFA World Youth Championship, 2002 FIFA World Cup, UEFA Euro 2004, 2006 FIFA World Cup and UEFA Euro 2008.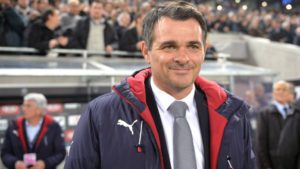 The French specialist held the position of Technical Director of the French national team in 2011-2013. In 2013-2014, he was the head coach of the French U-21 team.
By Ana Dumbadze