If I had not discovered the USSR via the writings of Solzhenitsyn, visited the USSR in the summer of 1991 and seen the coup against Gorbachev (see next week), moved to St Petersburg a year later and started ethnographic studies there as a hobby, I likely would not have discovered Svaneti. The internet didn't exist widely then, and research was much harder to do, mainly on paper from scant English and much wider Russian sources.
Yes, I was a Slavophile for a while, eagerly absorbing Russian culture, literature, art and so on. I stayed in Petersburg for 7 years and was able to travel widely as well. The train was my main conveyor: Murmansk 3 times, Moscow many times, though I'm glad I didn't live there, around the Urals, as far east as Novosibirsk. I never got to see Lake Baikal, which is still a bucket list item, or visit a relic prison camp, or reach the Far East, all things I still hope to do. But those years hold thousands of precious memories for me.
The acculturation I picked up from former Soviet countries helped me adjust to early 2000s Georgia, although of course there is much here that is unique. Russian language fluency was both a help, starting out here, and a hindrance to learning better Georgian. I have made the switch, but my Georgian is still not as strong as it should or could be. As for Svan: not happening; each additional language before me is harder yet!
Now, seeing the other side of the Caucasus coin, the side of the southern republics, I have different views from those I had from the side of the Northern Neighbor. I'm still seeking balance, still trying not to be prejudiced or judgmental. Georgia has captured my heart in a way that is deeper, though, than Russia did, although my many 1990s photographs, friendships and experiences remain strong. I can't hide those years and don't feel I need to. They remain an important part of who I am and how I got here.
I suppose that viewing things through a Russian lens, though as a foreigner to the whole region, does color them in other ways than those for someone who came here straight from the West or elsewhere. But I can't change that: it just is what it is; I just want to be self-aware and consider why I think or believe as I do, what my worldview is and how it formed.
It does seem that my "fate" (partly chosen, partly seemingly imposed) is tied to this little country and its far northern and western province, high in the Caucasus. I have made it known that my grave should be in a certain part of Etseri, next to the parents of my blood brother, whether I die here or not (as long as this happens in Georgia!).
Here, too, my wife and I remain foreigners, although with a reputation for engaging in the activities and yearly events of the village and region. This otherness may never change, even if we learn Svan fluently. But we seem to have found a comfortable compromise, with some challenges remaining that we muddle through as best we can. I will never be a heavy drinker, have no desire to get drunk at all, though I do make my own liqueurs.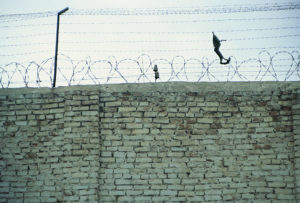 If not for Russia… Georgia, and Svaneti, might never have clicked into place for me at all; there's no saying, only speculating. But that's how I see it. Spasibo ("thank you" in Russian, from roots meaning "may God save you")!
BLOG by Tony Hanmer, photos by the author
Tony Hanmer has lived in Georgia since 1999, in Svaneti since 2007, and been a weekly writer and photographer for GT since early 2011. He runs the "Svaneti Renaissance" Facebook group, now with nearly 2000 members, at www.facebook.com/groups/SvanetiRenaissance/
He and his wife also run their own guest house in Etseri: www.facebook.com/hanmer.house.svaneti