Brokerage is a relatively new and little-known field in the Georgian market, and receiving a comprehensive financial education in this direction, and becoming a professional broker, is not easy here. At the same time, it is the future of trading, necessary for the successful operation of businesses, especially when everything is switching to digital. Given these conditions, the help and knowledge of highly experienced professionals trained abroad is of vital importance for the development of the field in the country.
One such company, boasting years of experience in brokerage activities in Georgia, is VipTrade, a completely new word in creating new possibilities for business representatives. VipTrade is maximally focused on customer care and creating comfort and security for its clients. Cooperation with VipTrade is a guarantee for success and maximum profit and benefits while trading.
The new generation Georgian-language platform is completely customizable and friendly for users often opening and closing positions. Minimum commission and high liquidity poses the ideal environment for trading. VipTrade is made up of a team of highly qualified and experienced managers ready to share their experience with their customers, and it offers the best conditions in the local market, among them a new generation platform, free training and personal analyst.
VipTrade traders are entrusted with a personal manager to assist during trading, who is focused not only on cooperating with customers and functioning as their partner, but increasing their knowledge and experience in the field of finances, which itself significantly contributes to the development of this relatively little-known direction for Georgian business sector representatives.
LLC Trade Holding (VIPTRADE) has been licensed and regulated by the National Bank of Georgia since April 2018, making it a trustworthy partner for many during their business activities. Cooperation with VipTrade is an additional source of income for many of their clients, or even the main source, but beyond that is the fact the company offers them the highest standards and maximum comfort. Interested customers can benefit from its services online and for more information, visit VipTrade at any of the three branches currently operating in Tbilisi, at G. Leonidze Street #1, Pekini Street #28, and P. Melikishvili Street #1.
The financial brokerage company is led by CEO Chachi Daseni, an experienced professional of the field, who acquired his knowledge and practical skills abroad and now uses his resources to assist Georgian traders and connect them with international markets. This in itself creates new opportunities for the country's financial sector and business, which Georgia's economy certainly needs.
Daseni was born and raised in Tbilisi. He is a financier by profession and graduated in France, going on to receive the necessary knowledge in finances in Europe. He was always concerned that financial knowledge and brokerage were less developed fields in Georgia. "This is Georgia, there is a different mentality here," he was told; however, he managed to prove that the field is relevant and necessary here and can be totally in accordance with regulations and law when managed by professionals.
Prior to the establishment of VipTrade, Daseni worked in similar profi le companies both in Georgia and abroad, and he could see there was a demand for such a company. The 21st century is an "electronic" century, when everything is done electronically. Naturally, Georgia is also a part of this digital development, and has shown progress in this direction in recent years. It turned out that there are many interested in online trading here; people who wanted to learn but couldn't find the relevant opportunities and platforms. VipTrade was established for just such people. The company is ready to share their knowledge with any interested persons, regardless of their profession.
Daseni told GTB that the development of modern technologies in the world brought about the need to create an electronic stock exchange, which created new opportunities for businesses. "Everything has developed in such a way that buying and selling happens in seconds. For instance, a person can buy and sell oil in one second and receive benefits and profit through the difference in prices, or see a financial loss, remembering that business always contains risks. However, online trading has a lot of advantages; for instance, a person involved in online trading doesn't have to pay additional taxes, has no additional expenses, can trade in any country worldwide, while being independent of the political, force majeure and economic situation, so, with the right approach and psychology, a person can have an additional source of income through online trading. Of course, we always warn our customers about the possible risks, based on the contract signed between us. Moreover, all the details are well described on our website – viptrade. ge," Daseni told us.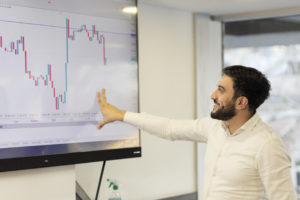 WHAT IS THE ROLE OF VIPTRADE IN THE GEORGIAN MARKET?
The largest banks and financial institutions worldwide, such as HSBC Bank, Barclays Bank, ING Bank, Swissquote Bank, etc., don't open branches in Georgia. Not because of the small size of the country, but due to the low economic background. Accordingly, so as to not lose the market of Georgia, such financial institutions sell their licenses instead of physically opening branches in the country, and offer price liquidity to licensed financial companies, through which the consumer receives the market prices, or opens subsidiaries. Such large companies connect with VipTrade, as a company which has access to the stock exchange, to represent them and offer their electronic stock exchange opportunities to Georgian users, so that each customer, through the VipTrade platform, can trade online and sell or buy any product, be it gold, oil, currency, or crypto currency.
This is a great opportunity for Georgian businesspersons to reach and cover international electronic financial markets. The problem is that our country lacks financial education. The subject is not taught at universities, and there are not enough opportunities to increase qualifications in this direction. Another important role of VipTrade is to increase this financial education among business representatives, which is absolutely free of charge for those interested. This is carried out through a two-week training, during which it is possible to significantly increase one's financial knowledge and skills. When a customer starts to trade, VipTrade takes full responsibility for the technical support via the online platform, guaranteeing comfort and safety during the process, itself protected and guaranteed by regulations and the license.
EXPLAIN "LICENSE" AND "REGULATION."
VipTrade was the first electronic stock exchange company in Georgia to receive a license. The company was founded in 2016, and for five years now, it has been offering its customers quality products. The company has gone a long way in development and experience during this period. In 2018, it received a license from the National Bank, confirming that it is definitely a trustworthy partner while trading, as, based on Georgian law, non-licensed companies are not allowed to conduct such financial activities. Having a license is quite important for companies operating in this field, as it confirms their validity and the safe trading environment they create. Unfortunately, there are many "fraudulent" companies worldwide, which spoil the reputation of other conscientious organizations, being focused only on receiving financial profit and deceiving customers, which is why one should only trust licensed firms such as VipTrade to protect interests when trading on the electronic stock exchange. As there is no culture of this activity in Georgia, all the local traders can do is trust licensed actors and learn from their diverse experience and knowledge.
Why is a license so important? Because when a company is licensed, it means that it is trustworthy, because a license directly regulates the amounts of money to be placed in the sub accounts of the company, the so-called segregated accounts, which guarantees security: in case of bankruptcy, seizure, or other problems, the accounts of customers will remain unaffected and secure. Further, the international platform of VipTrade meets all the necessary requirements and standards which regulators stipulate in their demands. The license guarantees the protection of a customer's rights while trading.
HOW DOES THE SYSTEM WORK?
Nowadays, customers have a virtually 100% guarantee of liquidity, which means that they can sell and/or buy any product, any time. How does the system work? When a customer buys, their contr agents (a person with whom they sign a contract on this deal) do their best to avoid market risks for their customers. However, if the company does not want to be a contr agent directly, they can offer a bank or a financial institution, as an agent instead. If the bank also avoids being a contr agent, then automatically there is a higher bank behind it, then there is a corporation, and in the end, there is a national bank. In general, money circulates in the interbank system.
Generally, it does not matter for customers who their contr agent is; the main thing is that the necessary program must work well, and to have partners in trading. VipTrade managed to open three branches in Georgia's capital Tbilisi over these five years, and one in Kutaisi, the capital of the Imereti region. This year, it is also planned to open a branch in the seaside city of Batumi, the capital of the Adjara region. Further, the company is expanding in countries such as Kazakhstan, Ukraine, and is currently applying to Supervision of Cyprus Securities to receive a European license for its activities, which will allow it to freely and boldly work on the European market and further expand its area of operation. In the near future, the company plans to open its representation in Kazakhstan, Azerbaijan and Russia.
We represent Georgia on many important forums worldwide. The company has a good reputation in the "stock exchange family," and is known as a stable and experienced actor. For maximum comfort, customers can visit its branches any time, get consultations from experienced managers, ask questions, undergo trainings, and get acquainted with the analytics of trading. However, the company strictly refrains from giving advice, as, in the end, there are always risks in such activities: it can only analyze the market and introduce its customers to its novelties. Customers should make decisions themselves and be responsible for either their financial profit or loss.
Online trading is the future of business; a part of modern technologies and a modern lifestyle, and the professional team of VipTrade is ready to serve any customer and assist them in this by offering quality and flexible services and providing them with the right knowledge. We welcome the development of this activity in Georgia, and are looking forward to cooperating with any interested person for their business and the country's better performance.