In the heart of Tbilisi, Georgia, a remarkable residential and investment complex, "Vake Residence," is taking shape under the expert hands of Gumbati Holding. This premium-class multifunctional development boasts a distinctive architectural design and an impressive array of recreational spaces, including expansive open terraces. Situated a mere 100 meters from Chavchavadze Avenue, it strategically places residents within immediate reach of key business, public, and commercial hubs, redefining urban living.
As one of the directors of the company, Soso Machaidze, tells GEORGIA TODAY, Gumbati Holding projects include the most in-demand, prestigious, and tourist-attractive territories.
"We value quality and comfort, and those are our priorities for all those who become our residents. When people trust us, it means we have more responsibility, and we work on our projects accordingly."
To learn more about Gumbati Holding, GEORGIA TODAY sat down with him and co-director Nato Bochorishvili.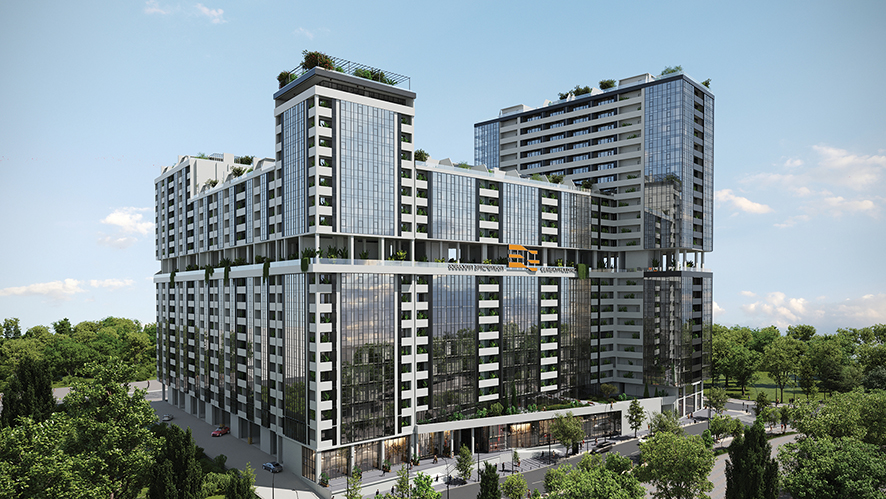 "Business people and business owners are our main segment, for whom quality, comfort, and time are important, therefore they want to live in central areas, in multifunctional complexes, and receive all the necessary and important services in one space," Bochorishvili tells us. "Since we have been in the construction business for years and our customers are mostly the same segment, we already know their behavior well, and it is our own customers who dictate to us what the most desirable places they want to live in are."
During the initial planning phase, significant emphasis was placed on creating an environment conducive to relaxation and leisure, even within the confines of a bustling urban landscape. The jewel in the crown of this complex is undoubtedly the inter-floor terraces gracing the 10th and 11th floors. From these vantage points, residents are treated to panoramic vistas, one side overlooking the central district of Vake, and the other offering views of the serene Mziuri Park. Spanning an impressive 4,000 square meters, this meticulously designed space encompasses areas for relaxation, entertainment, fitness, a running track, and a comprehensive range of infrastructural amenities. These thoughtful features serve to forge a tangible connection with nature amidst the urban hustle and bustle.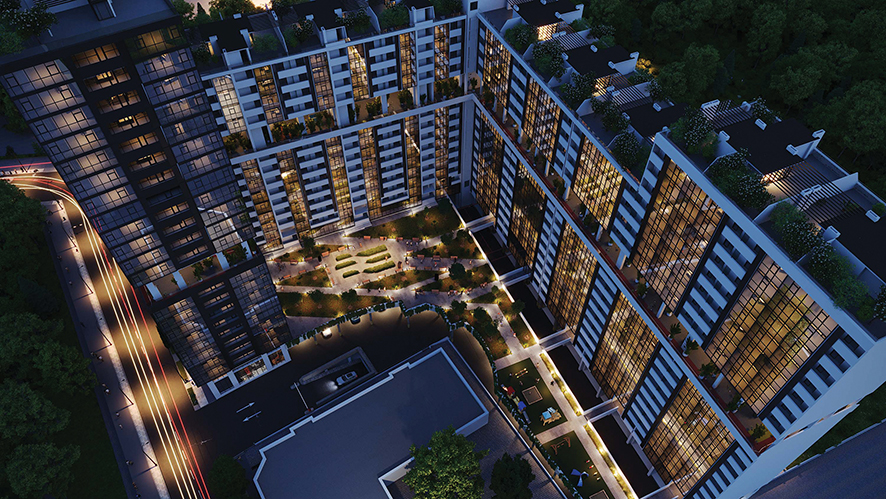 "Vake Residence is distinguished by its history, as the construction of this project is a big responsible for Gumbati Holding, being one of those projects suspended by another company in 2008. We took on the responsibility to complete it. The company gave the 200 affected tenants absolutely free of charge the same premises they had been waiting for for so long," Machaidze says. "Other than this, we can proudly say that there is no multifunctional complex of this scale in such a central location. The residents of the project will have all they need- all the necessary services and products -without having to leave the area, in addition to a comfortable and modern living space".
In addition to these communal terraces, Vake Residence introduces exclusive private patio-terraces for penthouse residents, providing a sense of individual sanctuary atop this multi-story structure. This unique offering allows residents to relish the benefits of a multifaceted complex while enjoying the privacy of their personal abode.
"The demand for recreational spaces is increasing by the day, and it is difficult to allocate green spaces in densely populated areas. On the other hand, proximity to the city center is very important for business persons. We believe Vake Residence is the best answer to this challenge, with its 7,000 sq.m. of living area, green spaces in a closed, internal courtyard, a separate children's playground, as well as two levels of common use between the floors, with open terraces, where spaces for relaxation will be arranged and for various activities. In addition, we have apartments that come with their own terraces," says Bochoishvili.
Beyond the conventional recreational spaces, the development carves out a 3,000 square-meter enclosed green oasis. Additionally, a state-of-the-art, three-level parking facility is planned, accommodating up to 600 vehicles and featuring cutting-edge electric vehicle chargers from a reputable Italian brand. Notably, an agreement with "Ikma Georgia" has been finalized for the installation of 26 KONE brand elevators, known for their Finnish heritage, top-tier quality, and sophisticated design elements.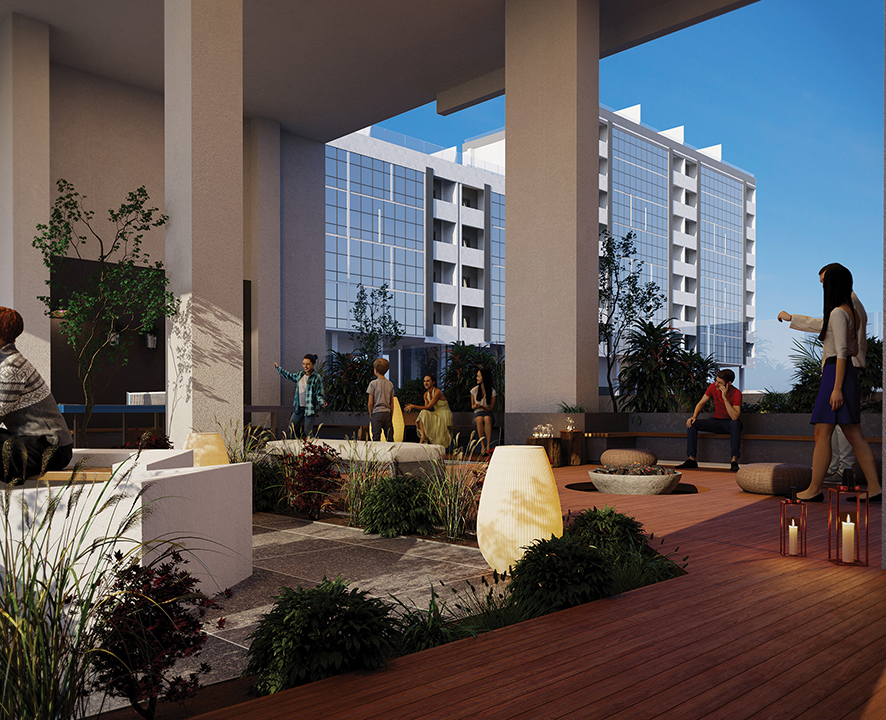 Safety and structural integrity are paramount considerations for Gumbati Holding. The use of the highest-grade construction materials and strict adherence to seismic resistance standards, as mandated by Georgian legislation, underscore their commitment to residents' well-being. An independent expert report further attests to the project's structural soundness.
Vake Residence caters to a discerning demographic for whom quality, comfort, and convenient access to essential amenities are paramount. Many prospective buyers view this development as an attractive investment opportunity, given the upward trajectory of the real estate market, particularly in multifunctional complexes. A professional property management company will oversee the project, offering an additional advantage for prospective tenants.
Spanning one hectare of land, with a projected construction encompassing 100,000 square meters, the ambitious undertaking commands an estimated investment exceeding 30 million dollars. Construction progress is already underway, with the first, third, and fourth blocks having surpassed the 15th floor. Despite the scale of the project, the construction phase is slated for completion by December 2025.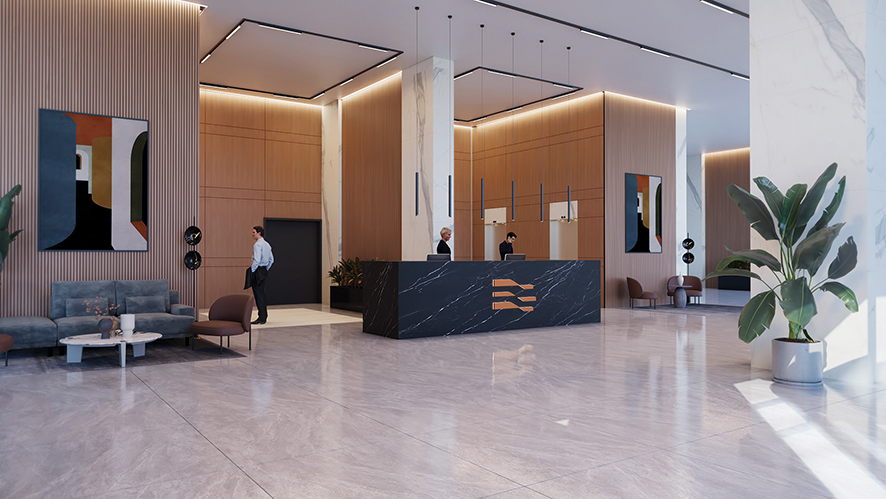 Vake Residence will be a multi-purpose complex which will include both commercial spaces and office spaces alongside the residential apartments.
"After eight years of stable activity, this year we moved to a new stage of development, a rebranding of sorts," Bochorishvili notes. "Vake Residence is truly outstanding in terms of its scale, architecture, and design. More projects are planned for the future, and the sales office in Vake is just the beginning, as we're set to open sales offices in other locations as well. We believe that we can offer customers very interesting products."
For Gumbati Holding, a prominent player in the Georgian market for nearly a decade, Vake Residence stands as a pinnacle achievement within their portfolio. Notably, the company took up the mantle to complete this project after it was initially halted by another entity in 2008. In an exemplary display of corporate responsibility, Gumbati Holding provided accommodations, free of charge, to the 200 affected tenants who had patiently awaited their homes over the years.
By Mariam Gorkhelashvili